Vivian Maier, Invisible Woman
In 2007 John Maloof, a self-described "third-generation flea-market seller," spotted some vintage photos of Chicago in a commercial storage locker...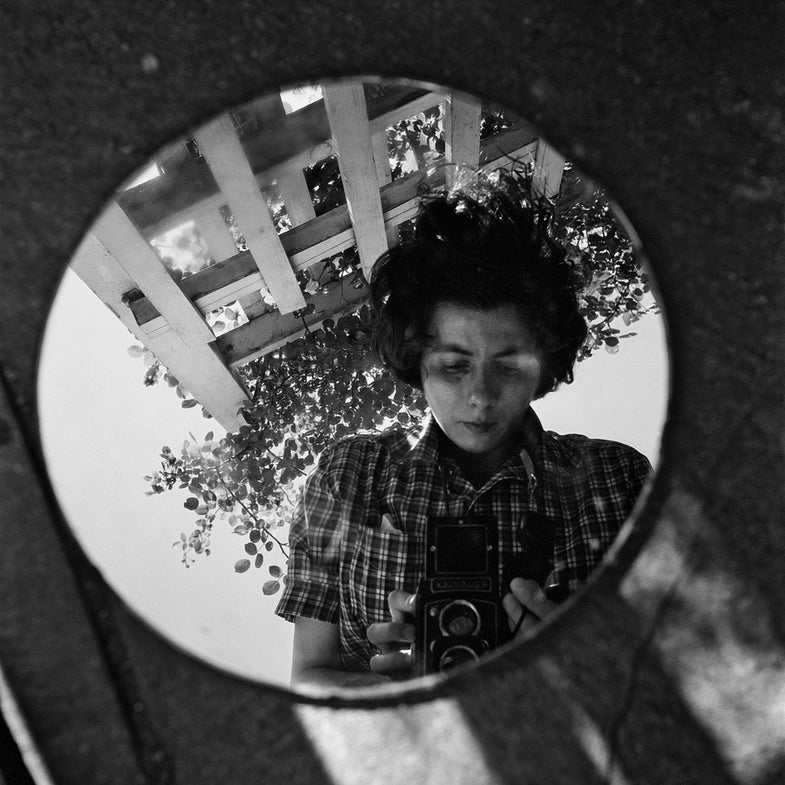 In 2007 John Maloof, a self-described "third-generation flea-market seller," spotted some vintage photos of Chicago in a commercial storage locker being auctioned off for nonpayment. An amateur historian, the 26-year-old thought some of them might be relevant to a book he was co-writing about the history of his Windy City neighborhood of Portage Park. He paid $400 for a box of more than 30,000 negatives, not a single one of which was appropriate for his book. But he did receive a consolation prize: He'd discovered a previously unknown artist who may rank among the top street photographers of the mid-20th century.
Though he knew little about photography, Maloof was charmed by the images he saw. In October 2009 he posted a link on the Flickr group Hardcore Street Photography pointing at the blog he'd started, asking its members what to do with the collection. Within 24 hours, Maloof had received 200 replies, a shocking number for a relatively obscure forum. The photos, it seemed, were quite good indeed. Good enough for superlatives to start being thrown around and for offers to start pouring in. This made sense. People had certainly seemed happy enough to buy when he'd offered individual negatives earlier on eBay.
Prior to posting, Maloof had begun to dig into the mystery of who this shooter might be. Eventually he'd ascertained that the photos had been taken by one Vivian Maier, a woman who worked most of her adult life as a professional nanny, mostly in the suburbs of Chicago's North Shore. On her days and evenings off, Maier had secretly roamed the streets, shooting an estimated 100,000 photos from the early 1950s until the mid-1990s, many with a Rolleiflex twin-lens reflex.
Her tale quickly gripped the blogosphere. "I was surprised at how viral the story became almost immediately," Maloof has said. "It has been snowballing ever since it was noticed online."
It's said that Maier, a fiercely private individual, didn't even like people to know her full name. Consequently, many of the details of her life are still surfacing. So far we know that Maier was born in New York City in 1926 to a French mother and Austrian father. Sometime after her birth she and her mother moved back to France, to Saint-Julien-en-Champsaur, the tiny village where her mother's family was from. It's possible the seeds of her photographic passion were sown at age 4, when she and her mother lived with the French-born, American-raised fin-de-siècle portrait photographer Jeanne J. Bertrand. Maier made two transatlantic round trips (once with her mother) before settling in New York City in 1951 when she was about 25. Audiotapes and personal accounts confirm that she spoke with a light French accent for the rest of her life.
About 1948 or 1949 Maier started photographing the people and buildings of Saint-Julien-en-Champsaur using a Kodak Brownie box camera. By 1952 she was coming into her own as a photographer; perhaps cosmopolitan New York City provided her with the spark of inspiration a small village couldn't provide. By the mid-1950s, Maier's signature style had fully emerged. As Maloof points out, Maier was a very refined and self-assured photographer: "Her rolls [of film] are not click, click, click. She wasn't impulsive; she was careful with each shot. She rarely took three or four shots of the same person." Based on the photographic record she left behind, her creative peak came between 1952, a year after she started shooting in Manhattan, and the mid-1970s, when she transitioned into 35mm color film.
She was employed by the Gensburgs, a wealthy Chicago family, for 17 years, becoming a second mother to the family's three boys, John, Lane and Matthew (all now in their fifties). The brothers and their mother stayed in touch with Maier throughout her life, even assisting her with an apartment and a nursing home in her last years. When she died (in 2009 at the age of 83, just before Maloof discovered her identity), it was the Gensburgs who scattered her ashes in the North Shore woods where she had taken the brothers strawberry picking as youngsters.
There's no evidence to suggest that Maier ever studied photography formally, though from her book collection (given to Maloof by the Gensburgs), it's clear she was quite aware of other photographers' work.
Though somewhat scant, the information we have on Maier's history paints a picture of her as a complex, opinionated and independent woman, often described as a "free spirit" by those who knew her best. Most of all, she fiercely guarded her privacy, to the point where, despite her obviously consuming passion for lens­work, she shared her work with almost no one (though the Gensburgs did purchase some of her photos of their boys). Indeed, her legacy very nearly died with her. Instead, thanks to Maloof, her story is gaining momentum.
Following his initial purchase of the auction lot and the flurry of attention it garnered, Maloof has acquired, by his estimate, about 90 percent of Maier's known work. Another collector, Jeffrey Goldstein, owns about 15,000 Maier negatives, which he procured well after Maloof began rebuilding Maier's archive. There are also the approximately 100 negatives Maloof sold on eBay before he understood quite what he was selling. Eventually the noted photographer and critic Allen Sekula advised Maloof to stop selling the negatives.
Martin Fuchs, communications adviser for the Maloof collection, says, "It's important to us that we do the right thing: establish Vivian Maier as the great photographer she was and get her work seen and known." Since establishing her as a great photographer will also confer substantial financial reward to those who hold the keys to her work, it would be naïve to consider Maloof's actions as those of a pure altruist. That said, he doesn't appear to have found complete comfort in his position regarding the collection either, bristling at any intimation of self-interest. "I understand that people want to know if I'm trying to cash in on this woman's work," he says. "That's not my mission. I'm not going to sell her out for money."
Whatever his motivation, Maloof has been a relentless (if novice) advocate for Maier and her work. And fighting for institutional and academic recognition has not been easy. "I've contacted major institutions such as MoMA and Tate Modern," he says. "They don't consider the photos to be the artist's vision if she didn't print them." Which points up the central conundrum of considering Maier alongside giants of her era such as Ruth Orkin, Berenice Abbott and Diane Arbus.
There's no denying that our understanding of Maier is missing key curatorial and aesthetic pieces that are important to our understanding of photographic artists. We don't know how she would have edited her work for display or how she would have chosen to print her photos. Nevertheless, the strength of the negatives is hard to deny. Colin Westerbeck, director of the University of California, Riverside California Museum of Photography and one of the country's leading experts on street photography, has characterized Maier's work as "not as powerful as that by Arbus," but nonetheless "obsessive in a way that is similarly irresistible." David W. Dunlap went further in The New York Times blog Lens, calling Maier "one of America's more insightful street photographers." For our part, we find a wry wit in Maier's work that, when coupled with her technical artistry and compositional skill, makes for vastly enjoyable viewing.
In the absence of academic validation, Maier has been warmly received by the photo-loving public, at first online, and now in a variety of exhibitions: in Chicago, as well as England, Germany, the Netherlands and Denmark. Two exhibits arrive in December, one at New York City's Howard Greenberg Gallery and the other at the Merry Karnowsky Gallery in Los Angeles. Her work will also be available in book form with the arrival of Vivian Maier: Street Photographer (powerHouse Books), due in November.
Recognition of this kind goes a long way to legitimizing Maier's body of work and quashing the criticisms of those who would dismiss her as a lucky amateur.
Howard Greenberg, a top photography dealer who also handles prints by Cartier-Bresson and Stieglitz, confesses, "My fascination with her story has only grown, as has my involvement with her photographs. It is such an unusual story with no resolution. At first her images are extremely well seen, quality photographs of life on the street, in New York City and Chicago. But as one looks at the body of work, she reveals her deeper interests. Then one tries to imagine who she was, what motivated her, her personality. It's not every day that one becomes so involved and even obsessed with thinking about a particular photographer. It's completely infectious."
Limited-edition prints for both shows are being handled by master printmaker Steve Rifkin of Hank's Photographic Services, who also produces prints for the Robert Mapplethorpe and James VanDerZee estates. "It is impossible to assume that Vivian Maier would have made prints like these," Greenberg says, "but it is acceptable to think that she would approve because of their excellent quality."
The good news for those intrigued by Maier's beguiling mystery is that her archive has only barely been tapped. Maloof estimates he's scanned a mere fraction of the more than 100,000 negatives he has. An additional 1,000 rolls of film still sit undeveloped on their spools, frozen moments in time waiting to be excavated, each one captured by a woman who never guessed the world might care to see itself through her lens.