Travis Rathbone, The Alchemist
Still-life photographer Travis Rathbone has established a signature style by redefining the limits of objects. His visual experiments push commonplace … Continued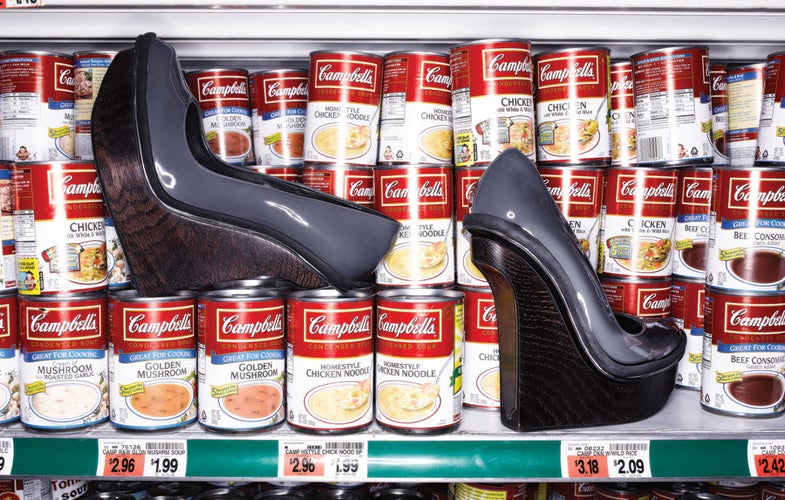 Still-life photographer Travis Rathbone has established a signature style by redefining the limits of objects. His visual experiments push commonplace items into new realms: submerged in foreign substances, frozen in motion, exploded into larger-than-life compositions. The 28-year-old New York City transplant, already in demand only a few years into his career, has little time to reboot and refresh between projects. After two weeks of intense shooting in San Francisco for client Jawbone through the agency fuseproject, he's just gotten off a red-eye back to the East Coast, the latest leg of a studio marathon with barely a breather in sight. "It's been a crazy two years," Rathbone says, "but I won't complain about it."
Then again, it's this type of all-consuming focus —verging on hubris—that prompted the California native to strike out on his own and start an independent studio at the ripe age of 21. "I was working at a digital imaging lab, but promoting my own work as much as possible," Rathbone recalls.
Another photographer had backed out of "a tiny still-life shoot last-minute, and I was asked to fill in. So I called in sick to work. I shot the image; they liked it and shortly thereafter offered me another two-week project. Without much more planning, I stupidly went back to my boss at the lab and quit on the spot."
But Rathbone did have a few aces up his sleeve. After graduating from Santa Barbara's Brooks Institute in 2006, the young lensman sharpened his vision assisting established names including David LaChapelle in Los Angeles and Craig Cutler in New York. "One of the few things I asked for with early jobs was to use the studio facilities on the weekends if they weren't booked," he says. "I really took advantage of that. I shot and shot and shot. Looking back, my work wasn't great but it was getting better. And I would show it to anyone who would look."
The diligence eventually paid off. Rathbone cites as one big break a January 2012 cover for Money magazine. "You don't see a lot of still lifes on national covers anymore," he says. "I always wondered if that was something I would ever get to do." Sixteen cover shoots in 2012 alone settles that question. Rathbone's ever-growing roster of clients includes Glamour and New York magazines and Macy's, Adidas, and Victoria's Secret.
Behind his success lies a novel approach. Rathbone transforms his studio into a testing laboratory where he can explore materials with the assiduity of a sculptor. "I love stuff," he says, "but simply taking a beautiful picture is not that impressive. I'm always looking for different effects.
I was at a dinner once, and we ordered some sort of fancy dessert, which was prepared tableside using liquid nitrogen for all of us to see. I left that dinner thinking, 'What on earth can I do with liquid nitrogen?'" Rathbone took to the studio for a battery of tests on various substances; it culminated in a personal series of frozen make-up. "Since then magazines like Men's Journal and Women's Health have had me replicate the technique for different stories," he says. Rathbone's inquisitiveness remains a driving force. "One of my art directors brought this weird chemical to my attention," he says. "It's a hydrophobic substance and I just saw a bunch of YouTube videos of what it can do. It wasn't particularly beautiful, but it was unique. There must be something I can do with this."
Close-Up: Travis Rathbone
TravisRathbone.com
Lives In: New York City
Studied At: Brooks Institute of Photography, Santa Barbara, CA
Awards: SPD merit awards for Field & Stream and Money
Clients Include: Adidas, Barnes & Noble, BBDO, Field & Stream, Men's Journal, Glamour, New York, Popular Photography, Prevention, Victoria's Secret
In the Bag: Hasselblad 503CW and H series: "They are workhorse cameras that have been put to the test for years," he says. "I also use the Mamiya Leaf Aptus-II 12 80MP digital back."
New Tool: "Something that saves hours of time in post is soft­ware called Helicon Focus, which puts focus planes together and saves a retoucher from having to do it."