Topographics Anew: Picturing the Incredible Human Impact on the Landscape
Revisiting the New Topographics movement on its 40th anniversary through the lens of contemporary landscape photographers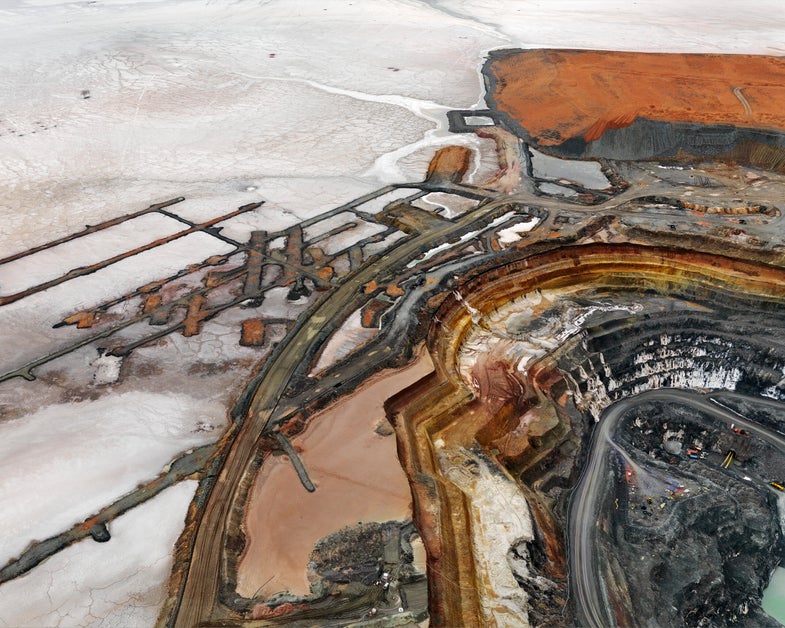 "Human-Altered Landscapes" at the Cincinnati Art Museum, on view through July 19, 2015, explores the significance of "New Topographics: Photographs of a Man-Altered Landscape," an exhibition originally presented at the George Eastman House in Rochester, NY in 1975. The current exhibition presents works by artists who were included in this landmark show 40 years ago—Bernd & Hilla Becher, Robert Adams, Lewis Baltz, and Stephen Shore—alongside works by contemporary artists Pieter Hugo, Richard Misrach, Edward Burtynsky, John Divola, Elena Dorfman, and Lucas Foglia. Seen together, these prints shape our understanding of how photographers document the human impact on the landscape. We spoke to Brian Sholis, Associate Curator of Photography at the Cincinnati Art Museum, about what has and hasn't changed in four decades of looking at the land through a lens.
The cool, analytical style of the New Topographic photographers was not immediately embraced, and yet its influence has been lasting and profound. What do you perceive as the continued relevance of this approach to photographing the landscape and what inspired you to organize this exhibition?
New Topographics is so influential that the exhibition was even reconstructed, to brilliant effect, several years ago. That doesn't happen often. My exhibition takes the 40th anniversary as a reason to look at how that influence descends through subsequent generations of photographers. The Cincinnati Art Museum holds work by several artists in the original show, and I was eager to put beautiful photographs by Robert Adams, the late Lewis Baltz, and Stephen Shore on view. While the other photographers I included have not all claimed New Topographics as a direct influence on their work, I believe they have in common a desire to reveal that you cannot separate "nature" from human presence. At the same time, certain combinations of pictures in the show tell particular stories. The Edward Burtynsky photograph of a copper mine in western Australia suggests one end of the production spectrum; Pieter Hugo's portrait of a scavenger in an electronics-recycling dump outside Accra, Ghana, highlights the other.
The "New Topographics" photographers primarily focused on themes of human intervention in the American landscape. However, you chose to also exhibit work by international photographers, such as Pieter Hugo's photographs of the Agbogbloshie dump in Accra, the capital of Ghana, where foragers mine for useful scraps of discarded computers. What motivated your decision to consider artists working beyond the United States?
While we think of New Topographics as an American phenomenon, it's important to remember that German artists Bernd and Hilla Becher were included in the original exhibition. Additionally, one of the chief developments of the last 40 years has been the increasing globalization of production and consumption. The industrial outposts and residential developments that appear so frequently in the New Topographics artists' photographs are today usually the product of global supply chains. It makes sense that photographers tracking the impact of these developments on the landscape would work in—and hail from—places beyond America's borders.
The artists in the exhibition collectively examine man-made artifacts and architecture in the landscape as well as industry's impact on nature. What are some of the specific environmental and ecological issues raised by this exhibition?
People in Cincinnati hold differing opinions about our changing environment, so I tried not to be didactic or politically hectoring when describing the show and its photographs. To that end I'll simply list some of the things people can see in the pictures on view: a rock quarry in Kentucky that has been repurposed as the site of a suburban-style housing development; a major copper-mining operation in Australia; a flooded Salton Sea, a place that is currently in the news because it is disappearing; the water produced as a byproduct of oil drilling being pumped into a natural watershed.
The process of producing work about the landscape suggests that most of these photographers travel extensively, and many shoot with large-format cameras and present their work as large-scale prints. In researching and communicating with the various artists included in the exhibition, what else have you learned about some of their experiences and artistic concerns?
Since all of the photographs in this exhibition are drawn from the Art Museum's collection, I did not speak directly with most of the included photographers. I did, however, interview Lucas Foglia, and several things he said resound with me: "I don't think of myself as a quintessential road-trip photographer. People I meet tend to know more about their home and community than I do, and so I stay and listen, and look for scenes in everyday life that seem extraordinary."
New Topographics–style photographs were described at the time as "cool," "analytical," and "dispassionate." Forty years have taught us to distinguish the individual styles of the participating photographers, and to realize that our original terms for their work were incomplete or even wrong. Foglia brings up another point: even if the photographers were dispassionate, the people who live in these places are not. As he says, "I hope 'Frontcountry' [the series from which Foglia's picture is drawn] is a portrait, not an indictment, of the contemporary, rural American West, because everyone I photographed talked about caring about the landscape they live in."