Summers at Autism Camp
A few weeks ago, Erin Brethauer took over the New Yorker's Instagram feed, posting iPhone images she took over two...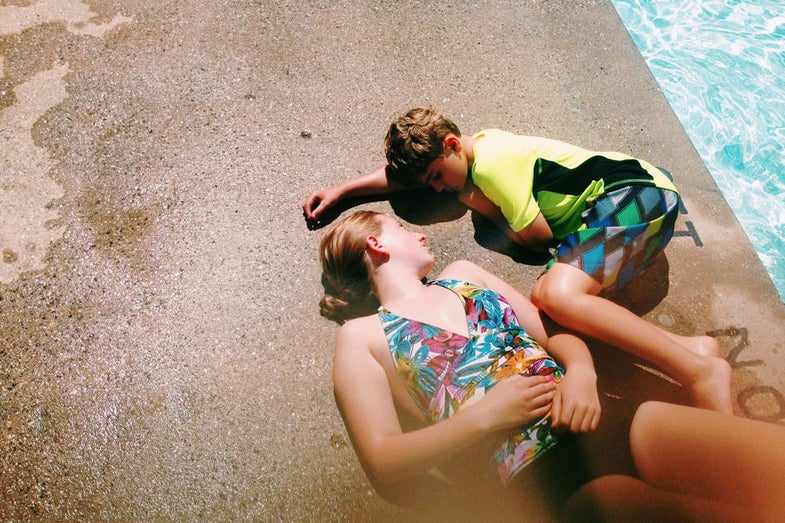 A few weeks ago, Erin Brethauer took over the New Yorker's Instagram feed, posting iPhone images she took over two weeks from Camp Lakey Gap, a summer camp for people with autism in North Carolina. I was immediately drawn to her photos for their compassion, humor, and ability to almost effortlessly transcend the stereotypes surrounding autism.
Her work for the New Yorker was a continuation of "Autism Camp," a project that began on a newspaper assignment and has since taken on many forms. I spoke with Brethauer via email to find out more.
How did this project begin and why? What was your experience being around people with autism before this project, if any?
The project began as a newspaper assignment back in 2008. That first week at camp was my first time really interacting with people with autism. A reporter and I followed a set of twins, Albert and Susanna, who were both six years old but on completely different ends of the autism spectrum as far as communication. Susanna was highly verbal. Her twin, Albert, was nonverbal, using more body language to express himself.
I thought this was really interesting, so I tried to figure out a way to visualize the spectrum with photographs. On the last day I made a series of pictures using a friend's Hasselblad camera—I paired the portraits with the camper's daily schedule. I liked how this pairing told a stronger story about the individual. You got to see their expressions, their faces, but you also learned a little bit about how they communicate because the schedules were either written or used image icons. They also conveyed a bit of the camper's personality and the playfulness of camp.
How did the kids react to your presence and your photographs?
Many times if the campers are curious about me they ask, I explain and then they forget about me. It's usually the counselors who are more interested in what I'm doing.
I do have a feeling that if this were a camp for neurotypical children, I would have to fight a bit harder to melt into the background. I imagine there would be more mugging for the camera and showing off.
I make it a point to try and blend into camp once it begins. I try to use body language that suggests it's totally normal that I'm taking pictures and that you should just carry on and ignore me. This works well.
How did the New Yorker Instagram arrangement come about?
The New Yorker feed is scheduled so that different photographers are hosts for up to a week. When I first started following the feed, I loved the exposure to different work and felt that giving photographers that amount of time allowed work to unfold and build.
A friend of mine, Peter DiCampo, helped start an Instagram feed that I really like called @everydayafrica [We like it very much too—Eds.]. It features work from different photographers working in Africa. They had manned the New Yorker feed for a week so he told me about the process. From there, I made a pitch, including a link to my past work. I knew that I would be photographing two weeks of camp in July so I offered to make iPhone photos during that time. They liked the idea and gave me the green light.
How did your approach change shooting for Instagram with a phone, compared to the medium format film stuff you did before?
It was fun working with two very different cameras. The Hasselblad is beautiful because it asks you to slow down. This is what attracted me to it initially—the contrast it provided to my daily, digital work for the newspaper.
After so many years of shooting slowly with film at camp, shooting with the iPhone refreshed my eyes and allowed me to capture new things. The immediacy was great. Being able to shoot, tone [using the VSCO camera app], edit and post so quickly was really freeing.
Shooting with the iPhone also allowed me to get very close to people physically because it's not as obtrusive. Being able to use a waterproof case and dunk it in water was also a really nice perk. I got in the pool for the first time ever this year to take pictures. It was so fun.
Did you form any particularly close bonds with any of your subjects?
I definitely had a few campers that I was really drawn to photograph, which you might notice by looking at the New Yorker posts.
The first week, I was really drawn to Bridget because she has this magic about her. I photographed her last year too. She's constantly singing pop songs and twirling different colored Sharpies in her hand.
I also loved photographing Josh. I'm really fond of an image of him underwater, skimming the bottom of the pool. Josh doesn't communicate as much verbally—more through body language and facial expressions—but there were moments when you could tell he was experiencing pure bliss.
There's this stereotype that people with autism don't make emotional connections with other people, but I watched many of these campers form very close bonds with their counselors and with each other. They may not express affection verbally or with obvious physical gestures, but it's often tender and deep when it happens. Sometimes it's just a fleeting moment, like when Spencer touched his counselor Laura's hair. Or when Josh gently nuzzled Will, his fellow camper during the dance night. I tried to capture those little moments that challenge some of the preconceptions about autism. I wanted to try and translate the ways the campers were affectionate and find some sort of emotional thread through the images. The pictures needed to convey more than an individual camper displaying autistic behavior. I tried to show the relationships and richness of this summer camp.
What's your overall goal for the project? When is it "finished"?
I'm so thankful that I was able to share the work through the Instagram feed. I feel like that helped me accomplish a goal I'd had of sharing the work with a bigger audience.
I'd like to create a book that includes both my film diptychs and the iPhone photos so I need to start learning about the book making process. I think that if I can pull that together, I'll feel like the project has a finishing point.
Until then, I hope to continue documenting some of the returning campers as they grow up.
You can find Erin herself on Instagram at @erinbrethauer