Soldiering On
In 2008, for its book American Youth, Redux Pictures suggested photographer Gina LeVay go to Texas to photograph Taryn Davis,...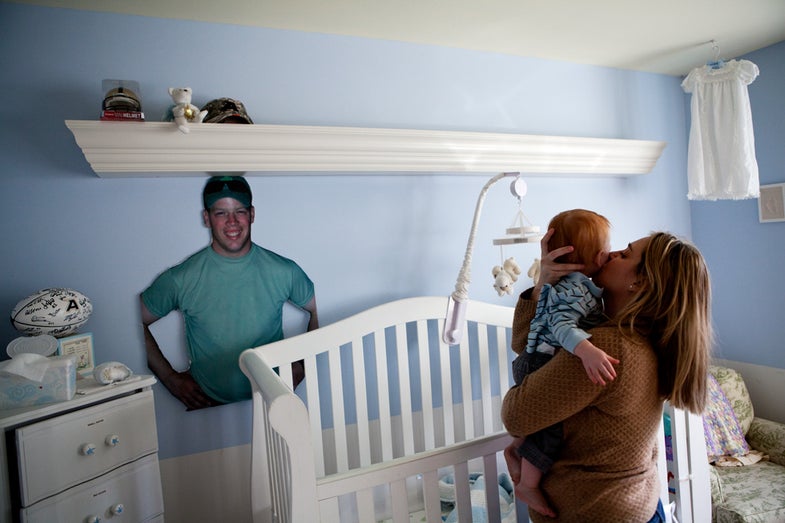 In 2008, for its book American Youth, Redux Pictures suggested photographer Gina LeVay go to Texas to photograph Taryn Davis, whose husband had been killed in Iraq. Davis is also the founder of the American Widow Project, an organization that aims to connect and support the estimated 3,000 American widows of the U.S. wars in Afghanistan and Iraq. During the shoot, the two of them clicked—so much so that LeVay was inspired to start an independent documentary project on the topic. Her ongoing series Women of the American Widow Project explores the extraordinary sacrifices and quotidian realities of these women using photographs and multimedia portraits. As Davis spread word of the project among the community, dozens of widows reached out to LeVay.
"Every woman I've worked with so far is very different, in background, schooling, where she's from, her family situation and why her husband went into the military," LeVay says. As one of her subjects, 33-year-old contract manager Mimi Ferritti, puts it, "It's not just one kind of person that it happens to." Indeed, given the increased number of women deployed, LeVay has begun to include widowers in the project, as well as photographing women who served along with their husbands. "One of the first widows I worked with filed her husband's [fatality] report," LeVay says. Her job was to file casualties at the end of the day. She came across the number and said, 'Wait a second, that's my husband's number.'"
At the other end of the spectrum are widows who had little experience with the military world because their husbands were reservists or had only recently enlisted. "One is an aspiring singer," LeVay says. "Another worked in marketing. A lot of the women have serious careers and are very strong, independent women I can relate to."
LeVay strives to capture the texture of these widows' lives and the ways they feel the presence of their deceased spouses, and she studiously avoids imposing a narrative. Using a Canon EOS 5D Mark II, she takes photographs and records video interviews, which she combines into multimedia portraits in collaboration with video editor Michael Kasino.
LeVay also steers away from familiar tropes such as visits to Arlington National Cemetery or family portraits that include framed photos of the deceased. Instead she asks her subjects to share the places that are meaningful to their memories of their spouses. She's driven for hours with them to photograph them where they were married or first met their husbands. Other times the location is as close as the basement, where she'll photograph a widow in her husband's favorite chair. LeVay's reluctance to force the moment doesn't always make things easy for her as a photographer, but still she resists the urge to embellish or overdirect. Her aim, she says, is to "embrace what's given to me." LeVay's light hand lets her focus on unique details or uncover things the widows have in common.
"There are casualties of war, but it's almost like we're a casualty of another kind," Ferritti says. "I think that if I'd had something like this when I first became a widow, I wouldn't have felt so lost and alone that first year. Maybe knowing and being able to see and hear about others who have walked down this road would have been good for me. I'm four years into my widowhood and I'm still learning how to do it." AP
More: womenofawp.com, ginalevay.com