A Shimmering City at the Edge of the Desert
How much do you know about Qatar? This small, oil-rich nation is quickly becoming an international force, and if you … Continued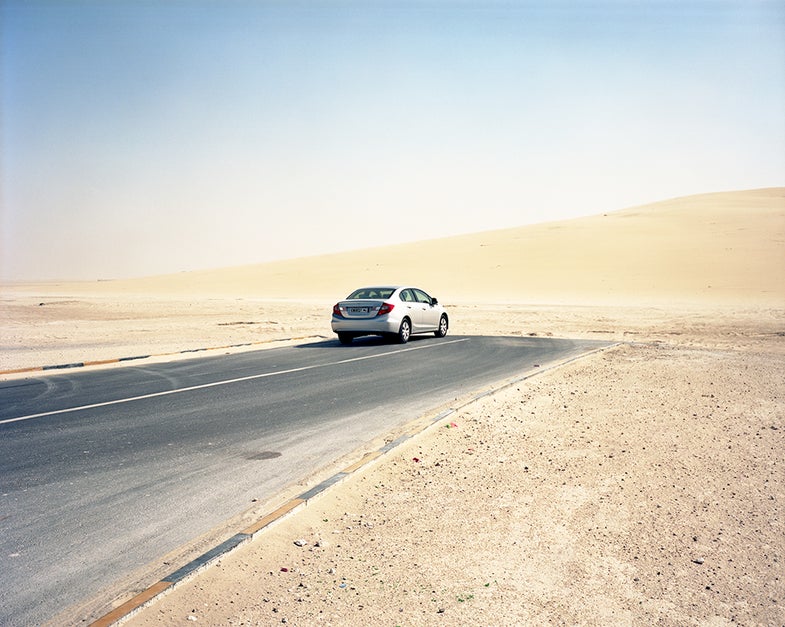 How much do you know about Qatar? This small, oil-rich nation is quickly becoming an international force, and if you aren't aware of it now, you will soon enough—in 2022, it will play host to the World Cup. This decision has already sparked some controversy, not least because of Qatar's brutal summer heat (temperatures regularly reach 105°F), but also because of the country's spotty human rights record. English photographer Tommy Forbes traveled to Doha, the capital city, to photograph it for a week. He's returned with a portrait of a city (and a country) in the middle of incredible development—for better or for worse.
On the back of its oil and gas reserves, Qatar has recently become one of the world's richest nations per capita. Forbes says that "luxury apartments are being built and sold by a flood of expat workers," who are "anxious to profit from the rich inhabitants yet to arrive," and it's true that many of the images here are completely empty. An eight-lane highway stretches off into the distance as far as the eye can see; if you look carefully, you can make out a single car.
As seen by Forbes, Doha becomes a place that is both desolate (we hardly see any people) and isolated (we are made aware that the city exists in a desert). The only living beings that appear are a dog, one of Forbes' friends and two contruction workers. The real main characters of these photos are the buildings, which we see in various states of completion: minutely detailed showroom models, half-constructed housing complexes, finished glass baubles. Almost universally, they appear as alien structures within the landscape. The only exception is a tin shack, which has been half-swallowed by the desert. It looks like it's been abandoned—and it doesn't seem as if anyone will move in soon.