See Refugee Life Through the Lens of Syrian Youth
Displaced by civil war, two Syrian teens intimately document life from inside the camps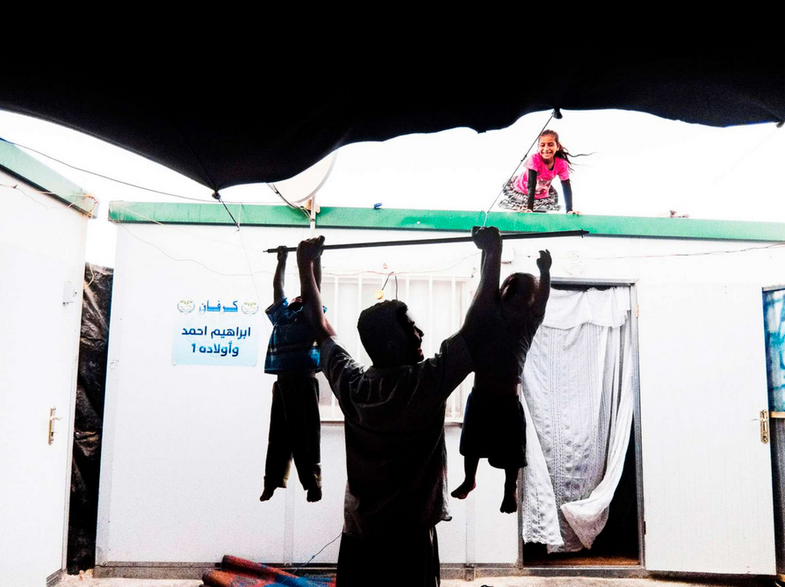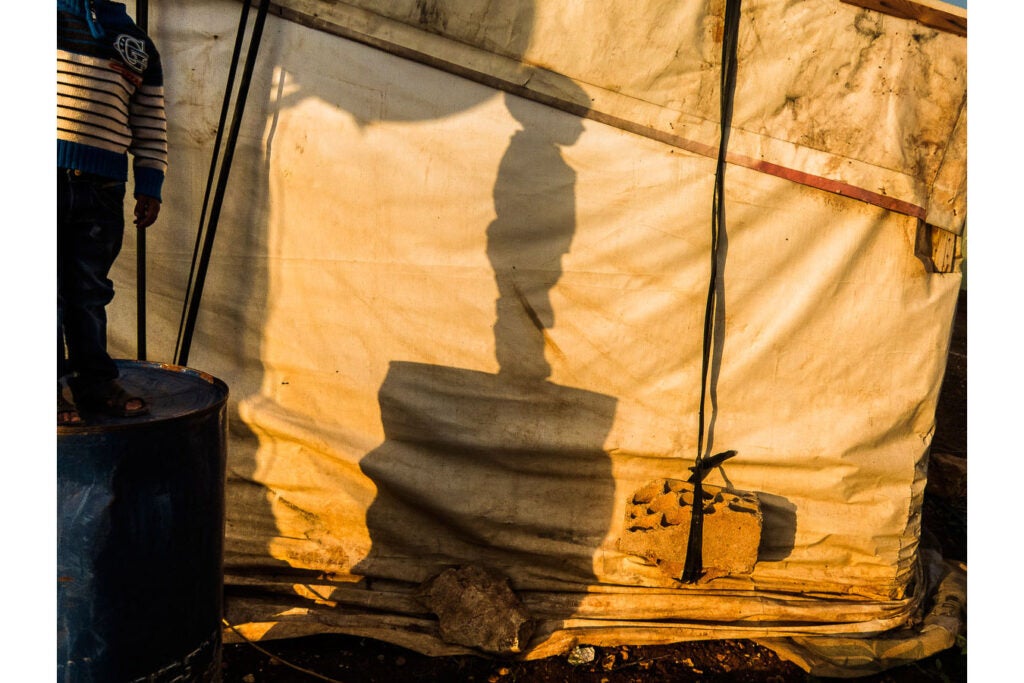 Do You See What I See? Zahle, Lebanon. Children's Photos
"My little brother Ashraf standing on a barrel in the camp. He dances like angels. He spreads joy everywhere and this might not be Ashraf. Maybe Ashraf is just one who is supposed to be a child with all his simple rights intact."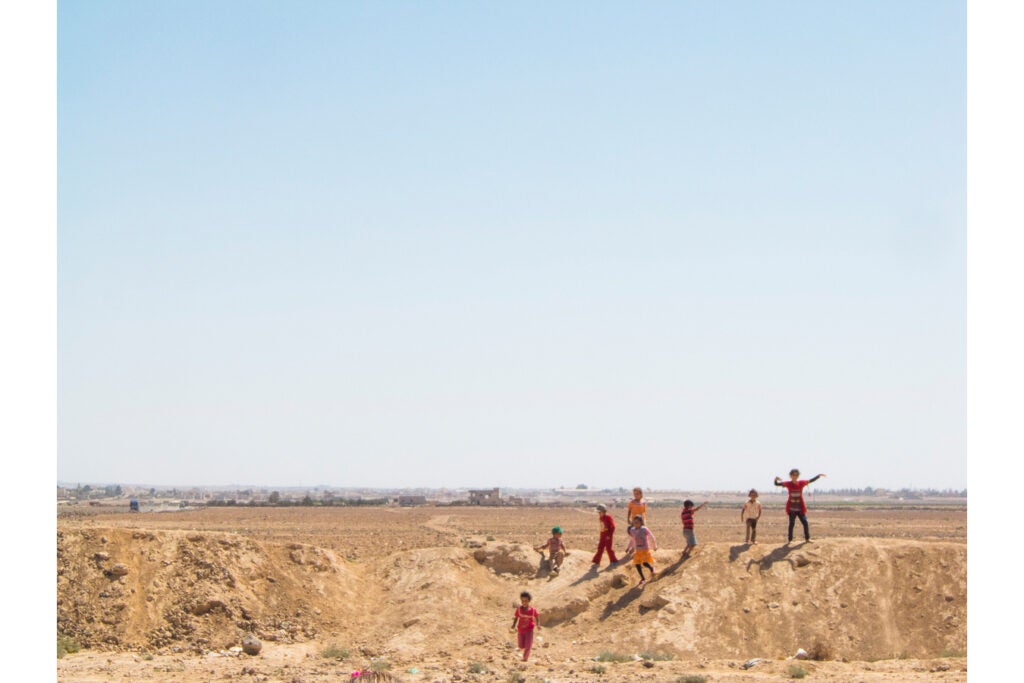 Do You See What I See? Za'atari Camp, Jordan. Children's Photos
"Yes, our life is hard and filled with difficulty. We are in an unbearable crisis. Despite that we still exercise and build skills for sports. We will improve ourselves."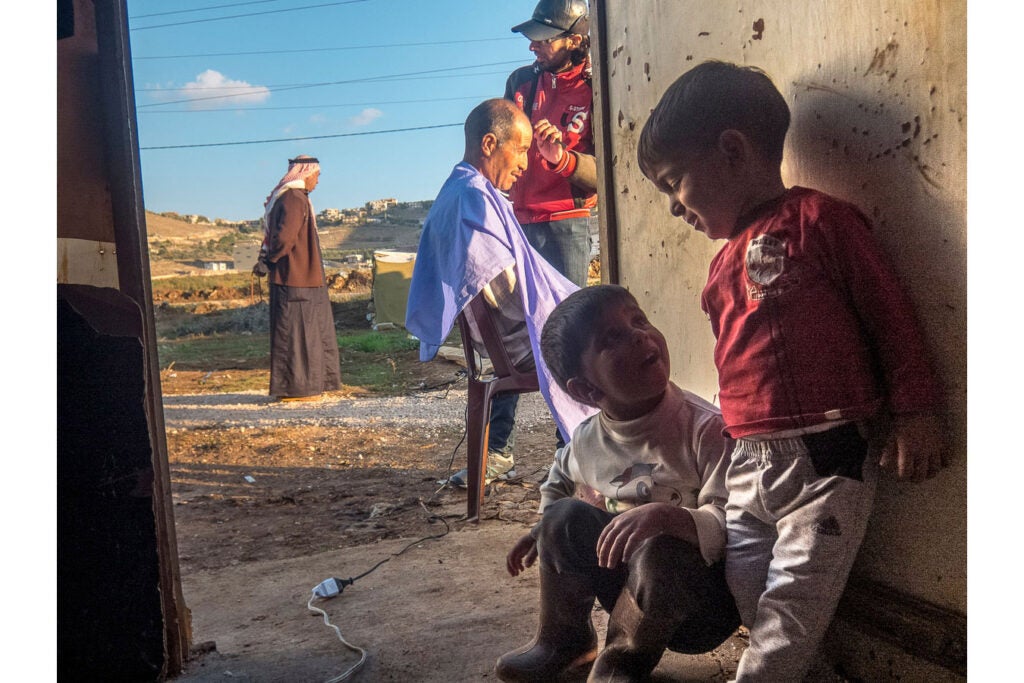 Do You See What I See? Zahle, Lebanon. Children's Photos
"In the camp where I live, this is what the operation of getting your hair cut looks like. A barber is called and the operation is often done outside in order to keep the tents clean."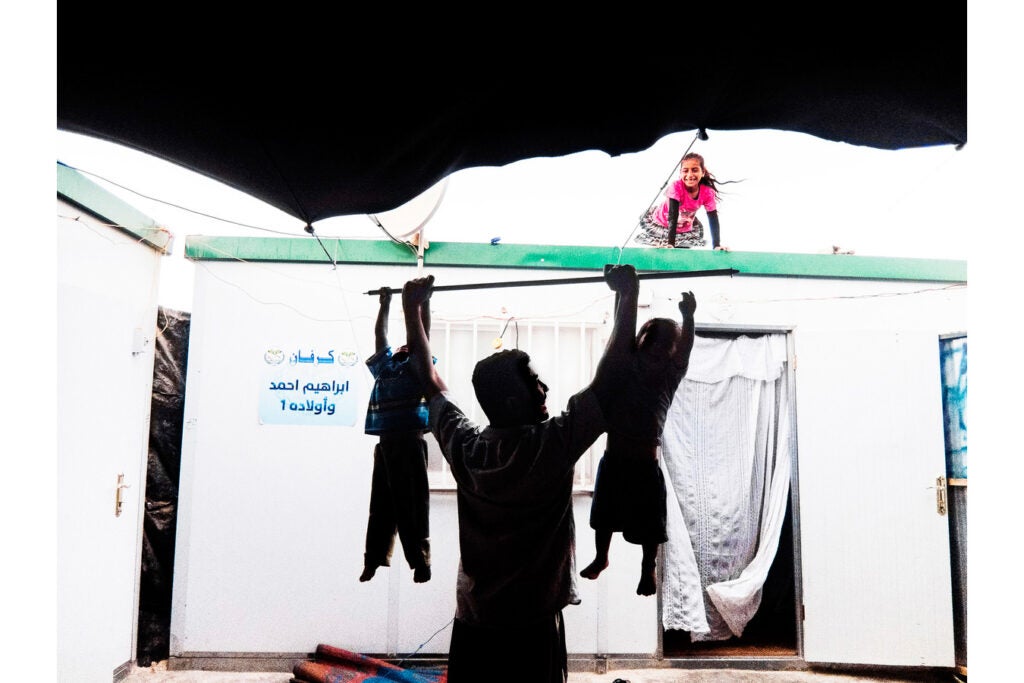 Do You See What I See? Za'atari Camp, Jordan. Children's Photos
"My family will play and have fun. We will go further. Even if thousands are too lazy to help the refugees we will make it through these critical days. A brighter future awaits."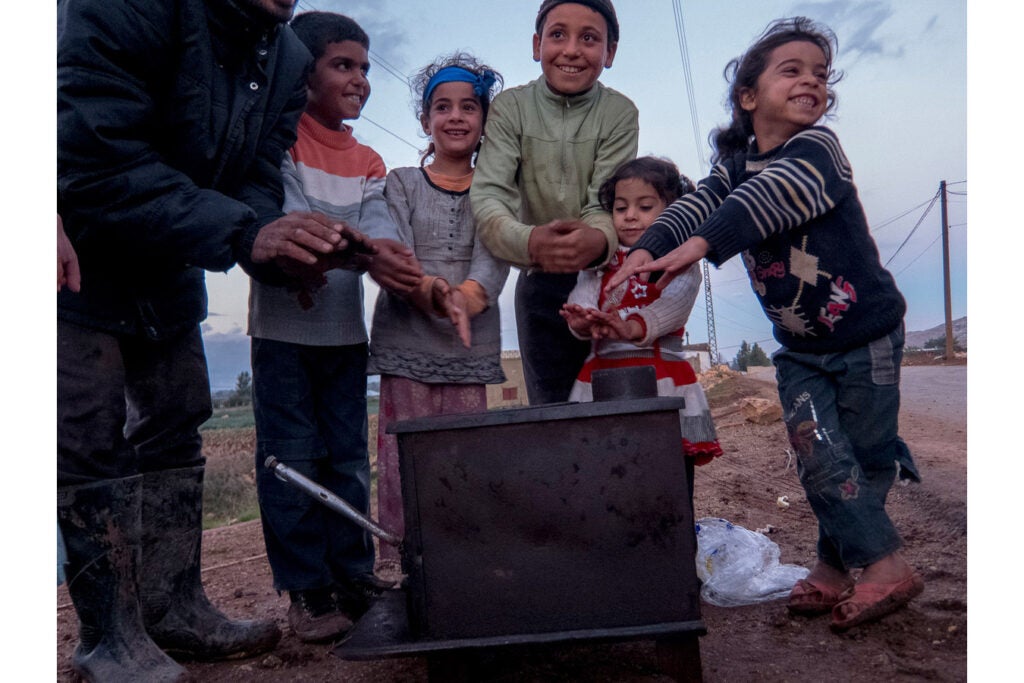 Do You See What I See? Zahle, Lebanon. Children's Photos
"Real warmth is to be with who you love, anywhere. This is what I learned from this scene of a family. The father is trying to fix the stove (which needs wood) and the kids are trying to have fun around their father. I also identified a new actress for my theater class (it's the girl on the right)."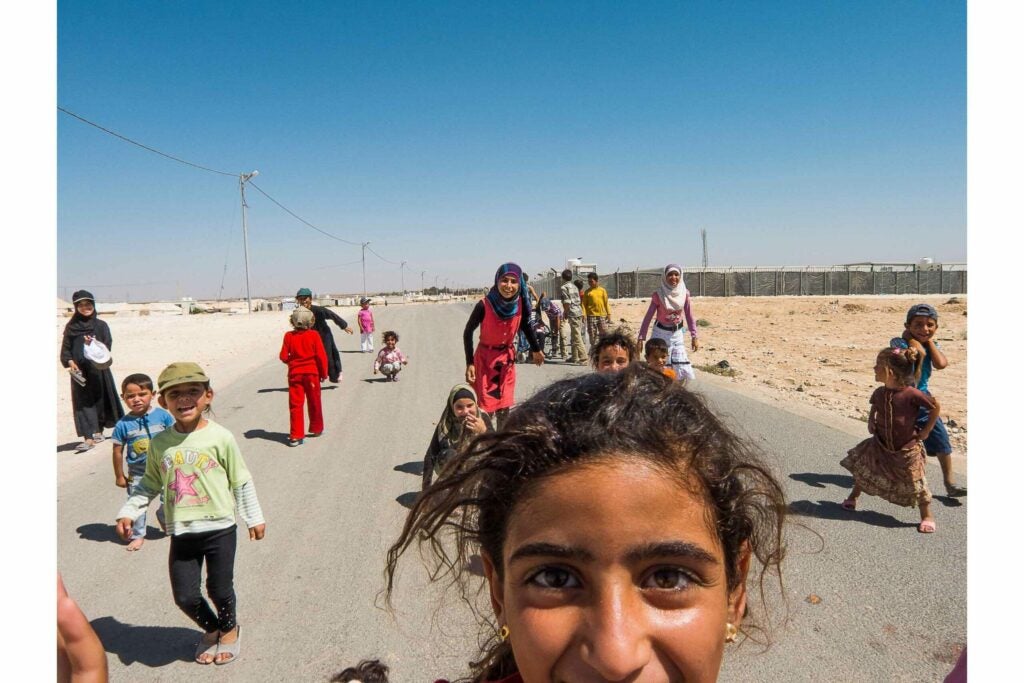 Do You See What I See? Za'atari Camp, Jordan. Children's Photos
"We will run, climb fences, lift weights, play football, ride bikes that no one cares for. We will even pull rope."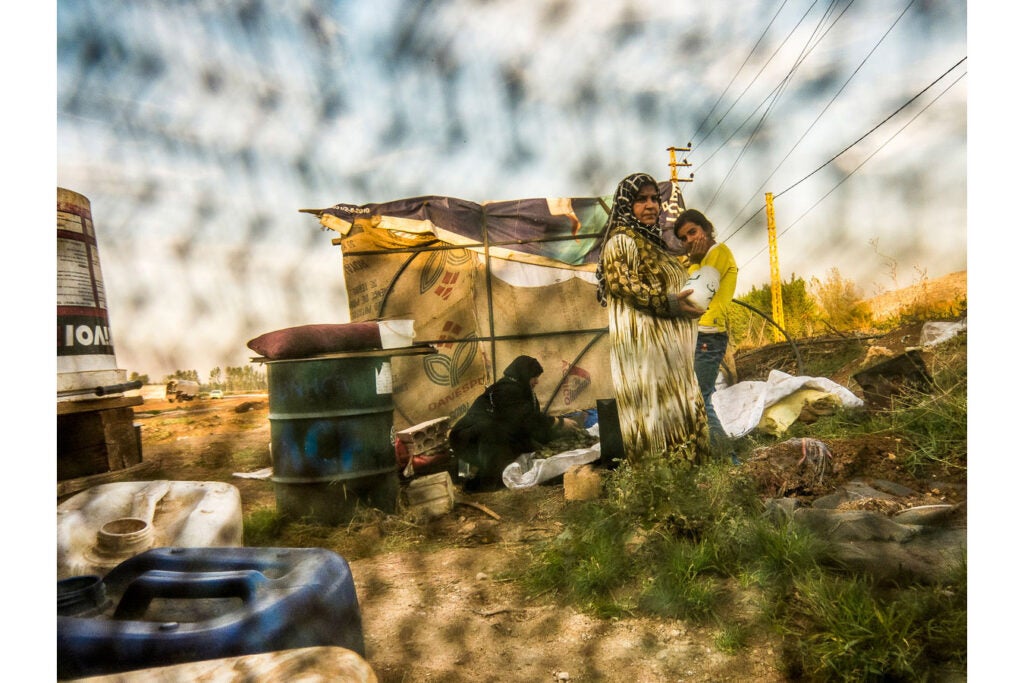 Do You See What I See? Zahle, Lebanon. Children's Photos
"The fence and the people are woven together into one fabric. Fences are the fabric of our lives."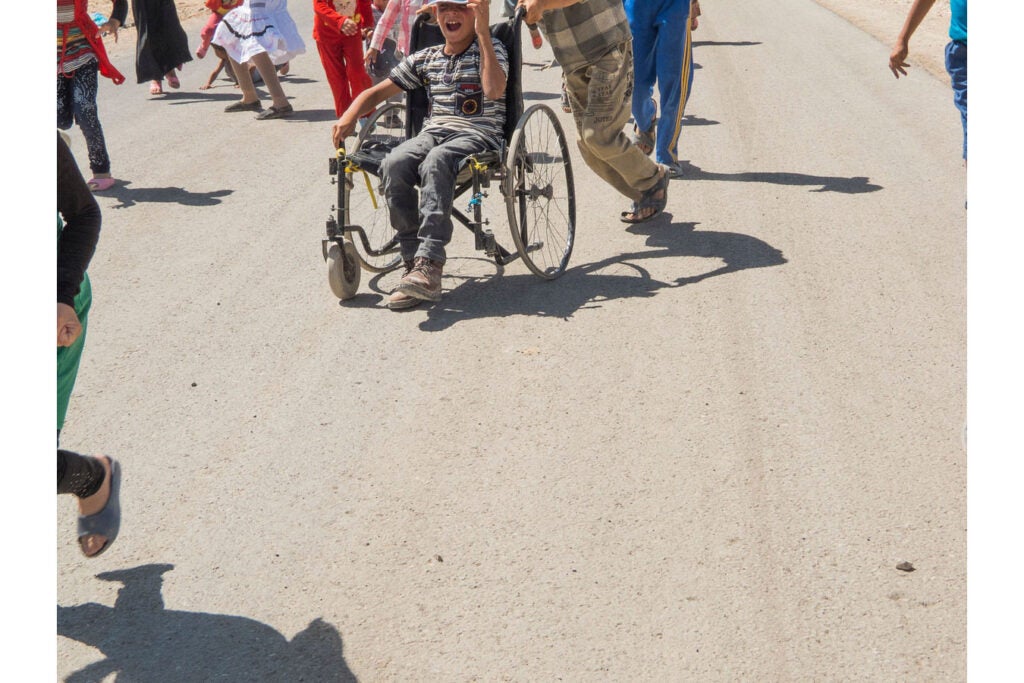 Do You See What I See? Za'atari Camp, Jordan. Children's Photos
"We won't give up. We will prove to the world that we are still children, adults and old men."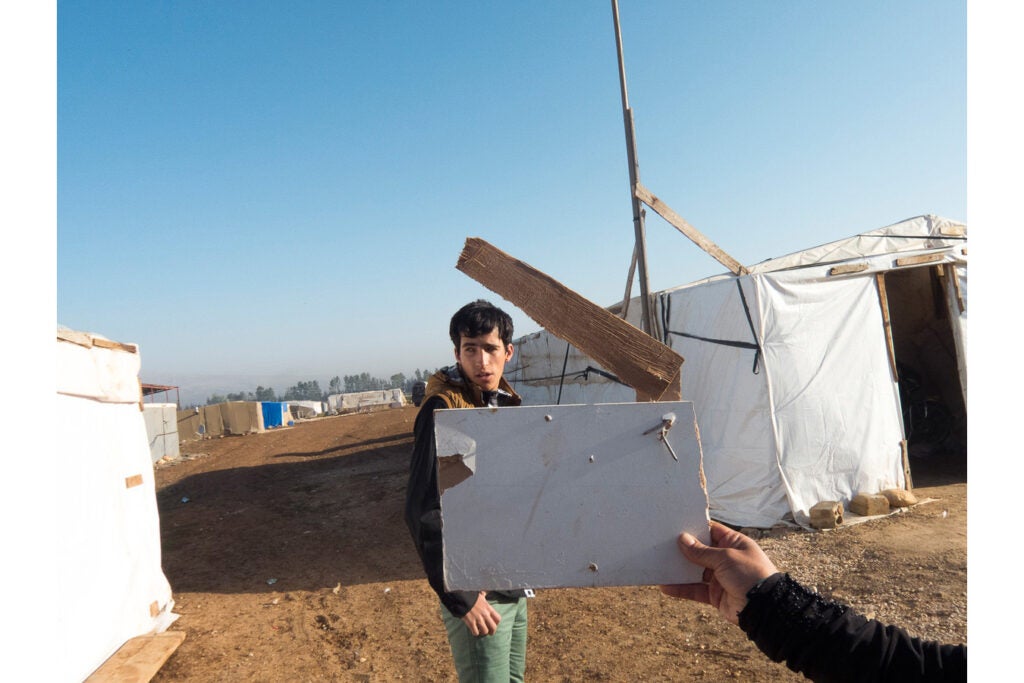 Do You See What I See? Zahle, Lebanon. Children's Photos
"I continue to stand facing my dream with no one telling me 'Action!' yet."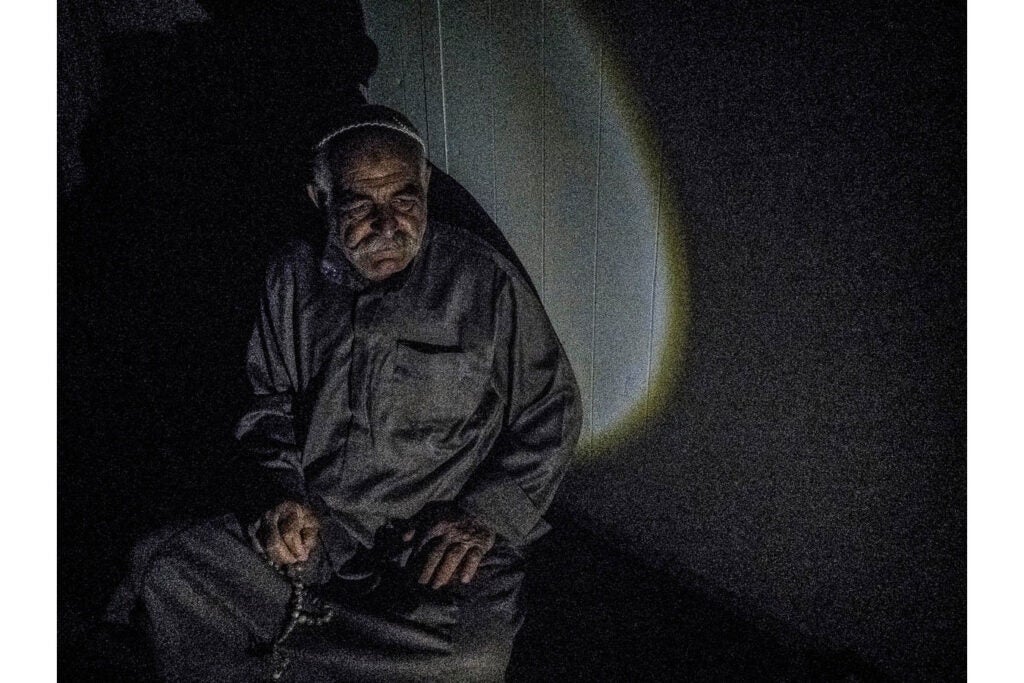 Do You See What I See? Za'atari Camp, Jordan. Children's Photos
"He is the grandfather of this family. He was the one who produced hope for the family. After the crisis he became a stranger, even to himself."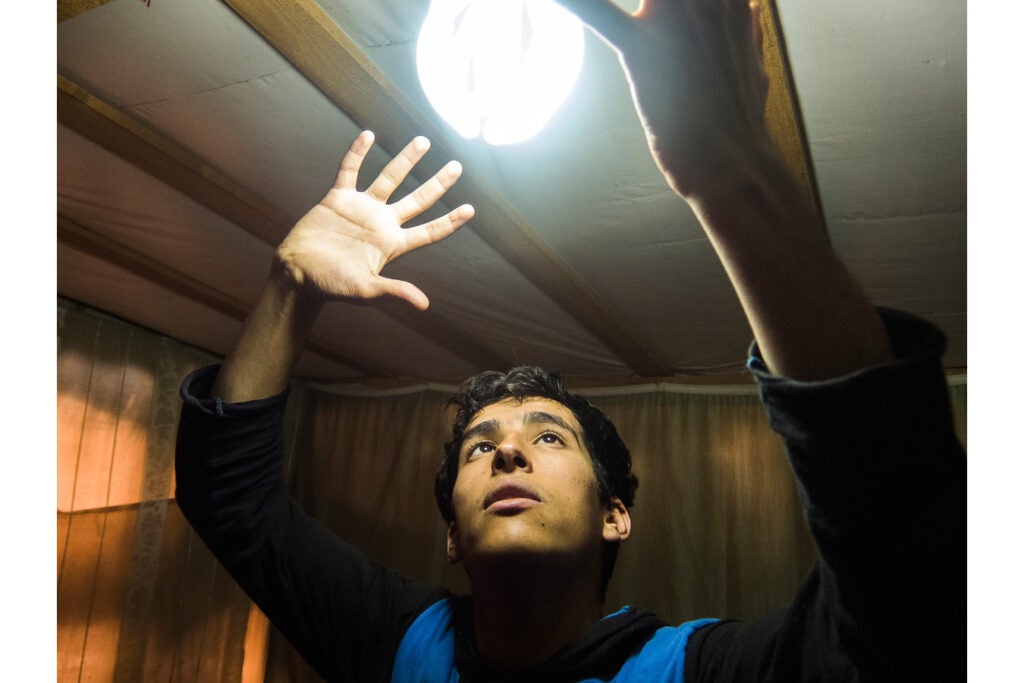 Do You See What I See? Zahle, Lebanon. Children's Photos
"And my tent has become my university, a lab, a studio, a theater. And in it I became the teacher, the professor, the student, the guard, the actor, the dancer, and even the photographer."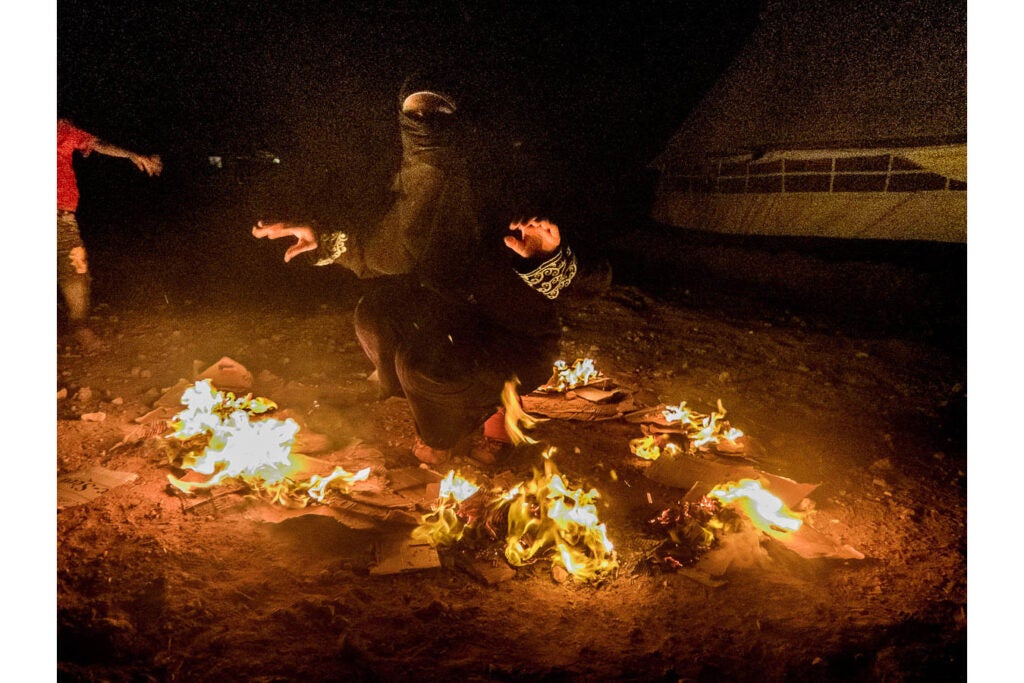 Do You See What I See? Za'atari Camp, Jordan. Children's Photos
"This is the most important picture to me because it is for my husband who was killed. You are the cause of all crises. You are everything in my life. I have to see you even if you are far from me. Inside of me there is a picture no one but I can see, a fire burning my heart a hundred times. I can't tolerate its flame anymore. I have no choice but to picture my agony and transform it into a little picture the whole world can see. Fire burned my husband and now it wants to burn me. This crisis and pain I have endured. This anguish didn't want to have mercy on me. It burned my husband. Oh I hear his voice in pain and in my dreams. Only fire. It wants to burn me and eat my body, so my soul could embrace his soul."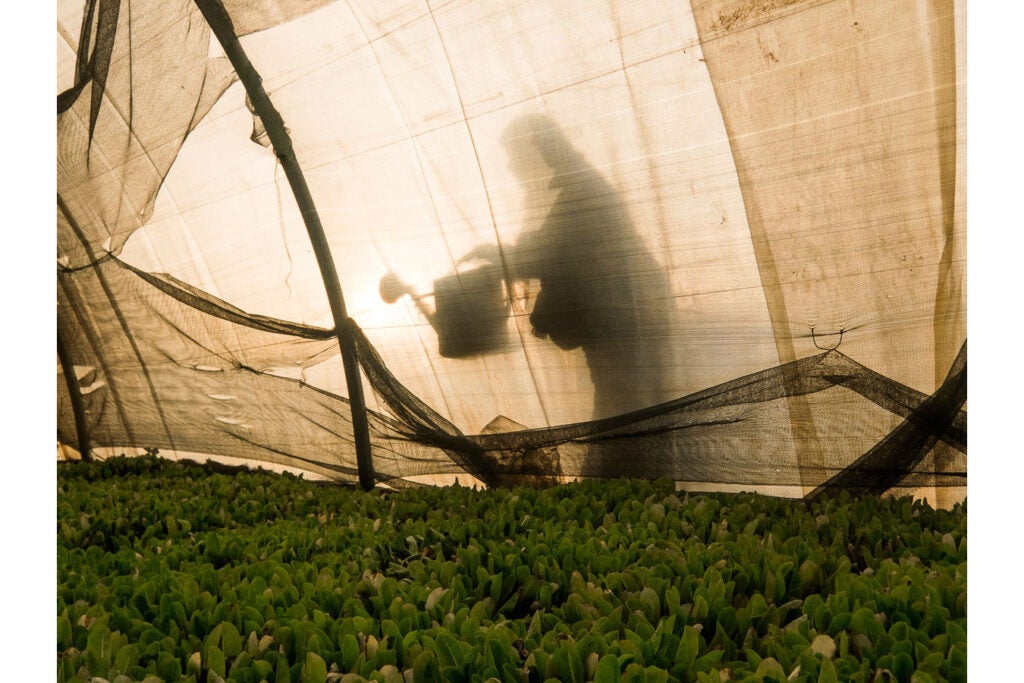 Do You See What I See? Zahle, Lebanon. Children's Photos
"If you want to be a good photographer, you have to deal with light well, and that is what I tried to do in the picture. And you also have to show people what you want from a picture."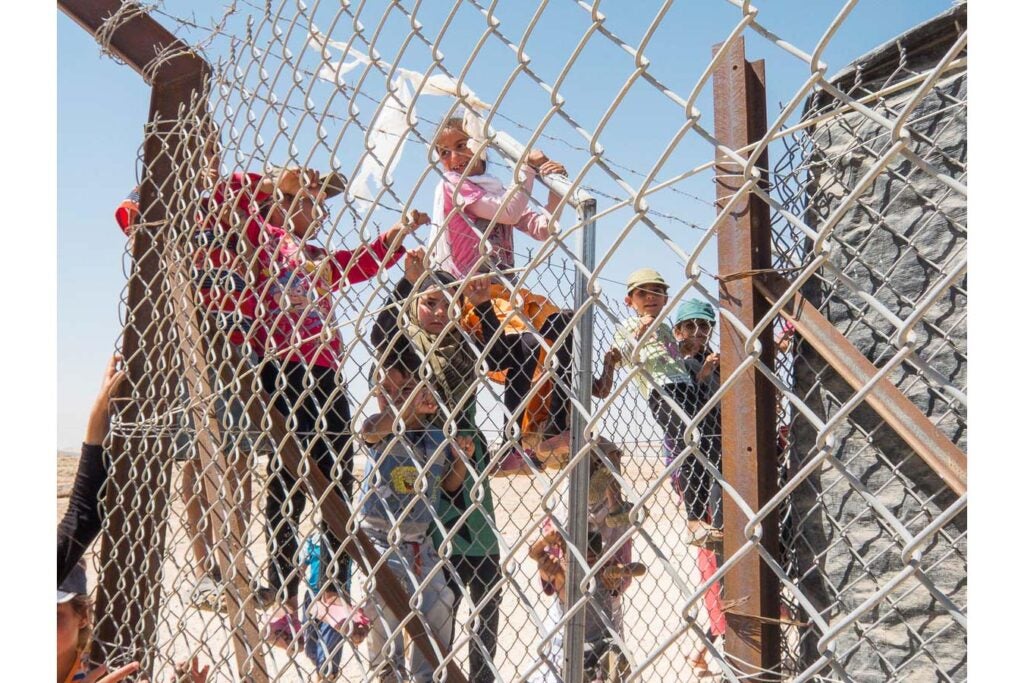 Do You See What I See? Za'atari Camp, Jordan. Children's Photos
"We are Syrian refugees."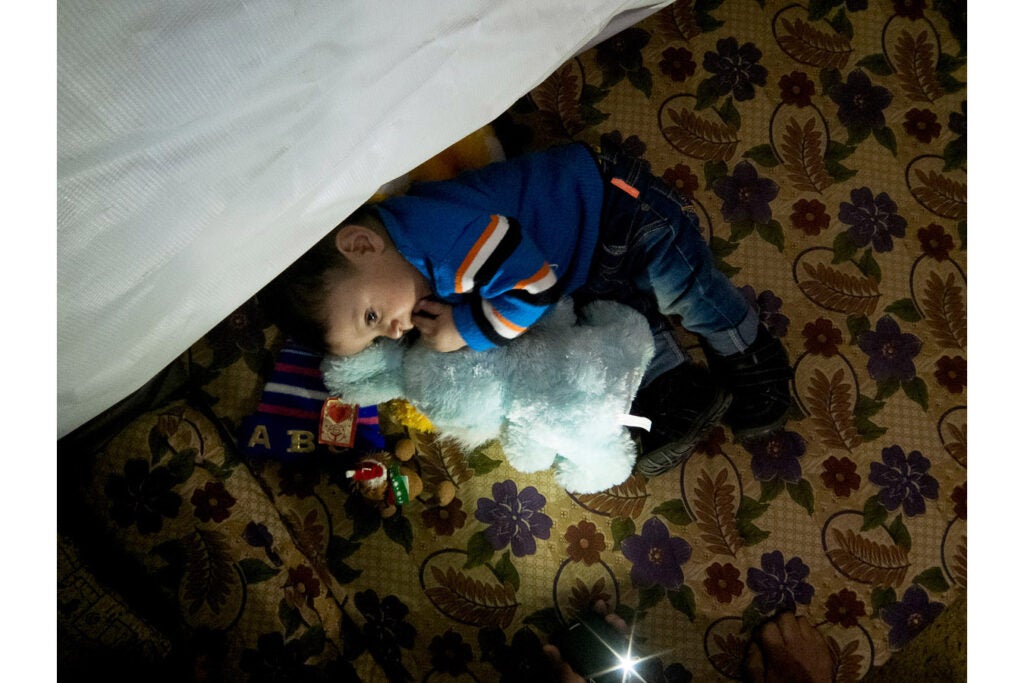 Do You See What I See? Zahle, Lebanon. Children's Photos
"I wish I were a toy, my young one, so I can sleep between your arms that know nothing but warmth. The world is very cold outside. Very cold."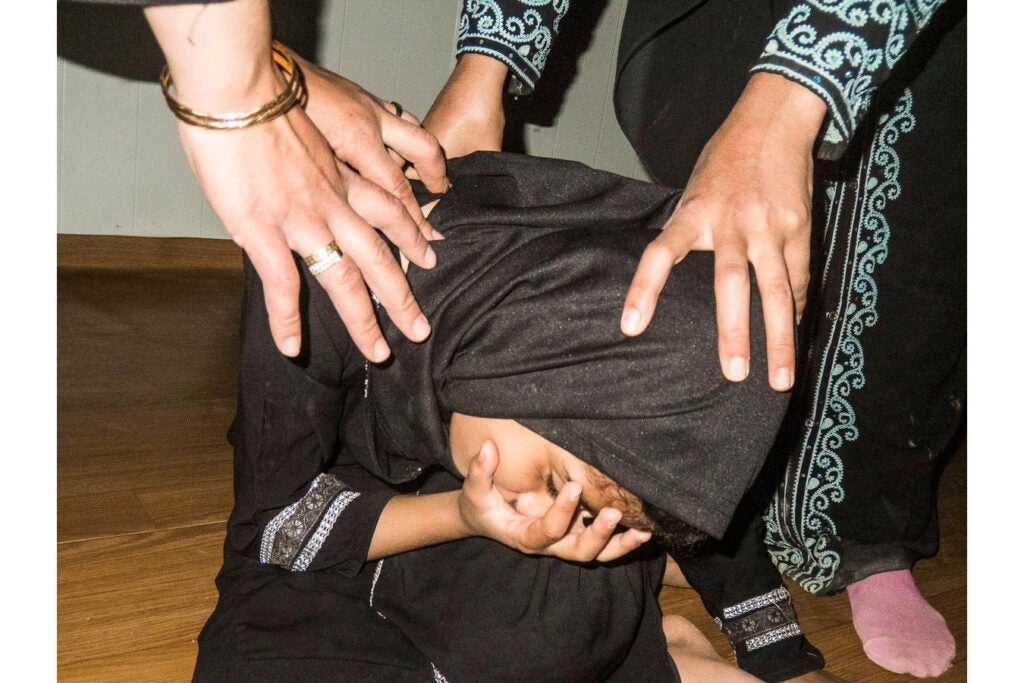 Do You See What I See? Za'atari Camp, Jordan. Children's Photos
"How unjust and brutal they are. They didn't show mercy even to children. Children became my dream companions, hanging from their necks. Their ghosts never leave me."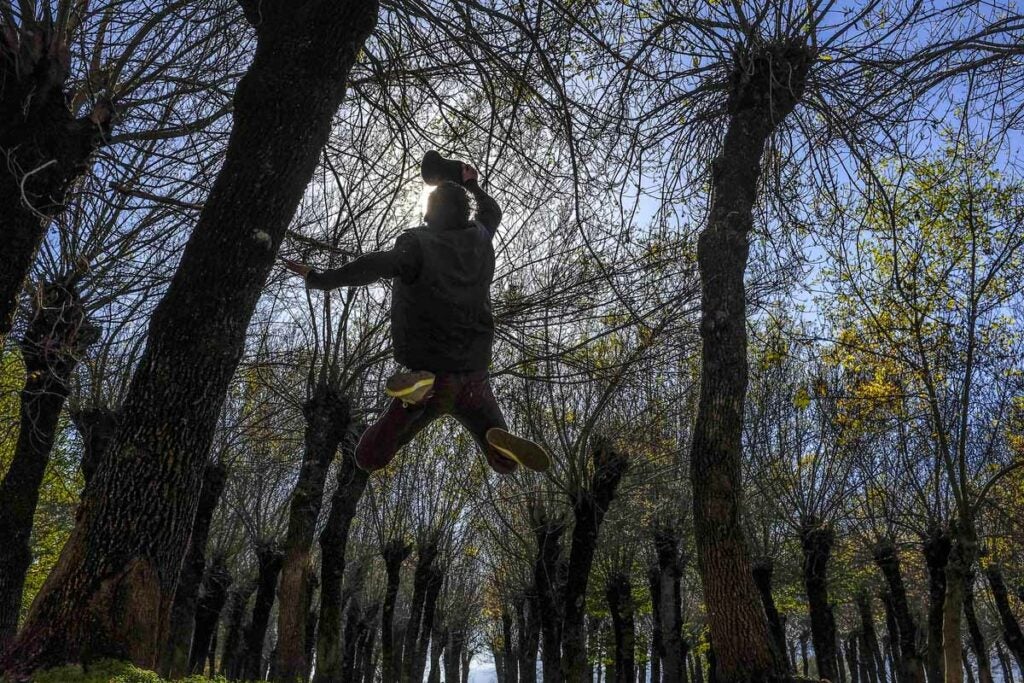 DYSWIS – learning process, Zahle, Lebanon, Group 3.
"I, too, am like these caged birds, but they are in a cage, while my chain is the present. I no longer know who I am in front of these birds."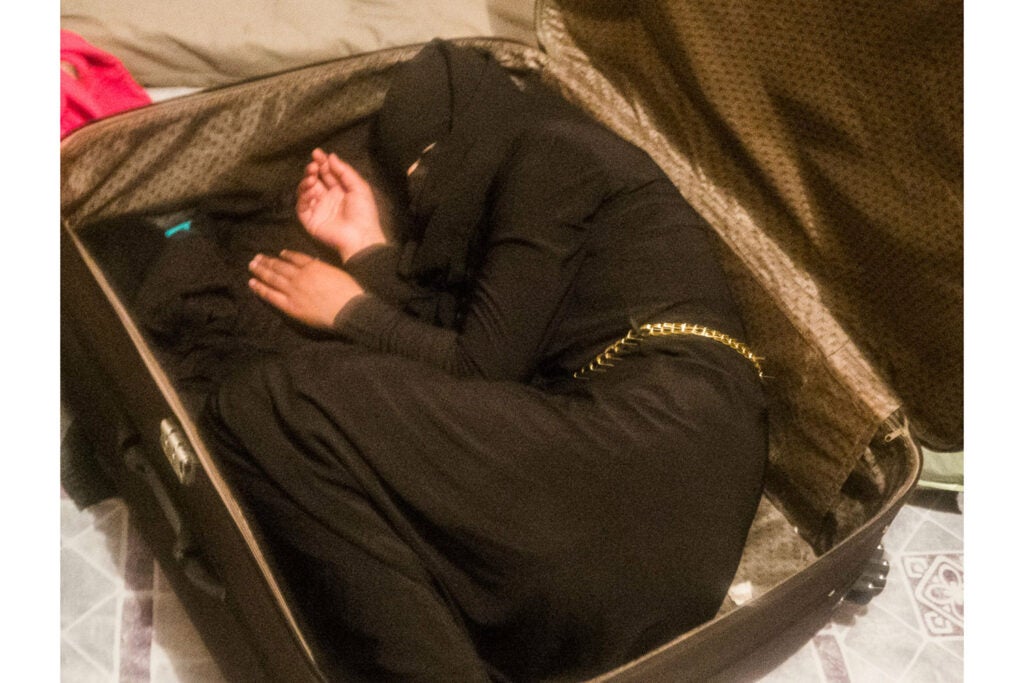 Do You See What I See? Za'atari Camp, Jordan. Children's Photos
"My suitcase became the box of my grief. I can't tell my secrets unless I'm inside of it."
The plight of Syrian refugees, numbering over 3 million since the start of the civil war in March 2011, has drawn many of the best documentary talents from around the world to photograph at massive, increasingly permanent tented cities of the displaced. Photojournalists, including James Nachtwey, Lynsey Addario, Ed Kashi, and Muhammed Muheisen, among others, all traveled to produce bodies of work in recent years at Zaatari in Jordan, one of the largest camps. The NOOR photo agency organized a group project covering the same site through the varied perspectives of their noted members. Editorial photographers Michael Friberg and Benjamin Rasmussen put forth an alternative aesthetic through their take on the theme. The list goes on, but rarely, if ever, have we seen the effect of displacement in the face of war documented by those actually living through the crisis.
Recently, the Aftermath Project, a non-profit supporting documentary work that addresses the consequences of conflict, announced a special 2015 discretionary grant for two Syrian youths picturing exactly that. "We were all very moved by photographers who were telling their own stories," Sara Terry, founder and director of the organization, tells American Photo.
Identified as Fatima and Hany, their talents were first recognized by the photojournalist Brendan Bannon who introduced them to photography during a series of recent workshops in Jordan and Lebanon that he ran with the help of the United Nations High Commission for Refugees. Syrians age 10-20 were chosen at random by a partner organization to participate in the two-week workshops titled, "Do You See What I See." Each participant was given a Fujifilm FX1 compact camera to continue their creative work after the program ended.
"Usually we hear refugee stories filtered through journalists," Bannon tells American Photo. "Our goal was to give the photographers an opportunity to explain in their own words and pictures their reality. They address the tragic, traumatic, and heartbreaking elements of life, but the pictures also show us people engaged in life, shaping their own stories of survival."
The workshop, which Bannon says focused on "creative problem solving and communication," eventually caught the attention of photo editors at the New York Times. The newspaper ended up giving his students an assignment—a spread for the sports pages. "These are skills that each student would take with them whether they continued to photograph or not," he says.
What made Fatima and Hany stand out from the group, was their commitment, creativity, and deep-felt sense of empathy with all those around them. After only two weeks of camera time, they we able to come up with thoughtful, layered images that told compelling stories.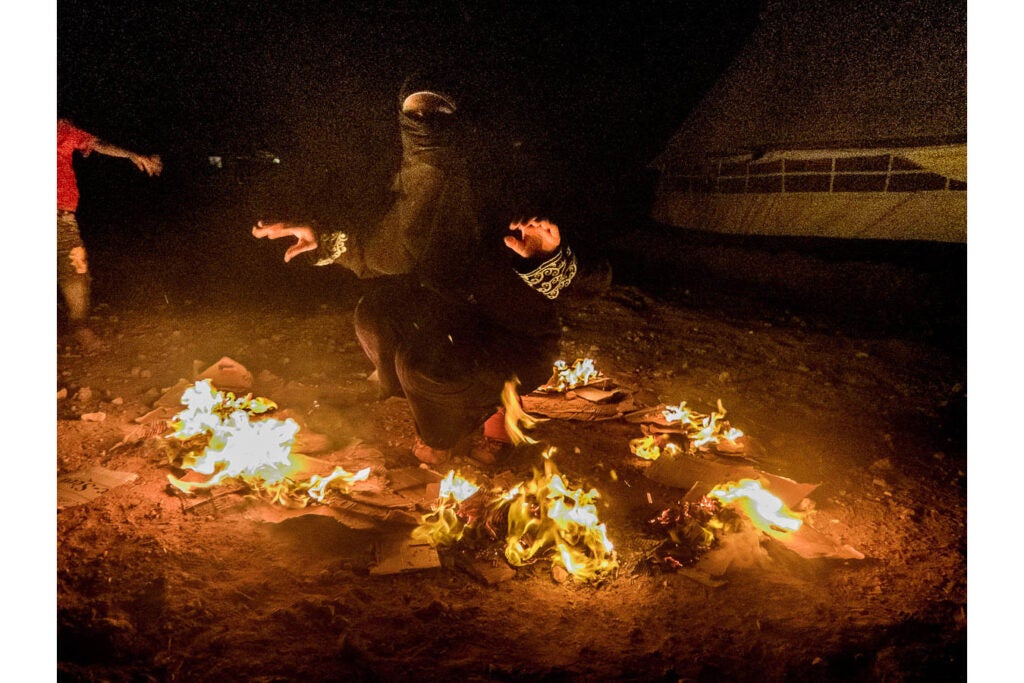 Do You See What I See? Za'atari Camp, Jordan. Children's Photos
"This is the most important picture to me because it is for my husband who was killed. You are the cause of all crises. You are everything in my life. I have to see you even if you are far from me. Inside of me there is a picture no one but I can see, a fire burning my heart a hundred times. I can't tolerate its flame anymore. I have no choice but to picture my agony and transform it into a little picture the whole world can see. Fire burned my husband and now it wants to burn me. This crisis and pain I have endured. This anguish didn't want to have mercy on me. It burned my husband. Oh I hear his voice in pain and in my dreams. Only fire. It wants to burn me and eat my body, so my soul could embrace his soul."
"Maybe photography saved me somehow," Hany tells us via email. Growing up, the 20-year-old originally from Hams, Syria had plans of studying abroad in France on scholarship and becoming a telecommunications engineer. The war shattered those plans and cast him and his family into exile.
"In the absence of this dream ," he says, "the photographer inside of me came out. I see things more deeply now—photography is my third eye. I can stop any event through the lens and take it to the whole world."
"His pictures are carefully composed, sensitive, dynamic, and sometimes funny," Bannon says of Hany's work. "He has a sense of irony and beauty that is informed by his study of literature and poetry. And, he sees the potential for photographs to demand that attention be paid to human suffering and survival."
With a camera in hand, in the supportive family-like atmosphere of the workshop, Hany says, "we could forget that we are refugees."
Fatima, who is 19 and a war-widowed mother of three boys, echoes that sentiment. "I discovered that the camera was my passport," she tells American Photo. "It can take me to every country, every home, every heart."
Bannon says of her work: "In two weeks she discovered a language of photography and strategies of photographing that usually take years for people to understand. She found images in her daily life and she also worked to stage photographs in the tradition of so many contemporary women photographers."
Fatima, who had witness her husband get arrested at a checkpoint while fleeing never to be seen again, used one of Bannon's assignments on dreams to dramatize her nightmares and process her trauma. When she brought those photos into class, including the one embed here above, "they stunned her peers into silence," Bannon says. "Other refugees gave her a standing ovation. They recognized her work and gelt like she spoke to the experience they shared."
Both Hany and Fatima hope to teach other young refugees and share their newfound skills and appreciation for the camera. They'll be using funds from the Aftermath grant for new equipment to continue their work. Bannon also plans to help them set up websites and connect them with others in the industry.
"Both are committed to telling stories with depth and compassion," he says. "They are young and talented and with the right opportunities, they will be very good photographers."
Learn more about the UN Refugee Agency and donate to the Syrian crisis response fund at UNHCR.org.