See Marcel Sternberger's psychological portraits of Albert Einstein, Frida Kahlo, and More
Jacob Loewentheil explores the work of a largely forgotten portrait master.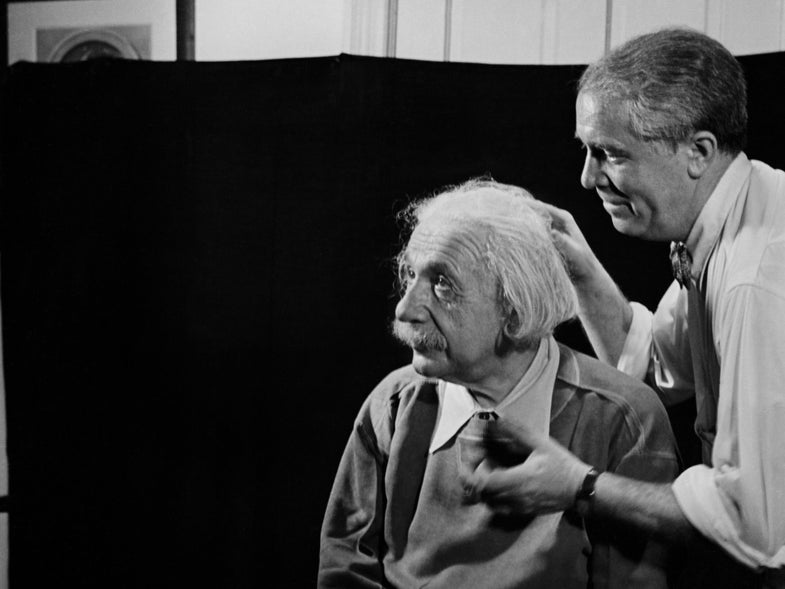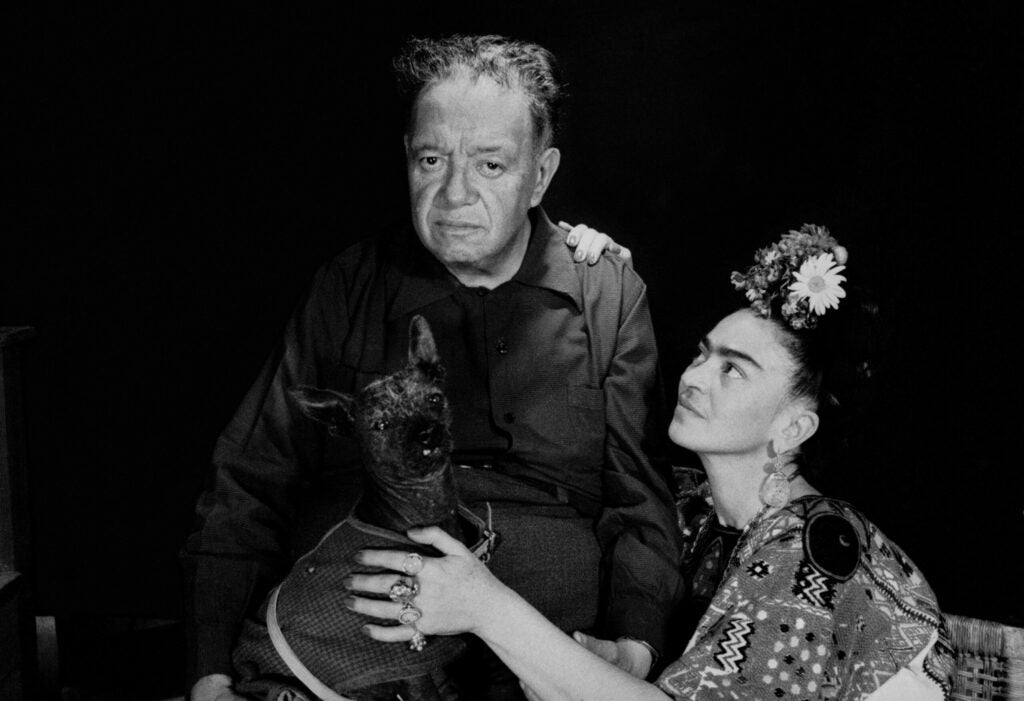 Diego Rivera, Frida Kahlo, & Frida's Chihuahua, Mexico, 1952
From The Psychological Portrait: Marcel Sternberger's Revelations in Photography by Jacob Loewentheil, Skira Rizzoli, 2016
Marcel Sternberger may be one of the most prolific portrait photographers that you've never heard of. He photographed ordinary people as well as the most famous luminaries of the early 20th century—from the Belgian royal family to author George Bernard Shaw. The image of U.S. President Franklin D. Roosevelt that appears on the dime was even adapted from one of his portraits.
His career as a portraitist began in the 1930s with the gift of a camera from his wife. At the time, the handheld Leica was a revolutionary advancement in technology that would go on to democratize the photographic medium. Also during that period, there were unprecedented advances in psychology, popularized by none other than Sigmund Freud—who actually sat for his last living portrait with Sternberger. These conditions led Sternberger to develop a visionary theory related to portrait photography.
"His writings describe the technical and material exactitudes of capturing the 'immaterial soul' of the subject in psychological portraiture," says Jacob Loewentheil, photography historian and author of the new book The Psychological Portrait: Marcel Sternberger's Revelations in Photography from Rizzoli.
According to Loewentheil, Sternberger believed that, in order to get the true pathognomy (appearance of emotional expression) of a subject, one must gain insight to his or her personality traits. He used interpersonal and applied psychology in his portrait sessions placing his subjects against a plain background, circling them with his camera for 30 to 60 minutes while recording in-depth interviews. This unique method of analysis enabled him to capture soulful images of historically important figures such as Jawaharlal Nehru and Indira Gandhi at the first meeting of the United Nations, as well as artists and communist radicals Diego Rivera and Frida Kahlo.
Sternberger was a master craftsman, a perfectionist who made his own negative baths and worked with only one or two lights. He detailed his tips and techniques at length in an unpublished manuscript, keeping recordings of his sessions with such notable figures as Albert Einstein, but the majority of his work has remained buried in obscurity, until now.
This definitive monograph has 206 photographs, sketches, notes, and contact sheets along with a manual for portrait technique. More than just pictures, the book also tells the fascinating story of a Jewish refugee who defined modern portrait iconography way before his time. Here, Loewentheil speaks with us about the new book.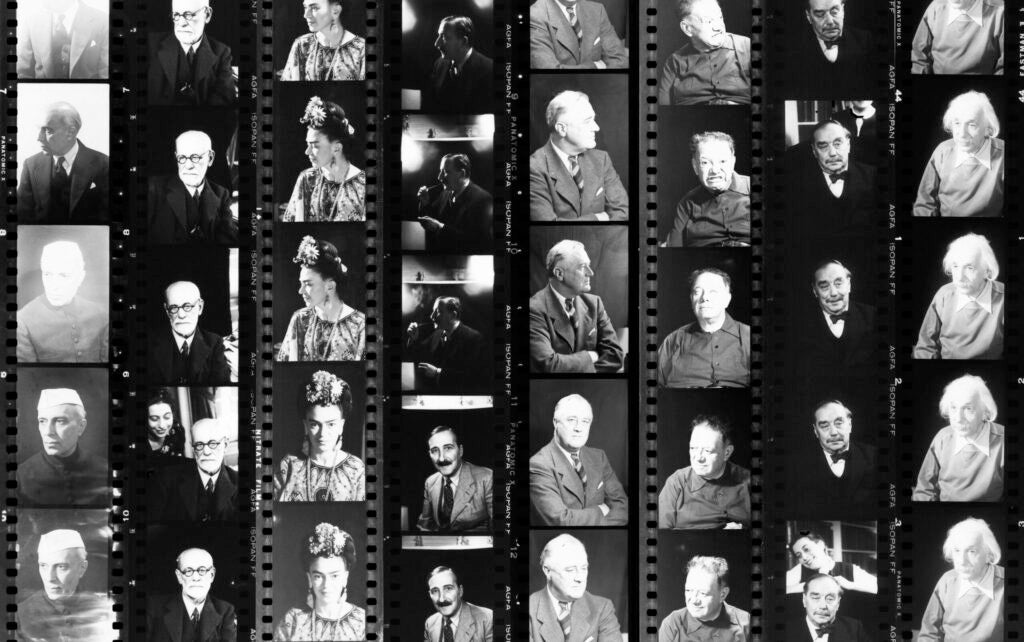 Contact Sheets
From The Psychological Portrait: Marcel Sternberger's Revelations in Photography by Jacob Loewentheil, Skira Rizzoli, 2016
Why did you choose Marcel Sternberger as the focus of your research?
The simple answer is because his work has been neglected. In his heyday, world leaders and preeminent persons recognized him as the leading portrait photographer of his generation. Yet today, almost nobody has heard his name. This book is my attempt to bring his genius back into public view.
What was the most surprising thing you found in Sternberger's unpublished manuscript?
The most surprising thing I found was in both Sternberger's manuscript, and to a greater degree, in a hereto unpublished, taped conversation between Sternberger and Diego Rivera; was that some of Sternberger's content covers physiognomy, the study of human facial features to determine personality and ethnic origin. On the one hand, he decries this outdated practice; on the other hand, he writes "By sifting [history's] writings [on physiognomy] carefully you may find nuggets of thought-provoking hints which will lead you to more profound investigations of your own." Likewise, in Rivera's conversation there is an interesting discussion of racial matters. It is a discussion of different races, not a preference for one over the other, but not something I expected to find between a Jewish refugee and a Mexican communist.
Sigmund Freud and Marcel Sternberger met when they were young men, but it wasn't until they were both in England as refugees in 1939 that Freud sat for his portrait. Can we assume that Sternberger's psychological and scientific framework for portraiture was influenced by the Father of Modern Psychology?
I would say definitely yes, as at the time, Freud was inextricable from psychology. I can't say that Sternberger had any beliefs in his photography practice about dreams, a death drive, or the Oedipus complex, but I am sure he read and was influenced by Freud's work. In a way, Sternberger played the role of temporary psychoanalyst for his clients, allaying their fears, playing up certain aspects of their personality. In that way, he manifested being influenced by Freud.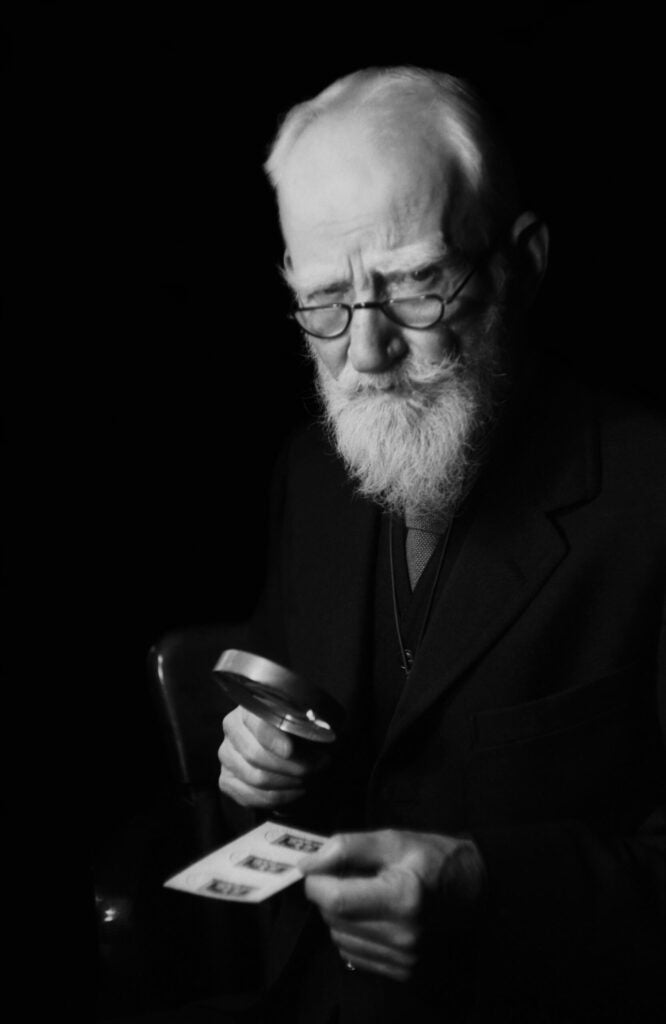 George Bernard Shaw, London, 1939
From The Psychological Portrait: Marcel Sternberger's Revelations in Photography by Jacob Loewentheil, Skira Rizzoli, 2016
Did Marcel Sternberger draw from the ideas set forth by philosopher and theorist Walter Benjamin on the relationship between photography, psychoanalysis and the optical unconscious?
That's hard to say. There is no definitive evidence of Sternberger having read any of Benjamin's work, and Sternberger's work published at that time was journalism, not psychology. However, the two were both exiles in Paris in approximately the same time period. It is very possible they crossed paths.
Sternberger advises, "It is essential that your sitter be convinced that you are not only a first-rate craftsman, but that you have a particular interest in a successful result." Did you come across any other sage pieces of advice for portrait photographers?
I think his best piece of advice is to find out "through tactful, diplomatic questions" what your subject's interests are. Once you have flushed these out, you steer the conversation towards those interests so that your sitter becomes lively and distracted from the camera. Then you can capture moments that evoke their true character, instead of practiced poses they think are flattering. The other piece of advice which I think could also be utilized today is to "apply make-up sparingly. Use your lights to camouflage or accentuate." Sternberger believed in highly realistic portraiture. I think this is something that with all the digital manipulation that goes on currently could make a comeback.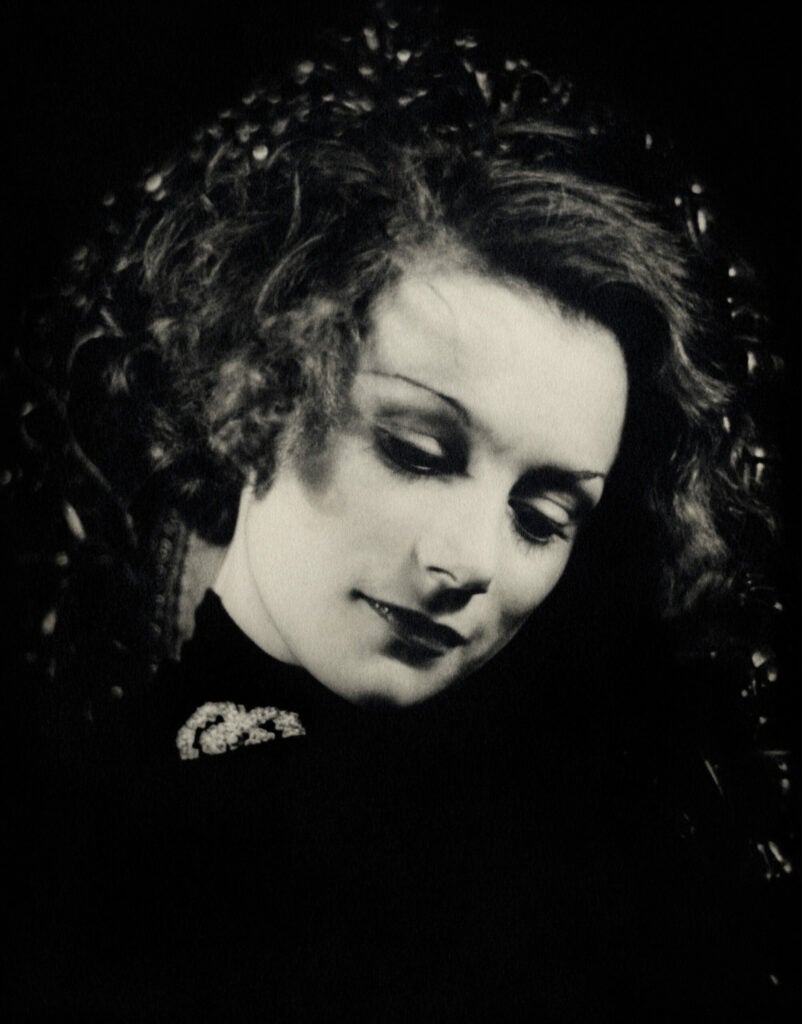 Woman in Chair, 1938
From The Psychological Portrait: Marcel Sternberger's Revelations in Photography by Jacob Loewentheil, Skira Rizzoli, 2016
In the book a poignant conversation reveals Albert Einstein's humanist worldview. You also note that the famed scientist furnished a preface for one of Sternberger's early writings before the war. What was it was about?
It was a biography of Hans Herzl, the son of Theodore Herzl. Sternberger and Hans were close friends, a relationship established on one of Sternberger's early lecturing trips. Hans committed suicide and Sternberger wanted to immortalize his friend. Unfortunately it appears that piece of writing has been lost. Maybe one day someone will turn it up.
Albert Einstein, Princeton, New Jersey, 1950
From The Psychological Portrait: Marcel Sternberger's Revelations in Photography by Jacob Loewentheil, Skira Rizzoli, 2016
In June of 1950 Albert Einstein sent a letter from Princeton, N.J., saying that he felt the images from his photo shoot were "masterpieces of the photographic art." What did he like so much about the pictures?
Well, the other half of that quote is "It seems quite miraculous to me that you could represent this object [Einstein] so appetizingly." So I think Einstein did not necessarily regard his physical manifestations as his strongest feature. Sternberger revealed an utterly attractive and lovable Einstein, the one we have come to know through the best work that was produced by artists of that day.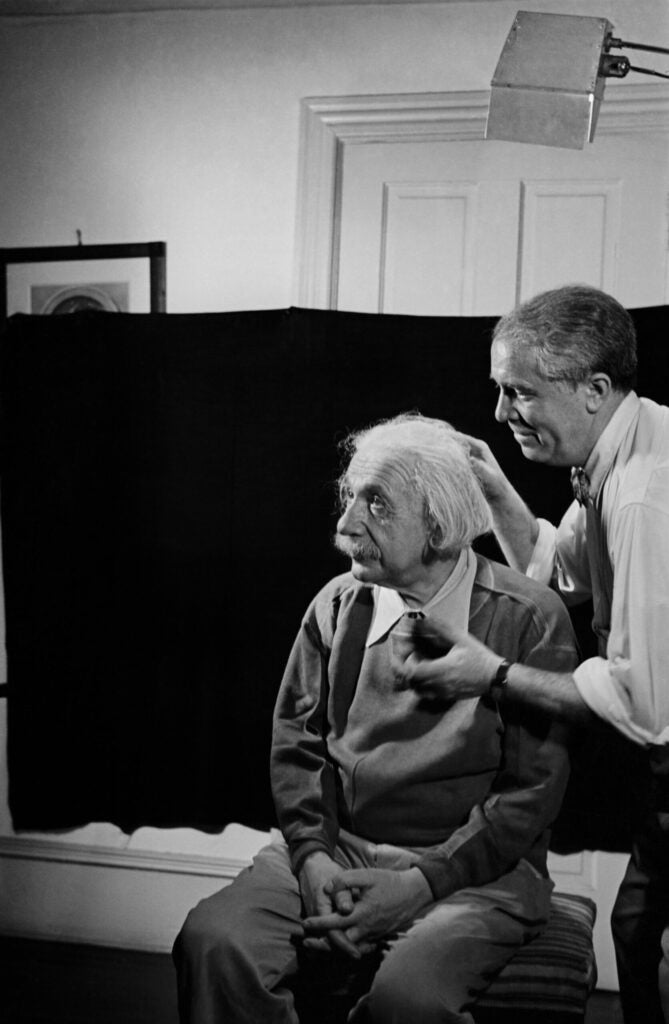 Albert Einstein and Marcel Sternberger, Princeton, New Jersey, 1950
From The Psychological Portrait: Marcel Sternberger's Revelations in Photography by Jacob Loewentheil, Skira Rizzoli, 2016
Before his career as a portraitist, Sternberger was a WWI intelligence officer who spoke 14 languages, as well as a journalist who studied at the Sorbonne in Paris and wrote for Le Soir. How did that inform his photography work?
As an intelligence officer Sternberger probably learned to examine things for their minutiae. I would imagine it might have led him to want to decrypt people's hidden personalities as well. As far as being a journalist, this informed the crux of his style. He was essentially a one-man documentarian. He would both interview and photograph his subjects, capturing their inner personas forever. He only left records of his interviews with his prominent sitters, but that was the methodology he utilized with everyday people as well.
Sternberger outlined 10 traits that a portraitist must possess. Which do you feel is most important?
"A sincere interest in your sitter." The establishment of rapport with his sitters was the crucial aspect of Sternberger's psychological process. It was this desire for fertile interpersonal interactions that drove his portraiture to such great artistic heights.
Jackie Roman is a portrait and lifestyle photographer in New York.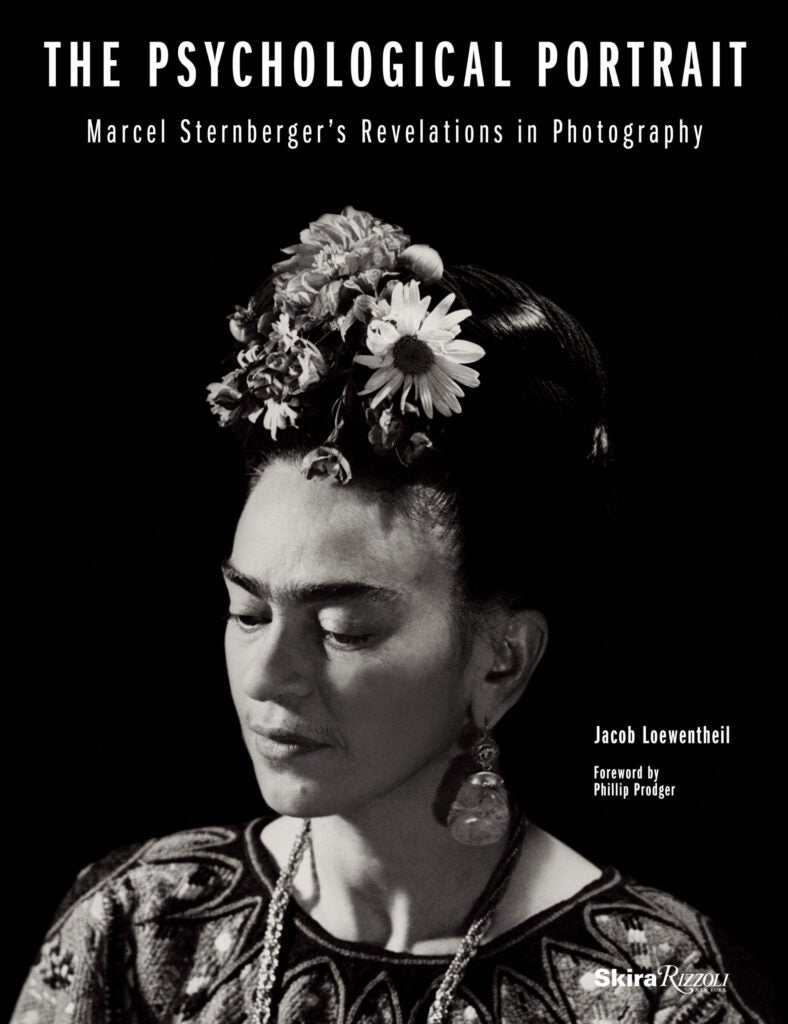 Frida Kahlo
From The Psychological Portrait: Marcel Sternberger's Revelations in Photography by Jacob Loewentheil, Skira Rizzoli, 2016