Sean Flanigan: Best Wedding Photographers 2013
Sean Flanigan began his career in 2005 shooting a combination of photojournalism and weddings—work he'd begun as a photography student … Continued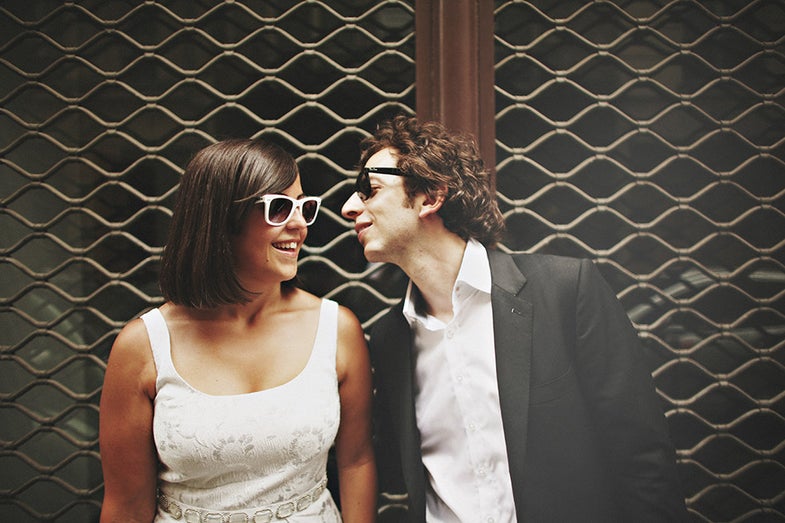 Sean Flanigan began his career in 2005 shooting a combination of photojournalism and weddings—work he'd begun as a photography student at the Art Institute of Seattle. But he came to a crossroads when he was offered a staff position at a newspaper. "I was getting assignments," he recalls, "but they ended up not being as fun as the jobs I was getting from wedding clients." Flanigan turned the position down and began to cultivate a clientele that valued his sometimes unconventional aesthetic. "Only images that I would want to take again would go in my portfolio," he explains.
As a result, many of his clients today are creative professionals who share his enthusiasm for an artistic take on the wedding event. "My bride and groom are like my art directors of the day," he says, "and I want to get them on board with me to collaborate as much as possible, so we're coming away with the images as a team."
Flanigan's artistic approach includes occasional shots with Lomo film cameras, plus a keen eye for available light developed in the Seattle area, where he grew up and where his business is based. "It has a real scarcity of directional light," he says of his hometown. "So when I see the light, I go right to it. I've got a knack for seeing where the interesting light is. It just jumps out at me."
Beyond technique, Flanigan credits his success to the trust and access his clients give him in capturing the event. "Ultimately," he says, "what it comes down to for me is just seeing them get married and the looks on their faces. It's awesome."
See the rest of our Best Wedding Photographers of 2013 list here.