Sandbox Studios
There was a time in the photography world when portfolio websites were custom-built, Flash-based monstrosities. Splash pages looked gaudy, load...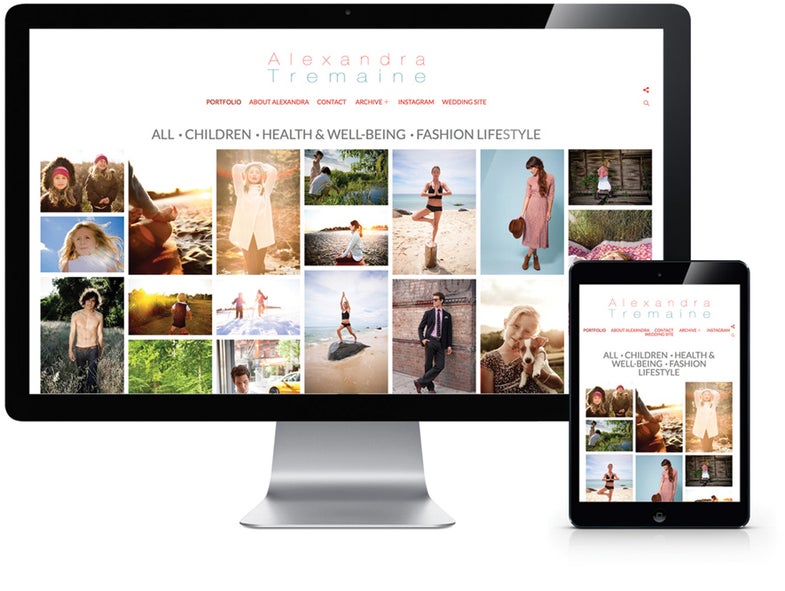 There was a time in the photography world when portfolio websites were custom-built, Flash-based monstrosities. Splash pages looked gaudy, load times were insufferable, and auto-play music streamed all too often. The few portfolio-hosting companies that provided design templates offered very few choices and bare-bones capabilities. Thankfully, that landscape has changed due to the rise of pre-fab portfolio services with a mix of standardized, simplified templates and slick designs.
"Five years ago, to get many of the features that are now standard on a website you had to have a site custom built," says Rob Haggart, creator of the professional portfolio service A Photo Folio. As a former director of photography for magazines such as Men's Journal and Outside, and as the guiding voice for the popular website A Photo Editor (aphotoeditor.com), Haggart has a privileged view of the industry. "I knew many of the top commercial and editorial photographers from my work as a photo editor, and I partnered with them to put the features they wanted in a template."
A Photo Folio has joined in a field increasingly crowded with online portfolio service providers taking aim at every segment of the photography market. Listing them individually could fill pages, and there are more launching nearly every month. While a custom site could easily cost $5,000 to $10,000 to design and build, most of these new services cost less than $300 per year, and some land in the $10-per-month territory.
Lately some of the bigger names in the photo-sharing industry have made serious entries into the fray. PhotoShelter recently launched its Beam program in beta, offering a handful of templates, while SmugMug has dived in headlong with more than two dozen looks. Other image-hosting companies—including 500PX, Squarespace, 4ormat, and Zenfolio—are offering portfolio services and battling it out for business.
As a result, photographers now face a glut of affordable, attractive options. Commercial photographer Zack Arias (zackarias.com) recently made the switch to a template service, choosing PhotoShelter's Beam after weighing his options. "It was a really hard decision to make because there are so many great platforms out there now," he says. One of the main things that draws Arias and other pros to the template format is customer service. "I can't even spell CSS, let alone work with it," Arias says. "If something went wrong with my site before, I'd have to get the designer to get in under the hood and fix things or maintain it. At the end of the day it was a pain." Now a simple e-mail to PhotoShelter's service department can often have things fixed in minutes.

There's also the increasingly complex issue of responsive site design. With viewers—including potential clients—using so many different devices to browse photographers' sites, making one that works on everything from a phone or tablet to a desktop computer can be tricky. But most of the top-end services offer highly responsive sites that have been tested across the board.
Template sites have narrowed the gap between photographers with fancy custom-built sites and everyone else, but the custom era isn't necessarily behind us. "Clean, beautiful, and fast websites are really a matter of taste," Haggart says. "All those Flash developers are moving to HTML5 and will be creating ugly, bloated sites in no time." Many services also allow access to the template codes, so the potential for creativity—and tackiness—still lies within.
The benefits of standardization are bleeding over to viewers and clients as well. "Clients should be able to easily operate the site with the least number of clicks possible," Haggart says. The increased consistency of things like presentation and site navigation makes that a reality.
"I used to deliver images to clients via Yousendit [now Hightail] or Dropbox," Arias says. Now, however, he delivers large high-resolution image files through PhotoShelter's backend system.
Even in an industry where social media receives so much attention, pro photographers still find a personal website to be an absolute necessity. "The website used to be the starting and ending point for marketing, but now it's where you close the deal," Haggart says. "Smart photographers have their tendrils out in all manner of social media, hoping to lure prospects back to the website at some point."
Arias agrees. "Showing your work on these other platforms is great, and I encourage people to do so, but you should always have your own site that all of your online profiles and pages point back to," he says. "I cringe at the thought of Facebook being my portfolio."