Sam Kaplan's Mesmerizing Patterns
It's a frosty winter day, but New York City–based lensman Sam Kaplan has no trouble keeping warm. His days are...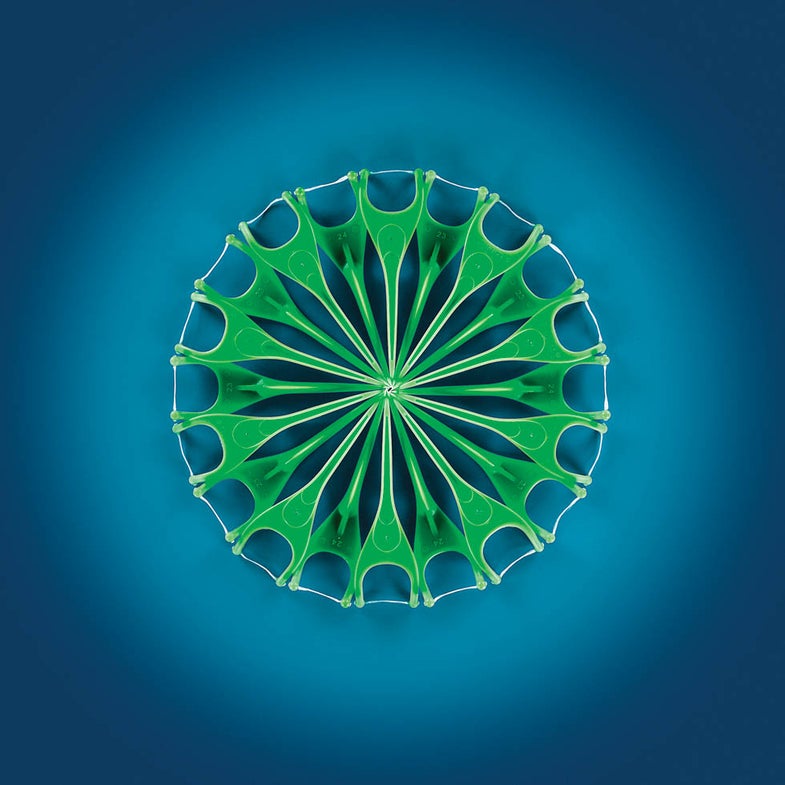 It's a frosty winter day, but New York City–based lensman Sam Kaplan has no trouble keeping warm. His days are a flurry of activity, from shooting back-to-back assignments to finalizing an expansion of a new studio in midtown Manhattan. Looking around the new digs, flanked by slick shelving and orderly stacks of equipment, he says, "It's still not as neat as I'd like it to be."
That may be Kaplan in a nutshell. Since striking out on his own in 2011, the 29-year-old Boston native has eschewed high-concept aesthetics and taken a more hands-on approach built around exacting precision—a sculptor's finely honed interest in process and material.
"I guess 'precise' is a good way to describe it," he says of his own stylistic proclivities. "Maybe even a little OCD," he adds jokingly. He puts this level of attention to every minute detail, whether he is painstakingly crafting intricate constellations out of dental floss picks for a personal project ("All done in camera," he notes proudly) or creating photo illustrations for a growing list of clients such as The New York Times Magazine, Details, and Fortune.
His approach might seem throwback, but that's part of Kaplan's appeal. Unlike many of his photographic peers, he had a rather low-tech schooling, studying fine art and art history at Wesleyan University.
"There were only a couple of photo classes, so I ended up studying a lot more sculpture," Kaplan says. "Still, that ended up having the most lasting impact in shaping what I do, particularly the conceptual side—visualizing a form, thinking about the ways materials function, how they can be pushed."
This innate curiosity kept the creative wheels turning when Kaplan moved to New York in 2007 shortly after completing his bachelor's degree. He worked as an assistant to sharpen his own skills, but, he says, "I realized quickly that I wanted to strike out on my own. I suppose I could have assisted longer—maybe it would have benefitted me—but I was becoming a really bad assistant, always on my phone looking through assignments."
Kaplan's natural sense of form made still life an instant fit. His affinity for the idiom is apparent in a portfolio of images ranging from elegant to daring, from meticulous to gravity defying. Whether depicting lipstick embedded in hardened plaster (a nod to one of his first art-class assignments) or heightening the gloss on sashimi with lighting alone, his explorations seem both intrepid and calculated. "I love having the freedom to make small adjustments," he says, "to move something a micrometer and see what difference it makes."
Food has been a particularly rich subject. "I like shooting it because it has a shelf life on set," he says. "It'll start looking bad after 15 minutes, so you have to problem-solve rather quickly."
For Kaplan, troubleshooting is half the fun. "Having unlimited anything sometimes kills the creativity," he notes. "With every shoot there are definite limitations, whether imposed by the layout, the product, or the time constraint. So you always have to find ways to perform within those parameters. But then again, that's what keeps the job exciting."
CLOSE UP: Sam Kaplan
SamKaplan.com
Lives In: New York City
Studied At: Wesleyan University, Middletown, CT
Clients Include:_ Fast Company, Field & Stream, Men's Fitness_, Nissan, Popular Science, Proto, The New York Times Magazine, Travel + Leisure
Essential Advice: "Develop a strong, recognizable vision or voice, but don't be afraid to let it evolve."
amera of choice: Arca-Swiss M Monolith 6×9 with Phase One IQ160. Newest upgrade: Broncolor Picolites with Projection Attachment.