Ryan Schude's Cinematic Photos Pack the Energy of Feature Films into Single Frames
The synergy of imagination and control, vision and chance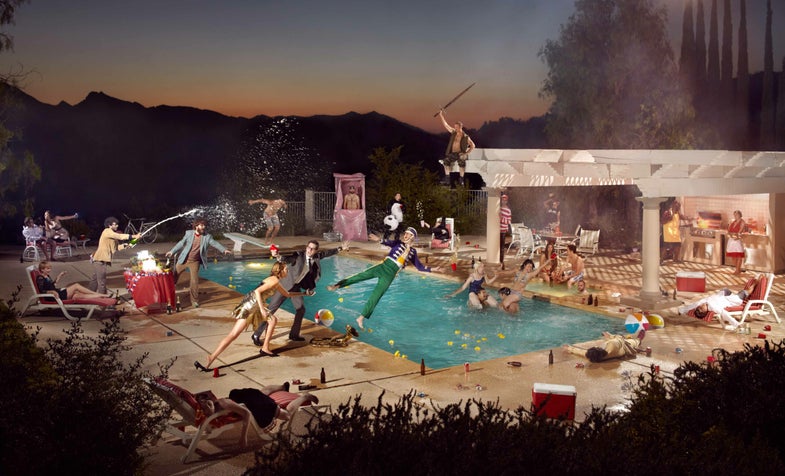 Ryan Schude's wildly energetic tableaux vivants, setups in which countless characters wreak playful havoc on each other and the environment, are often likened to movies. But Schude sees a major difference between his photographs and cinema: while a film director creates a narrative by linking one shot to the next, Schude presents a narrative in a single shot, leaving his audience to puzzle it out on their own. Given the multitiered bustle in these flamboyant activity-scapes, that takes some effort, but therein lies the joy of this award-winning photographer's work; fun and ambiguity prevail.
Schude's tableaux vivants, as well as his editorial and portrait work, will be published this July in a gorgeous monograph entitled simply Schude (Roads Publishing). A foreword by Zac Pennington and introduction by Davy Rothbart examine the cultural significance of Schude's 90 plus images, while commentary by the photographer himself delves into both his work and his process. Of the tableaux vivants he says, "There's a strange dichotomy involved in over-controlling every last detail and in, simultaneously, allowing the energy of the shoot to organically determine the interactions of each element."
Schude is loosely organized into categories—Tableaux Vivants; "Them and Theirs" and "Phoot Camp," series Schude developed over the past decade; and commissioned work. For "Them and Theirs," Schude asked people with vanity license plates to pose with their cars, then developed a concept according to a mutually determined location and the subject's personal characteristics. Phoot Camp is an annual retreat where 40 photographers "descend upon a chosen location to make pictures and hang out for a few days." Many of the Phoot Camp photographs represent collaborations with other photographers—a process, Schude tells American Photo, that entails a "letting go of control, which is a wonderful release and exercise in understanding other's perspectives."
Schude maintains the surreal humor and energy of his personal work in his commissioned work. "I rarely get hired for commercial work that isn't informed by my personal work, and my goal is to keep it this way regardless of the obvious risks, considering the few places it's actually appropriate for." When music and design quarterly RE:UP asked Schude for a fashion editorial, he pitched the idea of using senior citizens as models. What the magazine got was a series of hilarious scenarios, played out in some cases by professional actors. For the Guinness Book of Records, Schude created a tableaux vivants–style shot of Elizabeth Bolinger, aka Kitty McScratch, "Most Prolific Dancing Game High Scorer," partying with friends on a specially built set.
Ultimately, Schude is less about categories than it is about synergy—between subject and artist, between imagination and control, between vision and chance. It's less about the preconceived idea than it is about the process. And it's a heck of a lot less about the theorizing and analysis than it is about the pure joy of making and beholding images.