The Photos That Helped A Photographer See Her Husband Through His Depression
"Where words failed us, the pictures filled in the blanks"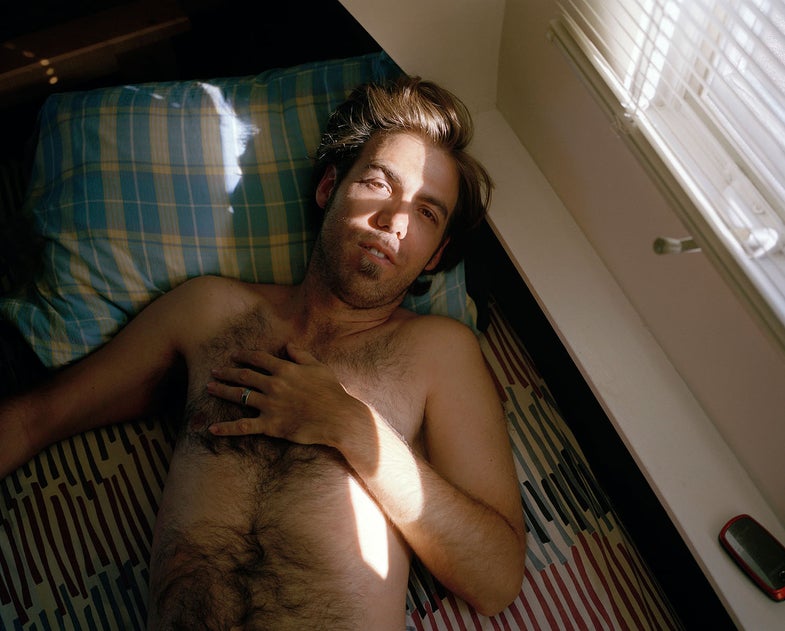 For years Maureen Drennan has investigated what it means to live a life removed. Whether in her study of the pot farmers in the fenced off mini-plantations of Lake County, CA, her investigations of the ice-fishing communities that develop in the harsh winters of northern Wisconsin and Minnesota, or, in her most recent body of work, of the people who live at the mercy of the waters that surround Broad Channel, Queens, the photographer has demonstrated a sustained interest in isolation and vulnerability.
When her husband found himself in the grip of severe depression, Drennan found those themes inside her home and her marriage. So she did what came naturally; she photographed.
"The Sea That Surrounds Us" was made beginning in 2010; the last picture in the series, taken after Paul had emerged from his depression and their marriage had emerged from its repercussions, is from last year. The work consists of portraits of Paul and landscapes made on Block Island, Rhode Island. Drennan told me that when she was seven years old and her parents were separated, she and her father lived for a year there. "It was a very lonely time," Drennan says. "The windblown landscape is very beautiful, and also watching the dissolution of my parents marriage was sad to see." When her own marriage was in turmoil, she returned to the place to photograph.
In this series, the landscapes work both as self-portraits and as ruminations on isolation and distance. As a child, Drennan was shocked at the difference between the summer vacations she had spent with her family on the island and the place, semi-deserted and lonely, during the off season. She says, "Block Island is like a stand-in for me feeling isolated, feeling cut off, feeling like I could not understand what Paul was going through. And then watching him come out of the depression was like watching a season change. It was miraculous to see the return of this person who was so totally lost."
Drennan is grateful, too, for her husband's openness to the gaze of her camera during such a challenging time. His trust in her is obvious in the pictures; the intimacy of making them together was one of the things that got them both through. Drennan notes that Paul, an artist himself, understood the necessity for her to use photography to come to grips with what they were going through together. "Where words failed us," she says, "the pictures filled in the blanks."