A photographer documents a pre-teen's struggle with idiopathic scoliosis
"She had so little control over her body at that time. When we made photographs, however, things were different."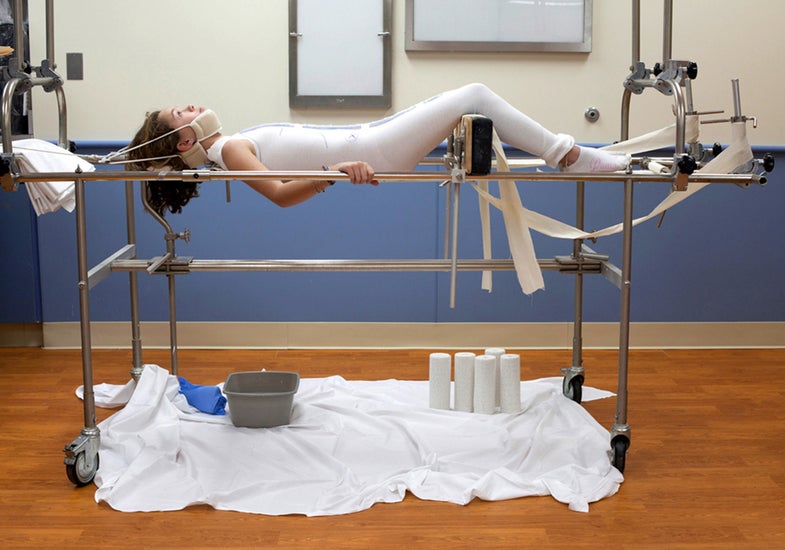 In January 2012, Philadelphia based photographer, Julia Cybularz, escorted her ten-year-old niece to her doctor's visit to get fitted for a back brace that was supposed to suppress her scoliosis and prevent back surgery. Cybularz had been photographing her niece, Hannah, for several years prior, but as soon as she made the image of Hannah with her small, petite body elevated on top of a strange, hospital contraption (Brace, 2012), she knew she had embarked on a new photographic series. That series, Breaking the Girl, spanned almost five years and traced Hannah's transformation from girlhood into adolescence—from one body into another.
By 18 Cybularz says she knew that she wanted to pursue photography, but it wasn't until 2000, when she was 21 and a senior at Drexel University, that she realized her interest in portraiture and the documentary tradition. After graduating from school, Cybularz took an internship with Mary Ellen Mark and later traveled with her to Oaxaca, Mexico to assist her on shoots.
Although Cybularz learned a lot from Mark, her own documentary approach differs. While Mark adheres to the documentary tradition, Cybularz intentionally bends it.
"I find it more exciting to collaborate with my subjects. For me, the traditional document is a good starting point. But it is just that—a starting point," she says. "Obviously there is such a fine line in photography between directing subjects and collaborating with them. For me, it is always exciting to create images that question the very nature of the document, where viewers are not quite sure what they are looking at."
Cybularz's photographs of her niece Hannah are a mixture of fabricated and observed moments. In "Corset, 2013" Hannah is pictured against a lacy, white curtain; a corset, like a mask, covers her head, and her torso is held in by a rigid, white brace.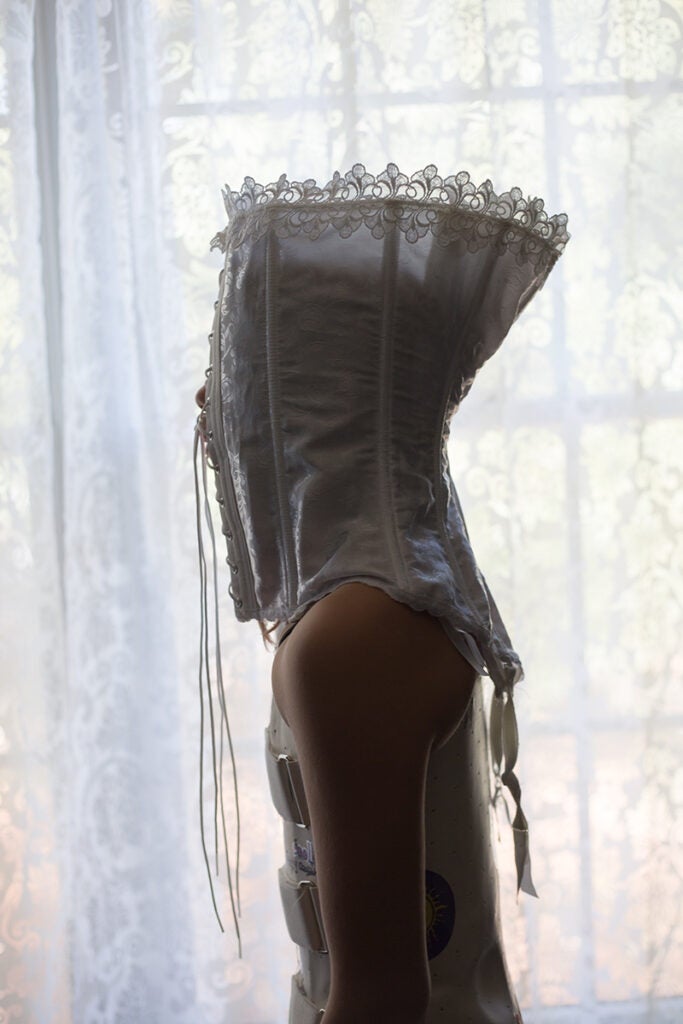 "I supplied the corset but Hannah activated it," explains Cybularz. "I think this photograph reveals how Hannah felt about her condition. In the image, she almost smothers herself with the corset. She planned the shot. I did not anticipate what she would do, but when she stretched the corset around her head, I knew I had made a picture."
In another photograph Hannah stands in the middle of a dense forest. Her hands cling to a branch, and her expression is direct and determined. Her brows are furrowed. The frame crops Hannah at the waist; thus, the viewer cannot tell whether her feet dangle in the air or are planted firmly on the ground. The image simultaneously captures Hannah's girlish wildness and her teenage defiance. It reveals the tension that exists in most adolescents between child-like impulse and adult behavior.
"When I shot the photograph of Hannah in the forest I was originally looking at the trees in terms of their shape; the way that they bent reminded me of the way Hannah's body bent," says Cybularz. "But it was this picture—"Hanging, 2012"—where she was stretching out and waiting for me to get a vision that I ended up printing. It captures her determination as well as her anger toward her brace and her condition."
In 2014, despite the fact that Hannah wore her brace almost religiously for 23-hour days, her doctors recommended her for back surgery. It took Hannah over a year to recover, but she is now fully mobile. Cybularz says that working on this project became empowering for Hannah—modeling became a way for her to express her fears and demonstrate her physical and mental strength.
"I think that the photographic process gave her a voice and sense of control," says Cybularz. "She kept so much of what was going on with her physically a secret. She didn't tell her classmates at school; she had so little control over her body at that time. When we made photographs, however, things were different. She had control over the kind of photos we took and made decisions about what she wanted to share."
Indeed, Breaking the Girl is a photographic portrait of an adolescent who is determined to define herself, rather than letting her body and its limitations define her.