Photobooks on Kickstarter: 5 Great Projects Worth Funding Right Now
The best photography book projects looking for funding this month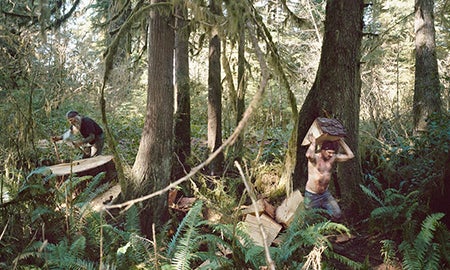 With cash-strapped publishers today less likely to take a chance on a book project that doesn't guarantee blockbuster success, more and more photographers are turning to crowdfunding platforms like Kickstarter to complete their work. It's been a great way for emerging photographers to secure funding for their first photobooks, but the community has also in recent years attracted prolific legends like Mary Ellen Mark and Larry Towell. This month leading up to the holiday season, there were five projects from a diverse set of photographers working across genres that caught our attention and may yet outshine offerings in the window displays of the big retailers.
Andrea Star Reese documented a community of people living in the defunct Amtrak tunnels under the streets of Harlem that was recently evacuated. Starting in 2007, Reese sought to capture the extraordinary resilience of the residents—some of whom had been living there for decades—in the sparse soft light that reached down to the forgotten tracks. "I'm lucky that I captured it," she says. "I captured the end." The award-winning series has been shown at the Visa Pour l'Image festival and included in the traveling exhibition "reGenerations2." The book, in an edition of 500, will feature 80 color photographs and an introduction by Alison Morley, Chair of Documentary Photography and Photojournalism at ICP. Reese is trying to raise $24,000 and her funding period ends on Dec. 6, 2014.
Henry Horenstein, a Boston-based photographer, is currently raising funding for his book of black-and-white photographs, the first in what he hopes will become a series. The 1970s was a decade when, he says, "I was photographing almost everything I could find. Anything that smacked of history, especially cultures that might disappear or change, was fair game: stock car racing, horse racing, boxing, old rural routes through Rhode Island and Massachusetts, country and blues musicians in Nashville and elsewhere, and my close family and friends." Featuring strong portrait work and an eye for patterns in the New England region, the book will be compiled from over 20,000 negatives. Horenstein's goal is $30,000 for the project and his funding period ends on Dec. 14, 2014.
Over the course of five years and 22,000 miles across 17 states, Austin-based photographer Ryann Ford, has accumulated 158 images of the nation's remaining roadside rest areas. As drive-thrus and big chain travel plazas proliferate, these quirky, individualistic rest areas, each seemingly one-of-a-kind, are fast vanishing from the American roadscape. "So much more than toilets and tables," Ford says. "For the past 58 years they have given us rest, relief, hospitality, and nostalgia." The hardcover book will feature 75 of her vibrant topographic medium-format photographs—first featured in the New York Times Magazine, Fast Company, and Condé Nast Traveler—and a historical essay to introduce. Her goal is $25,000 and funding ends on Dec. 16, 2014.
A collaborative project by Joel W. Fisher and Justin T. Leonard, this book features a collection beautifully restrained "picture ideas as metaphor rather than mere documentation." Although they are site specific, made in areas of Detroit and Pontiac, Michigan and Toledo, Ohio, "these pictures are also symbols and gestures toward a larger collective backstory," the artists write. They "allude to questions and issues of identity, nationhood, and the undetermined fate of some post industrial cities uniquely American." If funded, the well-designed monograph is due to distribute in Spring 2015 and would also be available in a custom made special edition which includes a slipcase and a portfolio of five prints. The artists are trying to raise $12,000 with the funding period ending on Dec. 16, 2014.
And finally, in order of approaching deadlines, Anna Beeke, a Brooklyn-based photographer, is fundraising for her book of dream-like medium-format photographs from American forestlands. "I came to see the process of shooting the project as it's own little mini-fairytale," she says. "I would walk alone through the forest seeking adventure. Instead of looking for dragons, I was just looking for moments of beauty, discarded objects, slivers of stories that I don't really know the end to, real moments in the contemporary forest that remind us why the generations before us thought of it as a place of magic." The book, in an edition of 1,250, will feature approximately 60 color photos which previously earned the Humble Art Foundation's 2012 WIP/LTI Lightside Materials Grant. Beeke's goal is $28,000 and her funding period ends on Dec. 17, 2014.