Parting Shot: It's a Man's World
Five years ago, London-based photographer Jasper White went to a New Year's Eve party held in a shed in rural … Continued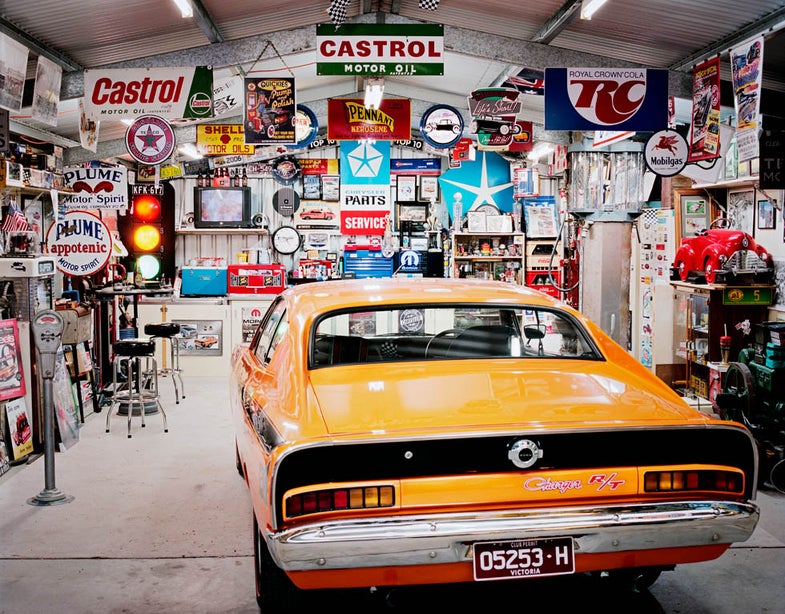 Five years ago, London-based photographer Jasper White went to a New Year's Eve party held in a shed in rural Australia. His brother-in-law, Pete Walker, was from the area and explained that the sheds—large, freestanding units the size of a garage or guest cottage in the U.S.—were ubiquitous in many of the small towns in the outback.
Kept exclusively by men, the sheds are part of an old-fashioned, small-town Australian cultural tradition: the women have their space in the home, and the men keep a separate retreat to indulge their hobbies. Like an adolescent's bedroom, sheds are deeply personal and intensely maintained.
Of course, similar man caves—in basements, spare rooms, and garages—are common all over the world. When the photographer was a child in the United Kingdom, his father, a scientist, had a shed; he blew it up while experimenting with rockets.
Because White's work at home frequently explored the relationships people have with territories and space, these masculine structures fascinated him. "Each shed becomes an extreme focal point of human individuality in a barren wasteland," he says. He began a long period of traveling to the Australian outback to meet the locals and photograph their various sheds. More than 80 of White's shed images are now being collected into a book, and a small selection were shown at Gallery Nine5 in New York in 2012.
Depending on the township, Australian sheds might house steam engines, airplanes, full bars, even a dance club. The one shown here houses the prized possession of a car enthusiast named Rustin (who goes by his first name only): a beautifully maintained 1971 Bathurst RT Charger.
See more of Jasper's work here.