Parker Day's weird, wild glamour studio
Behind the scenes with five of the photographer's larger-than-life subjects.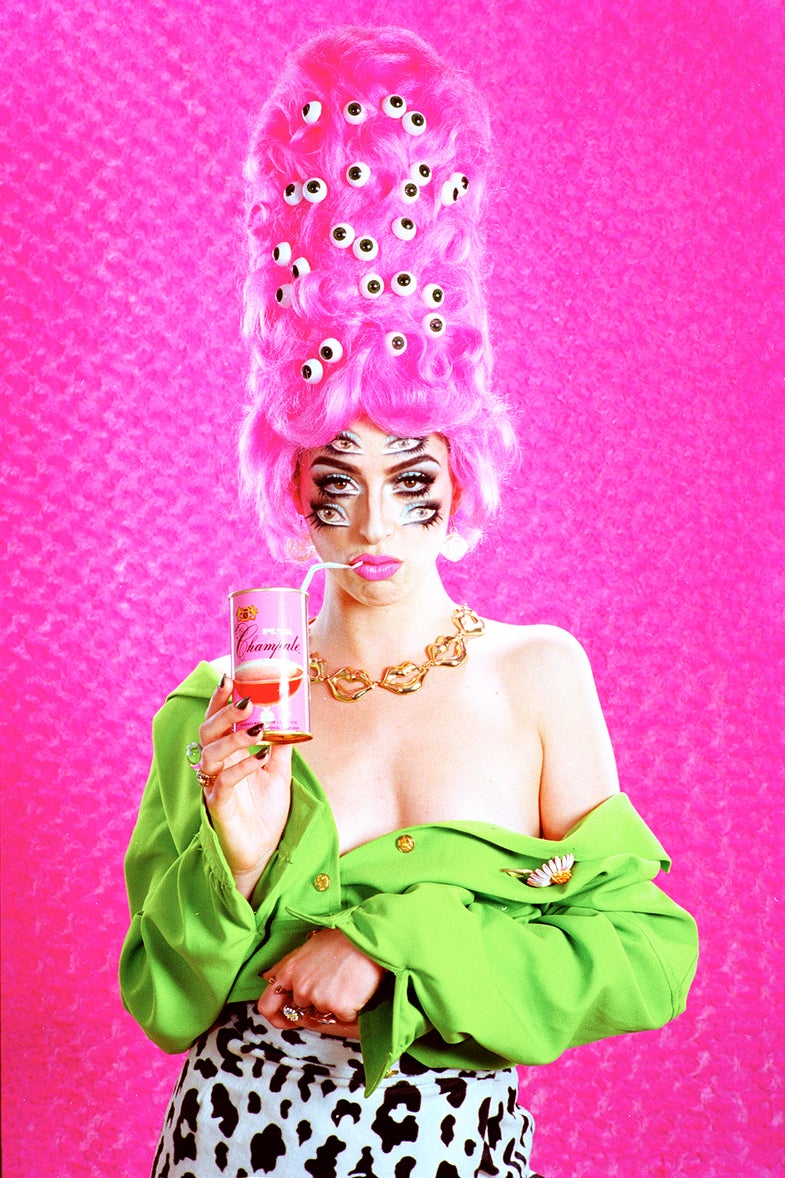 Despite all the hyper-saturated and loud tones in her work, Parker Day prefers her identity behind the quiet of the camera. The riots of color in her portraits come from a contemplative space. "I believe inspiration lives not on a mood board but in the darkness of your own mind," she says. "You have to create the space and find the stillness within you, to allow it to bubble up."
ICONS, which opened at Superchief Gallery in Los Angeles on February 4, puts Day's muses on full display. The show comprises 100 portraits of characters that explore a full range of collaborative identity-making. Her vivid images don't flinch at the awkward, ugly, or comically grotesque—instead they celebrate these characteristics in all their over-the-top and larger-than-life glory. Day also has an upcoming book of the series, due for release in March 2017.
Day was motivated by an "interest in the malleability of identity" and the performative nature of how we communicate our identity to others. All portrait photography is, to some degree, a collaborative process, but Day revels in the depth of creative engagement her subjects bring to her shoots. "There's a lot of back and forth on my shoots," she says. "Collaboration makes it truly come alive."
As a feminist practice, acknowledging and engaging with the creative forces in each of the individuals she photographed is central to her work in this series. Day says that she finds most of her subjects through social media; she shoots in her living room. "The first time I meet them face to face is when I open my door," she says. "I think welcoming them into my space creates a warm, relaxed environment for the shoot and helps build quick rapport."
The show will open at New York's Superchief Gallery on March 4.
We spoke with five of Day's subjects in the ICONS series about the collaborative process of their portrait.
Mary MacIntyre Playing An Eye For An Eye
As a freelance professional makeup artist local to Los Angeles, Mary MacIntyre had a very specific vision for her multi-eyed goddess-like persona. She created this image in her own mind after seeing a portrait that Day had taken of a model whose dress was truly remarkable. The collaboration for this image sprang from there. MacIntyre says, "I was inspired by a photo Parker Day posted, picturing a model wearing a dress made of faces. Since I love makeup artistry, I simply had to recreate the look with castings of my own face for the dress and makeup involving realistic painted on eyeballs." Their work together captured more of what MacIntyre had loved about Parker's photography, with its "colorful acid aesthetic" and "extreme quirkiness."
Megan Amram Playing Virginia Slim Jim
Megan Amram's day job is as a writer, and this collaboration was not a great departure. Her scripting is often comedic, and this character came to life with ease. "In my mind, Virginia Slim Jim is a high powered business woman in the '80s and a recent divorcée," Amram says.
Shamon Cassette Playing MCM
Working with fellow artist Shamon Cassette was a breeze, Day says. The character he portrays "is a resurrected, war-torn tennis legend from Johannesburg, South Africa, called Black Agassi. He snatched the MCM tennis racket from the belly of a seven-legged, lava-spitting Komodo dragon." The self-proclaimed haberdasher/fashion-rapper speaks of their joy and exchange in their mutually engaged creative process, through the shared clothing and staging in this shot.
Cat Black Playing Hellcat
Entirely the fashion creation of Cat Black, Hellcat is the personification of her approach to the world, "Having an eye for the most garish, glamorous, and over-the-top (with limited resources), I became and produced what most call 'trashy classy,'" she says. "All of my work, from clothing to music just reeks of sleazy '70s glam rock 'n' roll and lipstick-stained cigarettes." As the collaboration went, Black connected with Day because, "I think we both see the world as sort of mad but unconventionally striking, so we trusted each other."
Fox Pfleuger Playing Sprinkles
Australian genderqueer performer and self-described "psychedelic stripper" Fox Pfleuger stepped into a love of heavy monobrows that is shared by both Day and her subject. Pfleuger notes, "I do all kinds of performances where I use sexuality, vulnerability, and humor to create public rituals that liberate my personal insecurities," so this portrait was an easy extension. "It was really natural, Parker's style is so strong and diverse in aesthetic that it was easy to channel and style my aesthetic within her hyper-real world."