Paolo Pellizzari's Panoramic View of the World of Sports
This is not your conventional sports photography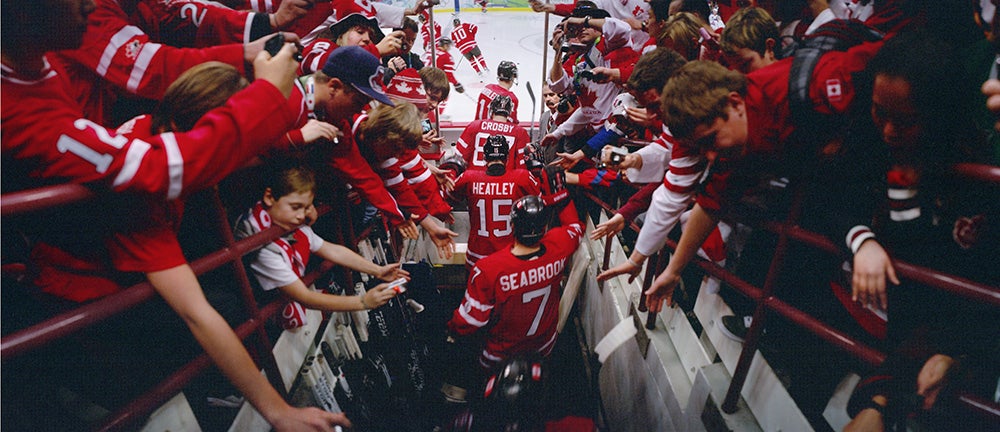 Ironically, the desire to experience great sports photography is probably not the main reason to visit Paolo Pellizzari's engaging show "Sport" at the Anastasia Photo in New York (through Aug. 21, 2015).
"This isn't conventional sports photography," explained Pellizzari in an interview conducted via email. Rather than focusing on the athlete(s), this Italian-born Belgium resident has "opted for a wider view like a stage play. It allows each aspect [of a sporting event] to be examined: the competitors as well as the spectators." To capture this wider view, the photographer uses the German-made Noblex swing-lens panoramic camera and Fujifilm Fujicolor Pro 400H film in the 120 medium format.
"It's almost the worst camera to do sports photography," says Pellizzari. "It's slow, you can't make multiple images and you have a multitude of [camera-related] details that distract you from the athletic moment. On the other hand, its angle-of-view is so expansive [140 degrees] that you can convey the entire context in which the competitions take place."
A master of the format with a natural ability to use its strengths spectacularly, Pellizzari evokes the often chaotic events he covers with a marvelous intensity. In "Ben Ainslie Sailing, London, 2012," for example, the viewer senses the force of the wind, the wet of the water, and the violent rock of the press boats as they chase Ainslie on his way to a third Olympic gold medal in sailing.
Typically, Pellizzari's panoramas have three interrelated parts: the athlete or athletes, throngs of fans, and sweeping backgrounds made up of natural landscapes or massive arenas against which the operatic-scaled action plays out. His masses of humanity move almost as a single organism, as they do in many of Sabastiao Salgãdo's crowd scenes in his Workers and Africa projects.
The more Pellizzari jams into his scenes, the more you're hooked. You look at his tapestries, the 55×26 inch prints currently on view, and see the "big picture," for sure, but you also find numerous "small-picture" vignettes that focus on individual spectators or athletes; these moments are intimate—and sometimes intricate—each engaging in its own way.
Typical is a vignette in which Pellizzari himself plays a bit part. In "David Rudisha, London, 2012," the Kenyan middle-distance runner is shown celebrating an Olympic victory on the left side of the frame. Behind the athlete, a videographer transmits a feed to the stadium's live-action screens. Look closely and you can see in one of the huge screens (top right) Pellizzari shooting the very picture you're looking at.