Newseum Celebrates 100 Years of the Pulitzer Prize With A Revamped Exhibit
100 years of gut-wrenching, exultant and poignant winning photographs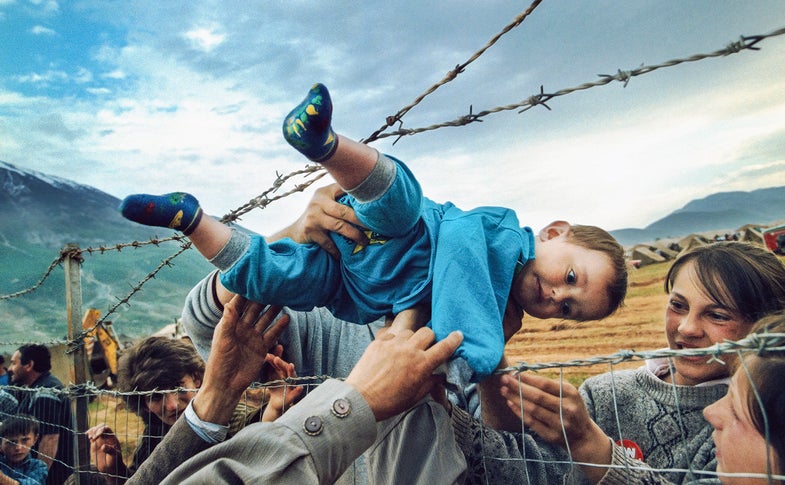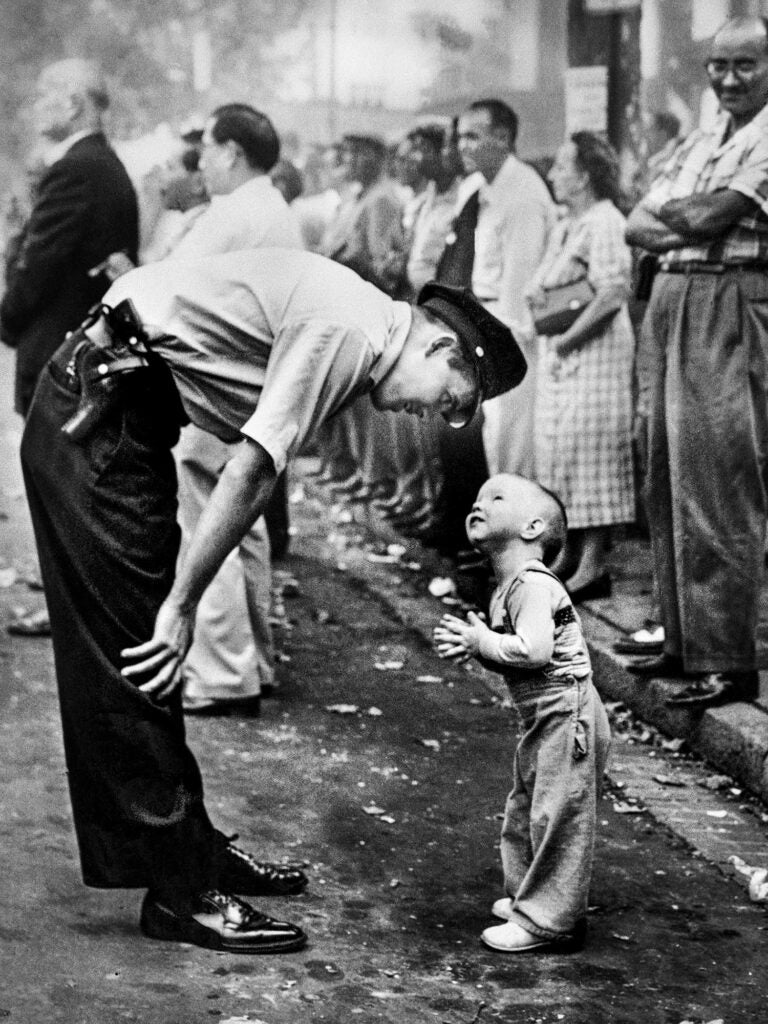 Found in CD in Laurel, 10/22/2015
Bill Beall's 1957 photo of a young boy and a policeman captured a moment of childhood innocence and wonder, and won the Pulitzer Prize.
In 1992, Dallas Morning News photographer Ken Geiger captured the Nigerian women's track and field team celebrating their bronze-winning race at the Barcelona Olympic Games. It's hard to imagine more joyful expressions could be made by the human face. They are wide open with wonder and elation, eyes raised, clasping one another in a perfectly pure moment of happiness. Geiger caught it with a click of his shutter—and won the Pulitzer Prize.

This year is the 100th year of the prize, and the Newseum in Washington, DC is marking the occasion with a revamped installation of its Pulitzer Prize Photography gallery. Familiar images will be on view, including Joe Rosenthal's 1945 photo of Marines raising the American flag during the Battle of Iwo Jima, as will lesser known photos like Sergey Ponomarev's shot of a boat crammed with refugees, part of the New York Times's 2016 Pulitzer Prize–winning portfolio.

File comes from Ziggy and found in a Travel Update folder.
Washington Post photographer Carol Guzy captured a family being reunited at a refugee camp in Albania in 1999 after being torn apart by war and genocide in Kosovo. The gallery also displays a camera used by Guzy, who has won four Pulitzer Prizes, more than any other journalist.
Indira Williams Babic, director of photography and visual resources at the Newseum, has reorganized the popular exhibition hall in an effort to give visitors access to more images and information about them, including didactic text, recordings of interviews with award winners, and physical artifacts such as cameras and diaries filled with the photojournalists' field notes.
"This is the only place where you can see every one of the photos since [the prize] started," Williams Babic said. Forty prints will be mounted to the walls, complemented by kiosks that contain electronic versions of more than 1,100 images. "Our goal is to tell the story behind the story," Williams Babic said. "There is a sense of reverence from the visitors," she added. "The photographer wants to effect change."

In one such emotionally powerful photo, taken by Oded Balilty in 2006, a defiant young Jewish demonstrator attempts to force back Israeli riot police as they storm an unauthorized settlement in the West Bank. She is one woman, digging her feet deep into the rocky slope, her face contorted with effort, pushing back against a dozen men in riot gear aiming their shields at her small, unarmed frame.

For 2016 winner Jessica Rinaldi, who documented the life of Strider Wolf, the work became quite personal. Rinaldi was assigned to Strider's story when she accompanied former Boston Globe feature writer Sarah Schweitzer on a trip to Maine. They were investigating what happened to the boy after his horrifying tale of abuse became a national story. Rinaldi met Strider years later, while living with his brother and paternal grandparents in abject poverty. "With Strider there were just these moments that revealed his resilience and that was what really stuck with you," Rinaldi said. She sensitively recorded Strider's days with his brother and loving but stressed grandparents—playing in the woods, eating at their camp stove (they had no electricity), shuttling their camper from parking lot to parking lot.

"Over time you build a relationship with the people that you're photographing," Rinaldi said, "and they come to accept you and eventually it isn't that strange to them that you're there with a camera all the time."
The Boston Globe story sparked donations from around the country to help the family with food and clothing and housing. The Newseum has since made a documentary about Rinaldi's portfolio along with the work of other prize-winners. It will be on view in the gallery.
For Strider Wolf, the widely publicized photographs of his bitter poverty resulted in positive changes for his family. These photographs have a life and influence of their own. When people are emotionally touched by an image, they want to know more, but sometimes the attention is invasive or controversy arises from a picture that was initially well received.

When a bomb exploded outside a federal building in Oklahoma City in 1995, amateur photographer Charles Porter raced to the scene. His image of a fireman cradling the body of one-year-old Baylee Almon, one of 168 people killed in the blast, became iconic of the terrorist attack. The photo was on the cover of Newsweek, while a nearly identical image by another amateur photographer, Lester LaRue, graced the cover of Time. And the fight began.
Ultimately Porter won the prize and LaRue was disgraced for trying to commercialize his photo on tee-shirts and posters. The subjects of the picture were also scrutinized. The child's mother was accused by other victims of taking all the sympathy while the firefighter was reproached by other first responders of taking all the glory. It's been 20 years since the picture was taken, and things have settled down for everyone involved. But the image will forever haunt those of us who remember that day, and even those who don't.


The Pulitzer Prize Photographs Gallery re-opens at the Newseum on September 16 in Washington, DC.