Watch This: On Set with the Pictures Generation Shoot for T Magazine
17 artists from the Pictures Generation gathered together for a photoshoot for T Magazine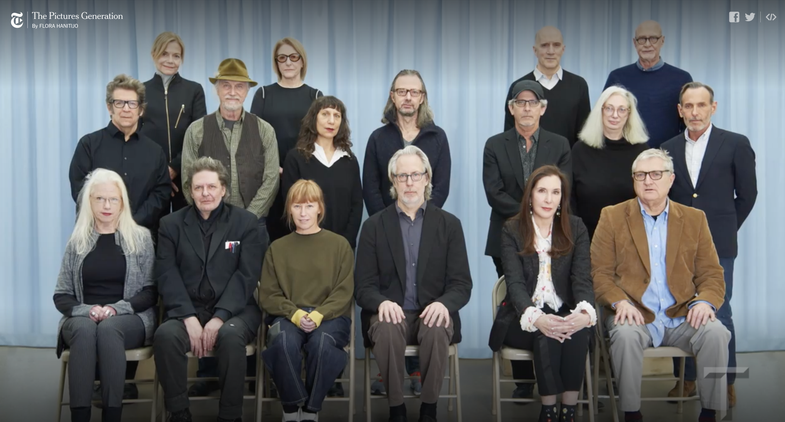 Given the media revolution brought about by internet-connected mobile devices in the past 10 years, it might be surprising to find so much contemporary relevance in the collective works of a group of artists who first garnered recognition more than thirty years ago. The Pictures Generation artists, as they are known today, are a loosely affiliated bunch whose paintings, sculptures, photomontages, and photographs speak to their upbringing as the first generation reared on television and media-saturation.
The turbulent political atmosphere of the Cold War and the inception of the 24-hour news cycle in the 1980s cast long shadows across the various work of the artists, and in many ways, presaged today's internet-obsessed and volatile political climate.
The New York Times T Magazine produced this on-set video, while setting up a shoot for their recent article about the enduring legacy of these contemporary artists. The video operates as a short introduction to some of the artists, who include Robert Longo and Laurie Simmons, discussing their work in hindsight and examining its contemporary relevance.
"The core idea was the idea of pictures of pictures, you can't deny that part of it," Longo says in the video. "There was also art going on that was about what art was, what we were trying to do was what art could be."
While the artworks of the 17 artists such as Cindy Sherman and Barbara Kruger profiled in the article vary in medium and and tone, the artists share conceptual approaches and a predilection for addressing the role of lens-based media as a subject of their work. The "Pictures Generation" appellation was applied to the group by critic Douglas Crimp, who included five of the artists in a 1977 exhibition at Artists Space gallery in New York City. An expanded show at the Metropolitan Museum of Art would later include 25 more artists. If you're intrigued by the article, Maccarone Gallery will host an exhibition of work from the late Sarah Charlesworth, whose work is emblematic of the Picture Generation's style and ethos.