Neil Leifer on Photographing Muhammad Ali
How the legendary boxer became the signature subject of a legendary sports photographer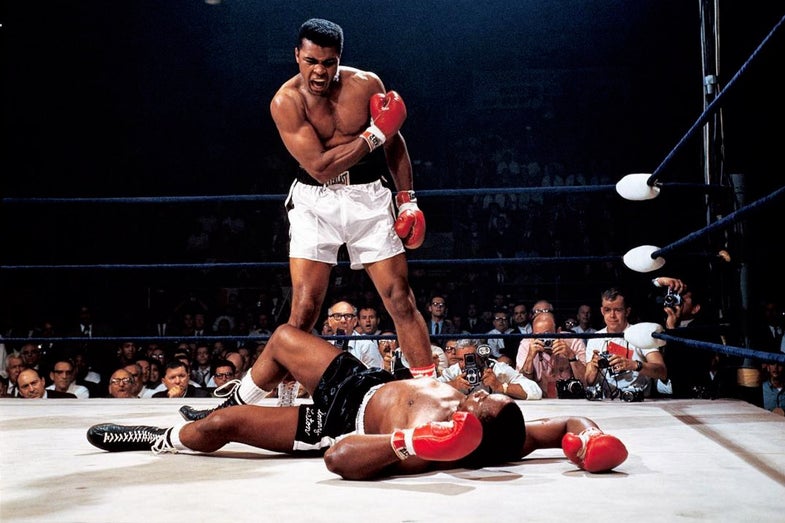 It was 50 years ago that Muhammad Ali, the three-time world heavyweight boxing champion who died on Friday at age 74, first posed for Neil Leifer. The photographer, assigned to capture a portrait of Ali for the cover of Sports Illustrated, had meticulously prepared his shoot in the Life Studios knowing that he'd have less than a half-hour with the champ. What he hadn't prepared for was Ali's humor and his ability to make everyone around him, including the object of his teasing, laugh along with him.
As Leifer recounts in his lavishly illustrated new memoir (written with Diane K. Shaw), Relentless: The Stories Behind the Photographs ((University of Texas Press, 2016), he was just 23 at the time, a year younger than Muhammad Ali—but he looked 15. At 6-foot-3 and about 200 pounds, the boxer towered over him. Ali had already been photographed by the leading lensmen of the era, including Philippe Halsman just the day before. Impatient at having to wait a full minute for Leifer's first test shot, a 4×5-inch Polaroid, to finish developing, Ali got into a playful tug-of-war over the not-quite-instant print: "It didn't take Halsman sixty seconds! Are you using cheap film?" When he saw the results, the boxer had to admit that this young photographer knew what he was doing. "But then again," he added, "how can you miss with a subject like me?"
How indeed? For his entire career and even into his retirement and long struggle with Parkinson's disease, Muhammad Ali drew cameras to him. He was an indelible subject both in and out of the boxing ring. And few shooters captured as many iconic images of Ali than Leifer.
Chief among them: The densely saturated color photograph of the champion in white shorts, arm bent across his chest and red boxing glove still clenched, standing victorious over that flattened Sonny Liston. Leifer was ringside at this famous rematch in 1965 and caught Ali's fleeting gesture with lucky snap. His strobe froze the instantly perfectly, creating what many fans consider the best sports photo of all time.
"I'm not trying to sound modest," Leifer writes in Relentless, "but I do believe if Ali hadn't become the sports legend that he did, it would have been just another nice knockout picture. But as his stature grew, this shot showed him the way people wanted to remember him—young, good-looking, his shining best. As a result, over time, this picture took on a life of its own."
Leifer's own favorite photograph includes a different knockdown punch by Ali, this time in a less celebrated title fight against Cleveland Williams in 1966 (the picture can be found at the top of this article). He went to great pains to get this perfectly square, undistorted overhead shot of the boxing ring and surrounding press rows in Houston's newly opened Astrodome. Leifer rigged a remote camera in the center of the venue's lighting gondola, which would be hoisted 80 feet above the center of the ring. But with only 12 frames of film available in his airborne Hasselblad and with strobes that would take a full 8 seconds to recharge between shots, he had to decide carefully, yet swiftly, when to fire the camera. "If there was a knockdown, I could get only one shot at it, one frame," he recalls.
Leifer got it. The scuffed white canvas defines the center of the frame, surrounded by alternating rows of white press desks and the dark heads of the spectators. In the upper right corner of the ring, Williams lies face up, his arms crooked overhead in a pose that illustrates the very meaning of surrender, while in the lower left corner Ali stands upright, his arms overhead in the same pose, signalling victory. Writes Leifer, "It's the only picture I've ever taken that I believe I could not have made better."
Leifer continued to photograph Ali throughout every stage of his career and his life. The two men posed together for a self-portrait at every shoot. Recounting a shoot at Ali's home in Paradise Valley, Arizona, for Sports Illustrated in honor of the champ's 70th birthday in January 2012, Leifer writes, "I had seen him many times over the years, growing frailer from Parkinson's disease, but he always had a twinkle in his eye and today turns out to be no exception." He narrates the events of the two-day portrait shoot and visit with Ali and his wife Lonnie and sister Marilyn. On the third day, the photographer returned to Ali's home to show him every picture from the shoot on his laptop. "As I get ready to leave, Lonnie asks him if he likes the pictures and he nods yes."
Both the photographer and his subject had come a long way in the half-century since those indelible ringside shots and 60-second Polaroid test portrait.