Mustafah Abdulaziz Brings Images of the World's Water Crisis to the Banks of the East River
An open-air exhibition shines light on the global water crisis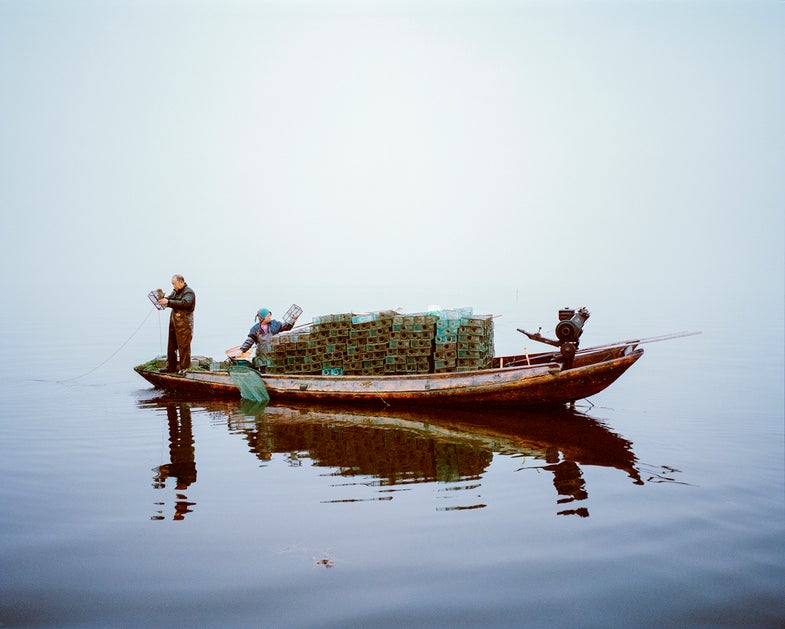 At night, Water Stories, an open-air exhibition by Mustafah Abdulaziz on-view in New York City's Brooklyn Bridge Park through October 12th, is particularly haunting. It features nearly 70 photographic lightboxes that illuminate the park grounds and the banks of East River.
In the dark, faces from China, Nigeria, and Pakistan gaze out at the still water and the iconic Manhattan skyline. With his installation, Abdulaziz attempts to bring the banks of the Ganges, The Carandiru, or The Yangtze close to the New York waterfront. And in doing so, he encourages his viewers to contemplate the accessibility of water, one of our most important resources, and to consider that this resource is limited. In fact, the United Nations has projected that by 2030 our planet will face a 40 percent shortfall in water supply.

"Water serves such a beautiful function," explains Abdulaziz. "It is both literal and conceptual. It is present in every aspect of human development from the biological to the mystical to the religious. Water shapes our cities, our aqueducts, and our lives."
Abdulaziz grew up in Bedford-Stuyvesant, Brooklyn, and lived in the United States until he moved to Germany in 2011. Although he says he has no formal training in photography, his interest in the medium developed early. He recalls spending hours in the library as a teenager poring over books and looking through images. When he picked up Richard Avedon's In the American West, something clicked; he realized that photography could be a journey and an experience. He also knew that he wanted to use photography to explore and comment on the world.

"I felt like photography was an offering," says Abdulaziz. "It was an offering and challenge. I looked at these works by Avedon and Winogrand and all these guys who spent their time on the street talking to people, interacting with people, getting things thrown at them, making prints in darkrooms, and talking to museum directors about their ideas. I thought this is insane. This is the exact way that I want to see life."
Abdulaziz received his first grant in 2012 to photograph the cholera outbreak in Sierra Leone. Since then, he has visited nine countries and made thousands of images that document human relationship to water.

His New York exhibition includes images from six countries: China, Nigeria, Brazil, the United States, Pakistan, and India. Viewers can see Nigerian women waiting to collect water from a hand-dug well, the brittle ground of the Cantareira Reservoir after a drought in Brazil, and an aerial view of Manhattan—a small island surrounded on all sides by water. His photographic installation leads viewers from intimate portraits, like the one of Orwau Nyam, a Nigerian farmer, to large-scale views of endangered landscapes.

Abdulaziz explains that his strategy here is to photograph water as well as the people and landscapes impacted by the water crises. In this exhibition and its startling proximity to New York's East River, viewers are reminded that water is, indeed, a source of life, and that the world water crises is both a global and individual problem.

Water Stories is the result of a collaboration with the HSBC Water Programme, a partnership between HSBC, Earthwatch, WaterAid and WWF, and presented as part of the festival Photoville, in Brooklyn Bridge Park. It is on view through October 12th.