MoMA Launches OBJECT:PHOTO, Interactive Photography Conservation Website
An awesome new way to experience classic photography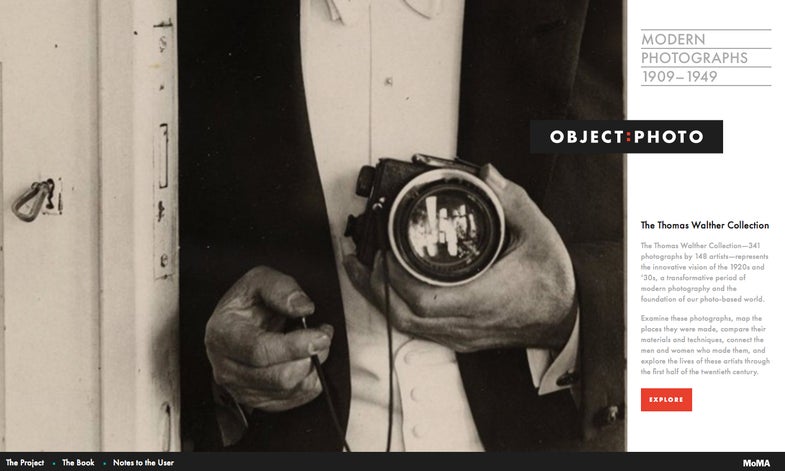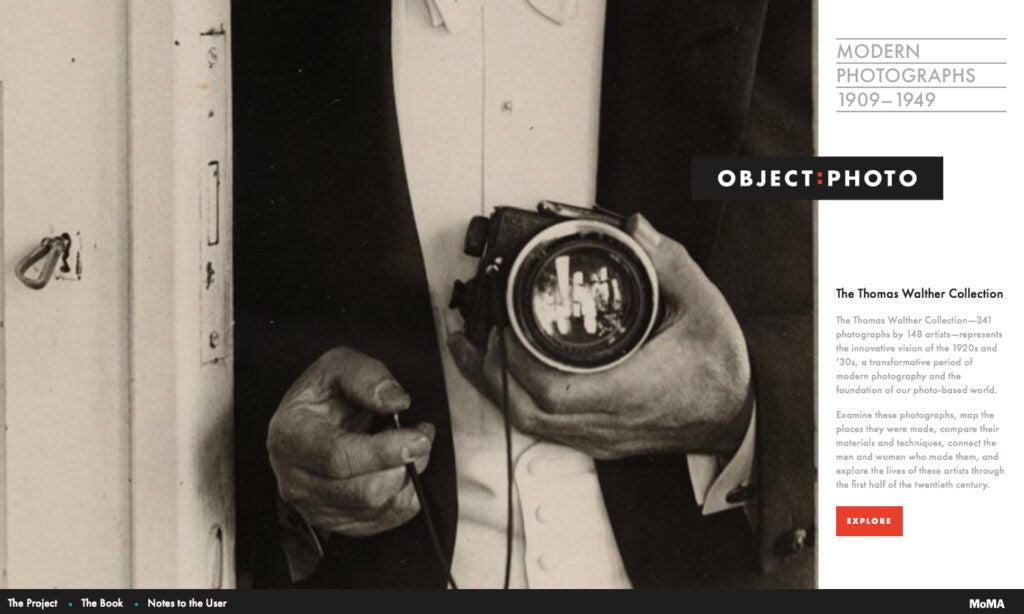 The Museum of Modern Art launched OBJECT:PHOTO, a well-designed interactive photography conversation website today. A four-year collaborative effort on the part of over 30 scholars, the site functions as a vast, user-friendly archive of the 341 photographers included in the Thomas Walther Collection. Featuring iconic images by the key practitioners of the first half of the 20th century, the site was announced in advance of the exhibition opening, "Modern Photographs from the Thomas Walther Collection 1909-1949," on Friday, Dec. 13, 2014, one of our picks for the month's best. The private collection, which the museum acquired in 2001, includes work by Berenice Abbott, André Kertész, Alfred Stieglitz, Paul Strand, Edward Weston, and over 100 others.
OBJECT:PHOTO offers a near-daunting number of points of entry into the study of these images. You can look through each of the high-quality digital reproductions chronologically, search by artist, or filter by subject, style, materials, techniques, location made, even by aspects of the artists' biographies. In addition to dozens of critical essays, the site also includes data visualizations mapping and plotting trends in each of those search filters.
My browsing this morning lead me first to the Mapping Photographs section, a 50-year timeline plotting the images by the geographic coordinates of their creation. I narrowed into the New York region, where this magazine in based, and where 33 of the pictures in the collection where made. That lead me to an image by Weegee, "Frank Pape, Arrested for Homicide, November 10, 1944."
The More Information tab revealed extremely high-resolution scans of this gelatin silver print, including the back (or verso) which features a penciled-in caption, editors' notes and a stamp requesting a credit for the photographer upon publication. It details the provenance of the image, which was apparently printed by Weegee, left to his estate upon his death, and ended up in a Berlin gallery in the late 80s where it was finally purchased by Walther.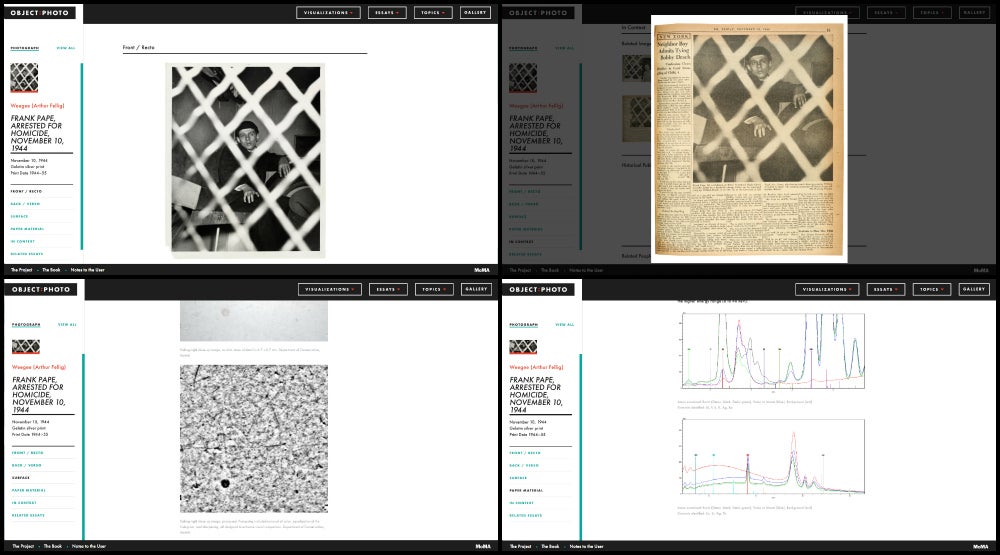 The site also includes "raking-light close-ups" on surface defects on the print, graphs detailing the X-ray fluorescence (XRF) spectrometry analysis of the paper, which determines it's makeup, and scans of the image in context, i.e. the newspaper articles reporting the alleged teenage murder's crime in this case. If I wanted to explore more about the artist, I could view a timeline mapping Weegee's life—where he lived and worked. I could also generate a visualization of his connections to other artists through work, travel, publication, and associations with schools and institutions. I could compare his printing, mounting, and retouching techniques against the dominant trends of the era, year by year, and so on. In short, it is quite the rabbit hole.
"Modern Photographs from the Thomas Walther Collection 1909-1949," organized by Quentin Bajac and Sarah Hermanson Meister, is on view at the Museum of Modern Art in New York from Dec. 13, 2014 – April 19, 2015.