Interview: Timothy Eastman on Photographing Conflict in the Ukraine
"I'm interested in the effects war has on people"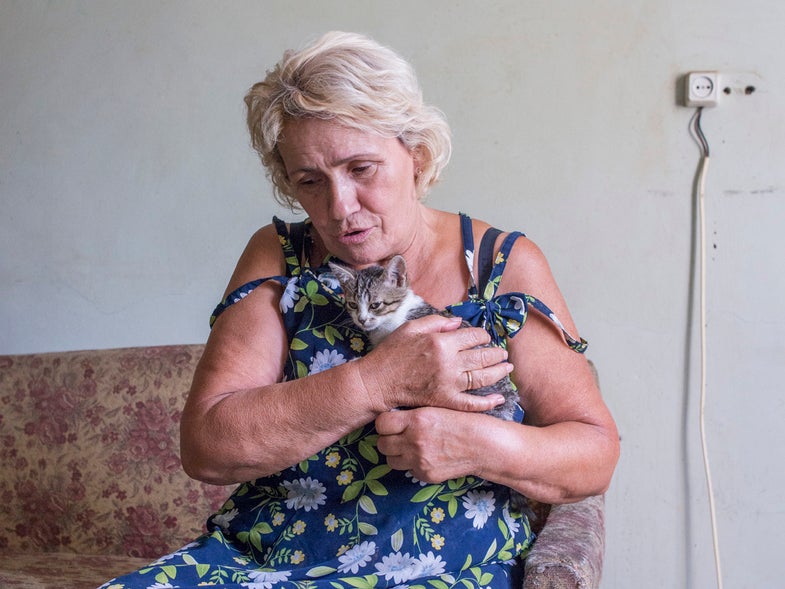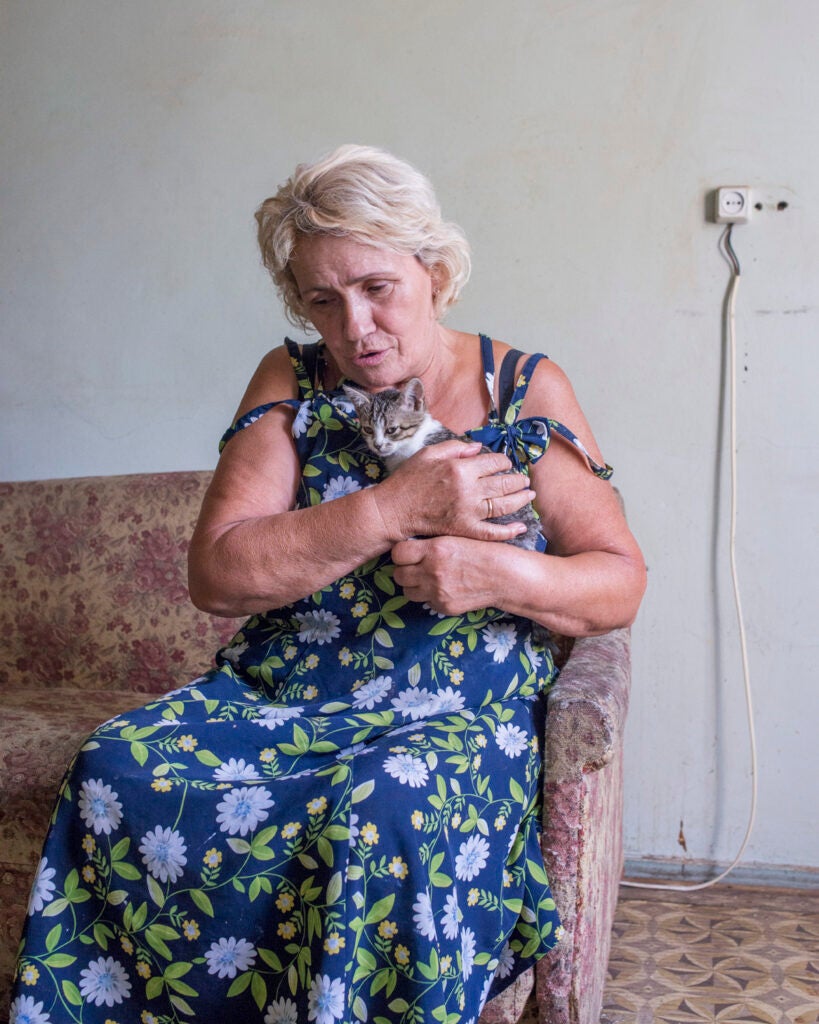 Timothy Eastman, a 34-year-old photographer based in Brooklyn, traveled to Ukraine in August 2015 for a seven-week journey through small villages ravaged by recent conflict. Using his own resources and navigating the country with the support of connections established through social media, Eastman explored the impact of the War in Donbass on everyday lives in Pisky, Ardiivka, Chermalyk and other villages through portraits of ordinary people and their surroundings. Eastman spoke with American Photo about the impressions this experience left on him and his plan to return to Ukraine in June 2016.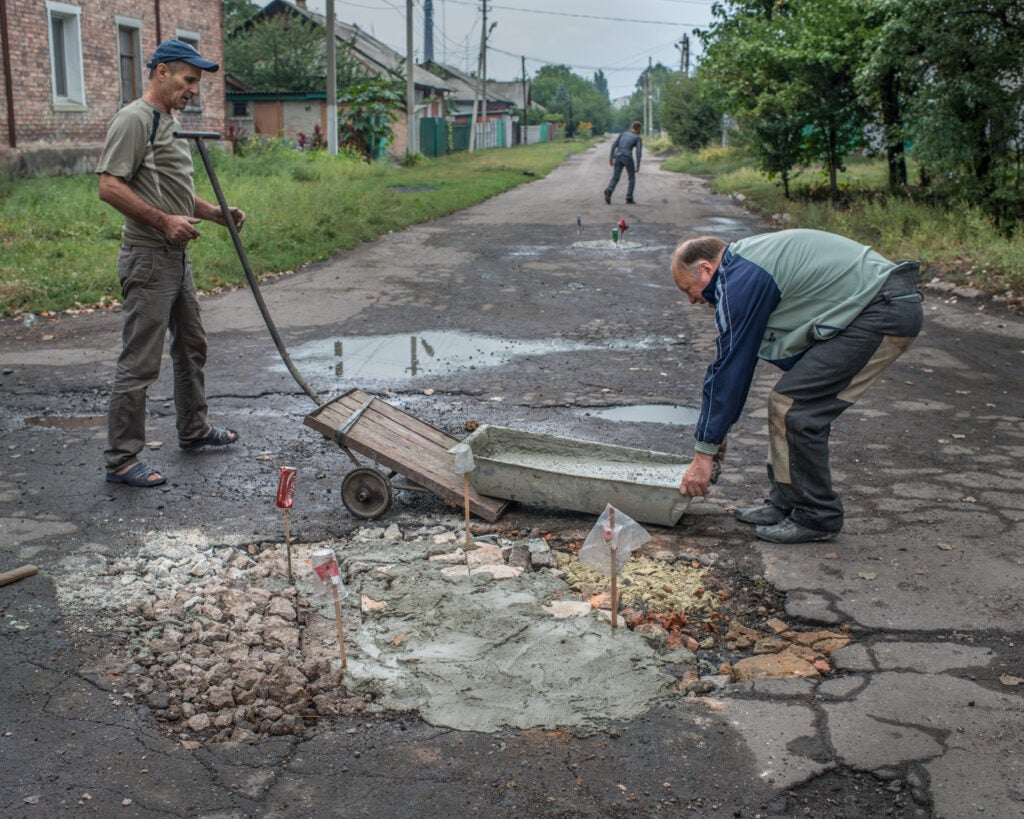 After graduating from the School of Visual Arts in 2011, you photographed political protests in the eastern United States, including the Occupy Wall Street Movement, and then made your first trip to Ukraine to photograph the Euromaidan Protests in 2013. What about your initial experiences there motivated you to return to country two years later?
The conflict in Ukraine is interesting because it isn't fully active, due to a series of ceasefires that have been put in place, but even with the ceasefires it isn't quiet either. Fighting still occurs along the line that separates Ukrainian-held territory from territory controlled by Russian-backed separatists. I was looking for a place that I could go to do stories. I'm interested in conflict, but not photographing combat. I'm interested in the effects war has on people, more conflict-adjacent than pure conflict photography. Because of my experience photographing the Euromaidan protests in Kiev, I felt some level of familiarity and comfort with Ukraine, and I already knew some people there. It seemed like a natural choice.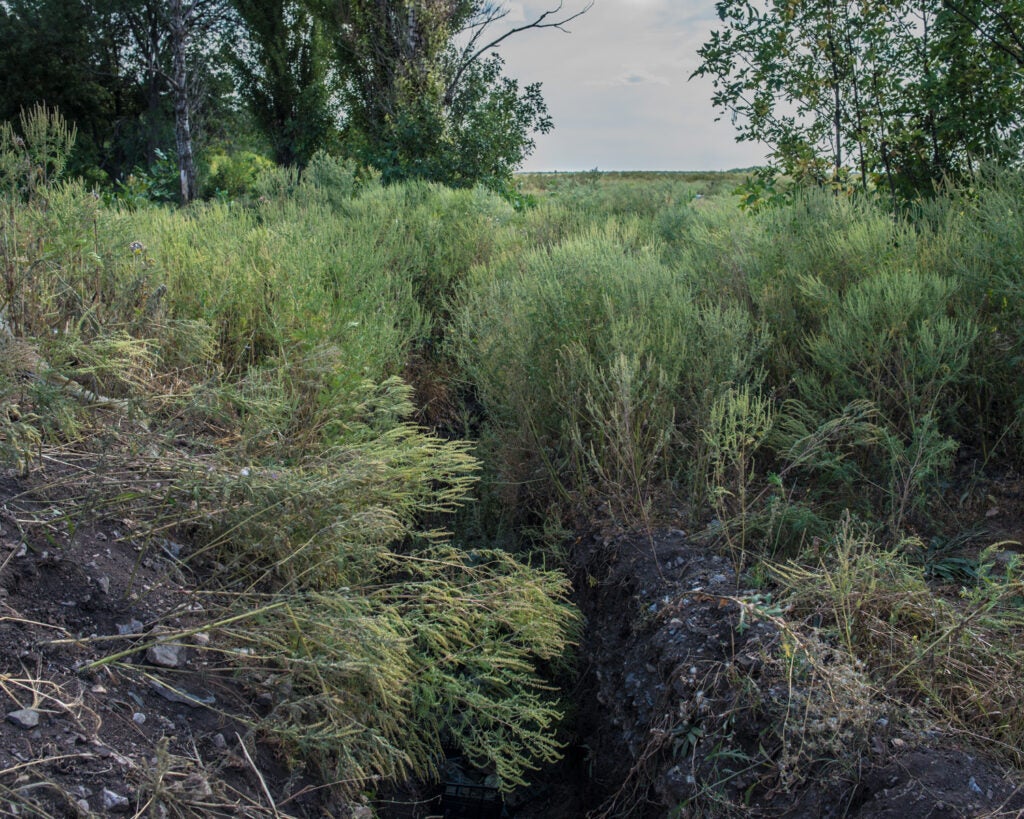 You used Facebook as a tool to connect to "fixers" who traveled with you to villages and facilitated your conversations with locals whom you sought to photograph. Can you describe the various roles these individuals performed in taking you to locations and mediating your interactions with your subjects?
The fixers I worked with had a grasp of local culture that helped me negotiate interactions with the people I encountered. I worked by going to villages and approaching people I met in public places or outside around their homes. One of the biggest obstacles I encountered was an aversion to being photographed. People are living in an incredibly difficult situation. The daily fear and uncertainty of living in a conflict zone can translate into a mistrust of strangers, among other things. The fixers I worked with were incredibly helpful not just in translating but in helping put people at ease during our interactions. The vast majority still did not want to be photographed, but that number would have been even higher without the aid of someone who was skilled at dealing with people. I was required to inform the Ukrainian military of my movements a day ahead of time every day, and the fixers I worked with handled that communication. They also helped with driving, moving through military checkpoints, finding places to stay and eat and many other things.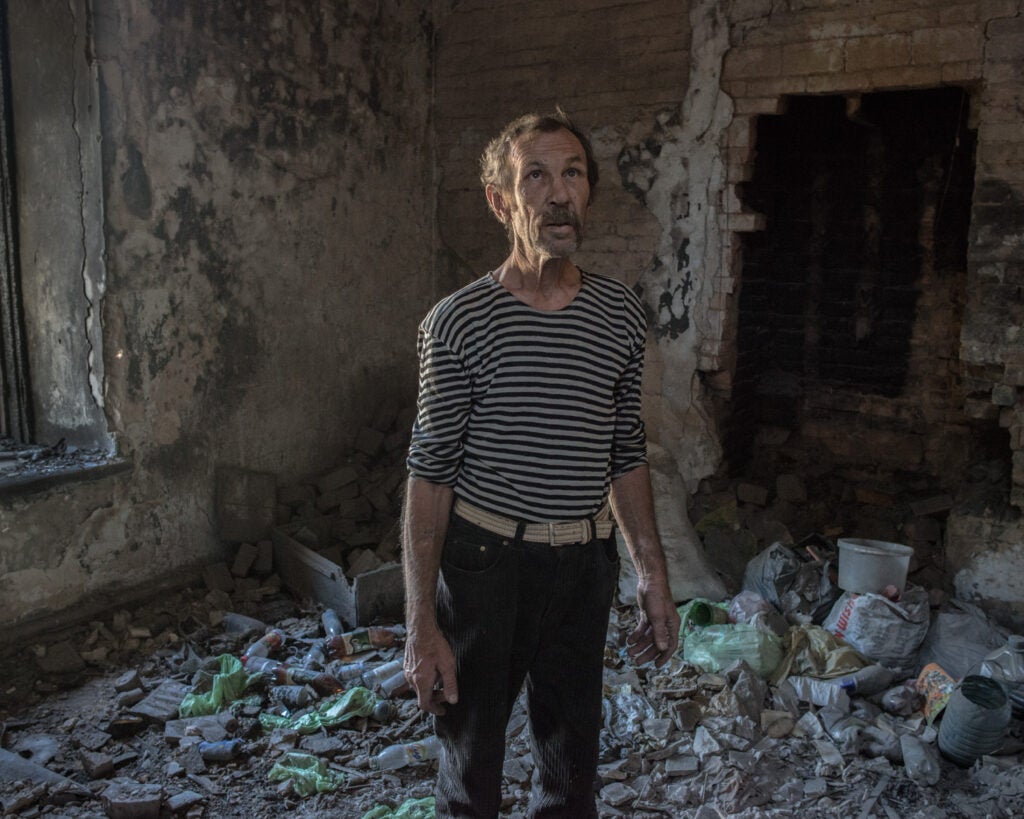 What are your impressions of the effect of the war on the people you met and photographed in terms of their daily lives, employment and or lack of employment and general morale? Can you tell us about the one individual whose story particularly stayed with you?
People are living in a very difficult situation. Food can be hard to come by because suppliers don't want to make their way to conflict zones. For the same reason, food that does get through can be very expensive. Inflation is high so that makes it even worse. Many people are living on pensions that haven't risen at the same level as inflation. A lot of people have lost their jobs due to no longer being able to get to where they once worked, working in a particularly dangerous area or the general drying up of the economy in a conflict zone. People who are willing and able have fled the conflict areas, leaving behind those who can't leave for health or economic reasons and those who insist on staying. Boredom is rampant. Many have seen their friends and loved ones killed by the fighting. There is the ever-present threat of continued fighting. Morale is very low and most people just want the fighting to end.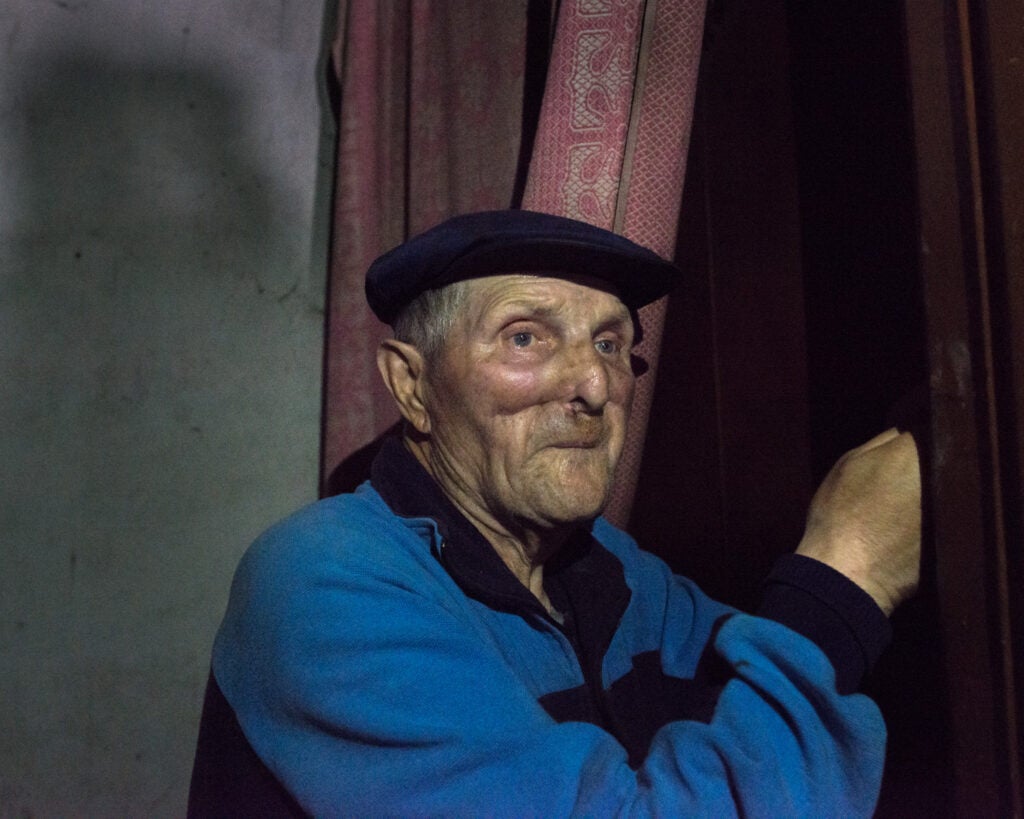 One man's story particularly affected me. Alexander, an 80-year-old man in Avdiivka, was outside working in his garden when a shell landed nearby. It killed his wife, who was also outside, and a piece of shrapnel took off the front of Alexander's face. He was taken to emergency surgery to have it reattached, and while he was in the hospital thieves broke into his apartment and stole everything of value. He lives on a small pension and can barely afford the medicine he needs. Alexander told me that he wished the shell had killed him too, and I think he was telling the truth.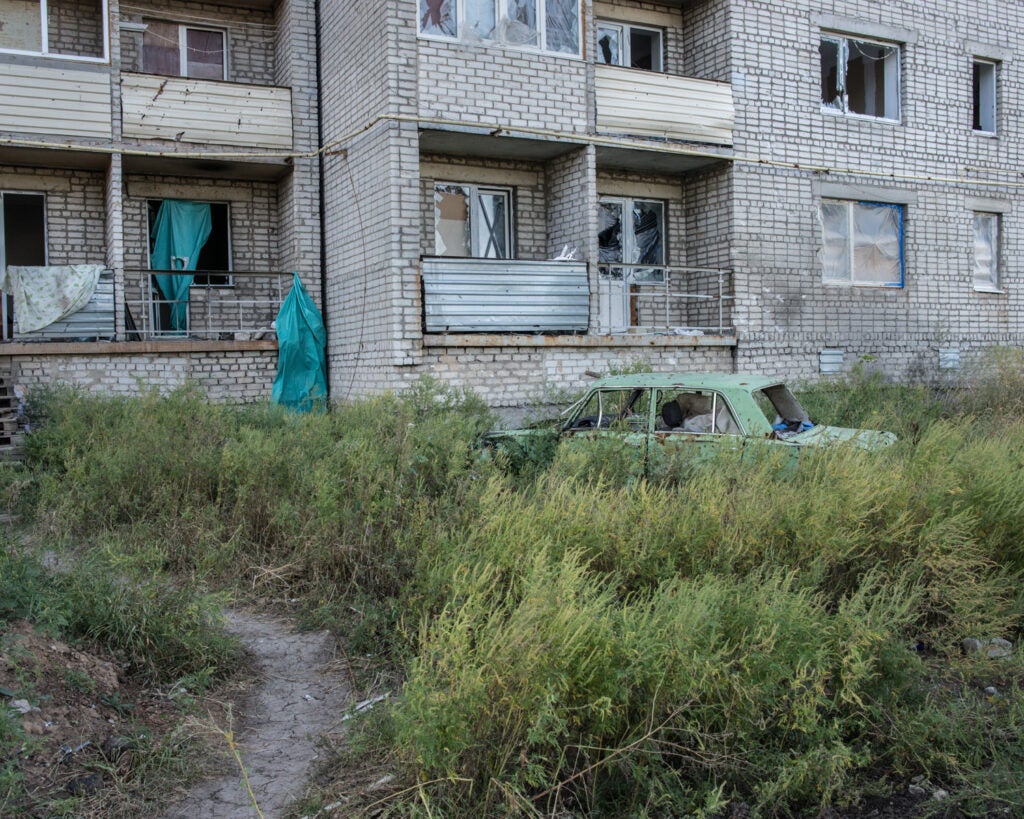 Besides photographing people in their homes or neighborhoods, you've also incorporated images of the landscape and various sites. Where are some of these places and what is significant about what took place there – for instance, the abandoned green car left in the grass near a building and the billowing smoke engulfing trees at the side of an unpaved road in a rural landscape?
The green car and building are from a town called Pisky. That apartment building has taken incredible damage during the conflict. It's been shelled numerous times and is completely torn up outside and in. It's a huge building, and when I visited there were only nine people still living there. The explosion is from a training being done by volunteer Ukrainian soldiers. It's an improvised explosive device they set off.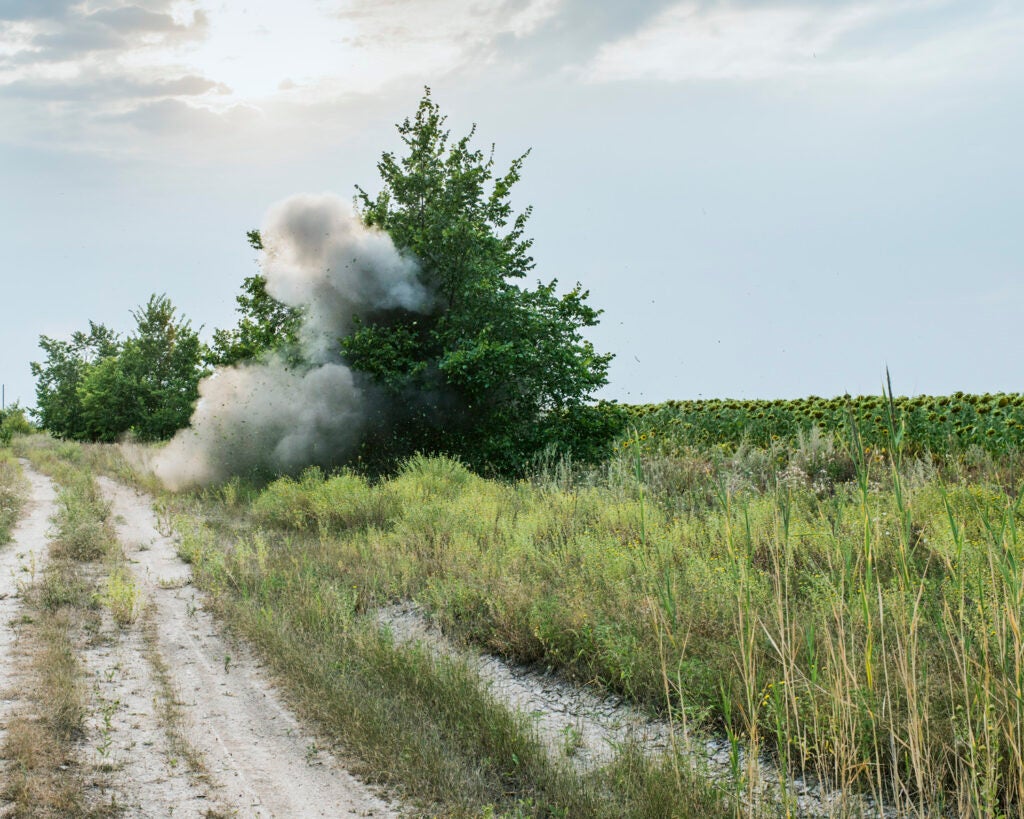 When you return to the Ukraine in June, what do you hope to accomplish? Do you intend to revisit some of the people and places you previously photographed?
I plan to revisit some of the people I met before and see how they're doing. If I'm able to get into the village of Avdiivka then I hope to see Alexander again, who I mentioned before. I want to expand the story when I go, to meet new people and learn how people are continuing to cope with an awful situation.