Interview: Mario Sorrenti is a Visionary Rebel
During a break from a photo shoot, Mario Sorrenti is in a chatty mood. His studio manager has set a...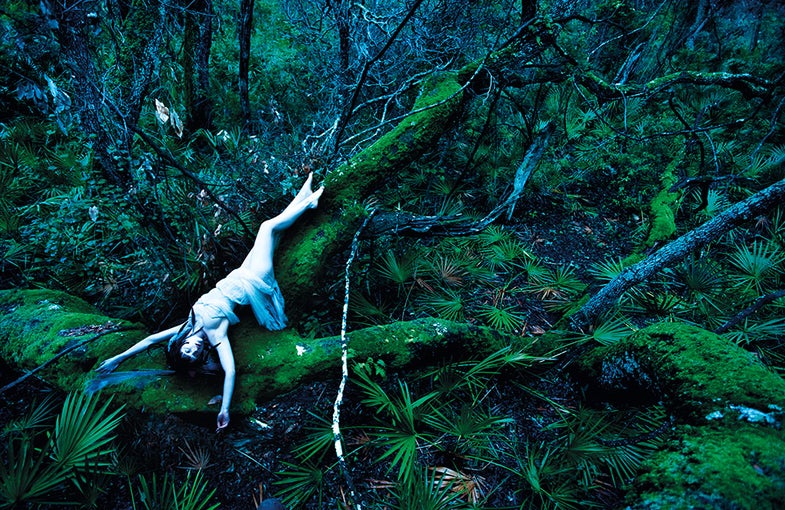 During a break from a photo shoot, Mario Sorrenti is in a chatty mood. His studio manager has set a time limit on our phone conversation but we've run nearly half an hour over. "I think there is a little bit of a fashion bubble that needs to be burst," Sorrenti says. This "bubble," he says, is one of "luxury that doesn't seem to be relevant anymore."
It's a revealing statement coming from a photographer whose work straddles the junction between fine art and commercial fashion. Sorrenti's images—evoking extravagance, the bold brandishing of color, and the subversion of sensual form—have been seen in prominent 
venues such as London's Victoria and Albert Museum and New York's Museum of Modern Art; advertising campaigns for Calvin Klein, Prada, and Yves Saint Laurent; editorial work for Vanity Fair, Vogue, and W; the coveted Pirelli calendar in 2012; and the Steidl monographs The Machine and 
Draw Blood for Proof.

In recent projects, the 42-year-old photographer has pushed his work to a new edge where fashion is not all about branding. For his series Queen Frostine for the German magazine 032c, a woman in pastel scenes and suggestive poses is grotesquely splattered with confections—and the model comes from outside the traditional avenues of celebrity and agencies.
Sorrenti's desire to remain relevant fuels a recent campaign for the CK One fragrance line (#ckmeforme), which employs Millennial creatives including photographer Petra Collins and musician Dev Hynes (aka Blood Orange) and the singer Samantha Urbani. He shot a bevy of models, many found on Instagram and Facebook, who appear partially clad with sexually ambiguous expressions in selfie-inspired GIFs, still photos, and videos splattered on the campaign's Tumblr page.

"The whole idea is about self-exploration through photography and film and social media," Sorrenti says. "We used everything from digital cameras to iPhones to little point-and-shoots. We used high-res video cameras and throwaway cameras. We created environments where kids could just go and be on their own and we gave them cameras. And we mixed all that material with what we made."

The aesthetic of the CK One campaign is not unlike the work in Sorrenti's 2013 book Draw Blood for Proof, a diaristic collection of snapshots, contact sheets, and ephemera originally conceived for his New York City loft walls and which some consider among his best work.
Sorrenti explains that creating multimedia projects with social-media darlings feels natural now, just as his Obsession campaign featuring nudes of a waiflike Kate Moss "felt right for the moment" when he shot it in 1993. "If you asked me today what a fragrance image is, I would be able to tell you what it is and what it needs to portray, but back then I had no idea what that was," he says with a laugh, insisting he didn't realize the images he took at age 21 would go on to be game changers. He adds that the freedom to shoot alone with Moss—and "to choose which images I thought were the most beautiful and the most powerful"—was rare in the industry. "It was very risky," he says of making the eyebrow-raising images, acknowledging a certain naïveté shared by both photographer and model (who were dating at the time).

Purple Magazine
Mario Sorrenti's 2008 self-portrait with Kate Moss for Purple Fashion.
But even at 21, Sorrenti was no industry novice. His family, blessed with what he calls an "art gene or something," includes his father, who was a painter; his mother, Francesca, who is a photographer and advertising maven; his younger sister, Vanina, who is also a photographer; and his younger brother, Davide, whose heroin-chic photographs, before his death at age 20, ran in magazines such as Interview and Detour. Sorrenti spent time in front of the camera too, modeling for such fashion legends as Bruce Weber, Steven Meisel, Richard Avedon, and Paolo Roversi. "I remember being 
18 years old and thinking if I could be like [Weber] one day, that would be pretty amazing," Sorrenti says. "I thought that Bruce had an incredible way of creating this singular world."

W Magazine
Mario Sorrenti's shot of Guinevere Van Seenus from his 2009 series Sanctuary, for W magazine.
Before catching the photo bug, Sorrenti aspired to be a painter or sculptor. "It took me about 10 years to really discover my own language," he says. This discovery has kept Sorrenti ahead of the curve, producing provocative work while steering clear of the kind of controversy now engulfing photographer Terry Richardson. Sorrenti says he doesn't know the artist intimately and doesn't know any details of the headline-making allegations (including inappropriate behavior with models) that it's rumored have caused some clients to drop Richardson. "I have a huge respect for Terry," Sorrenti says. He does recall thinking that an exhibition of photographs "where it was like Terry and his dick" he saw a decade ago "was really pushing it," he says. "But I don't think his work is any more racy than Robert Mapplethorpe's was." Sorrenti is quick to note that, for his part, he is always clear about the scope of a shoot with his models and always gets consent. "I bring people on board who are open to the ideas," he says, "and want to be part of the creative process."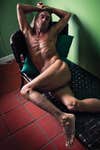 Vogue Homme
Mario Sorrenti's portrait of Iggy Pop for Vogue Hommes International, 2010.
Having spent the first decade of his life in Naples, Italy, under the guidance of artistic parents, Sorrenti says his relationship with nude expression has always been "a very free one." His nude works, which include self-portraits and men, are not simply about sexualizing women. "To me the idea of being nude is as pure and simple and natural as a person can be," he says, "and anything else is just a cloak disguising who we really are."

The photographer was also fortunate to duck the fate of his late brother. Sorrenti explains that when he was 18, he moved to London, where he developed his photographic eye. Meanwhile Davide remained in New York City, hanging out with friends such as the late artist Dash Snow, tagging graffiti and skateboarding around town. "It was an exciting, creative time, but also we were young and having fun—he was doing a lot of drugs and I had done a lot of drugs," Sorrenti recalls. "I was coming out of that age and he was going into it." According to Sorrenti, Davide's death was due in part to heroin use and also to a genetic blood disorder called thalassemia, which required him to get blood transfusions every 14 days. Sorrenti photographed his brother's struggle with the disease; he calls his 2009 book of the work, The Machine, a "cathartic" project. "My brother was incredibly talented," Sorrenti says. "He really lived—but he didn't have the strength to live the way he did."

Though Sorrenti's days are now an endless stream of "shooting, editing, shooting, editing," he remains a family man. Sorrenti and his wife, Mary Frey, have two teenagers who are into music and photography—and are not shy about their opinions of his work. "I try to learn every day from what I do and the process," he says. "Images have a life of their own: You make them and then they go out in the world and you don't really know what's going to happen." He laughs. "Sometimes what I think is really great, nobody gives a shit about."