Instagram Takeover: Zack Seckler's Aerial Abstractions
Follow along @AmericanPhotoMag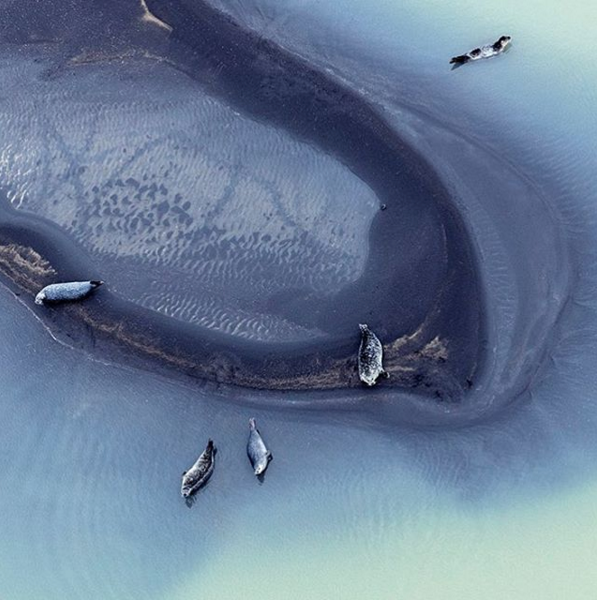 Zack Seckler is a commercial photographer who enjoys making playful portraits of animals and staging comic scenes with models. In addition to landscape photography, which he's made from vistas all over globe, Seckler maintains an impressive roster of clients including Apple and Starbucks.
His latest work, Aerial Abstracts, which he is sharing this week on American Photo's Instagram account, is comprised of aerial images made during trips to Botswana and Iceland. That work will be on view at Robin Rice Gallery through May 8. Seckler says when he is shooting these bird's-eye-view landscapes he feels he is engaging a different part of his artistic expression. "I'm really responding from the gut, so to speak," he says. "What compels me to make an image and to frame an image, it's very intuitive." Follow along on the @AmericanPhotoMag Instagram feed.
"I ended up in Southern Africa in Botswana towards the end of 2009 and I had a few extra days before I could fly home. Through a serendipitous opportunity, I was put in touch with this local bush pilot who did aerial tours of the area just for fun. I got hooked up with this guy and the opportunity was given to me to fly. I had never done aerial photography before, but pretty much from the moment we arrived over this massive salt flat, I got really excited, visually.
We had this really flat, very graphic landscape; very minimalist with interesting patterns in the way the salt and the dirt dries when it's been soaked with rain and then punctuated with animals running through. I just immediately fell in love with it.
The Africa series was done over two trips to Botswana. Some were done in the Okavango Delta which is a very marshy, wet landscape. The other trip was to this salt flat. The other body of work was shot in Iceland in November of last year—six months ago now—that was shot all along the southern coast.
Everything was photographed from ultralight aircrafts. Basically shooting in a plane with either no door or with the door open, in fight. For the most recent one in November, I used Canon 5DS R and a couple of L lenses: 24-70mm f/2.8 and the most recent version and the 70-200mm f/2.8.
It really is fascinating to see things from the air. There's just this intrinsic "wow" moment, especially when you're over a landscape that's unfamiliar to you. Being in a natural landscape and seeing it from the ground and then in the air, it's just a complete shift. I think that what really jumps out is larger geographical patterns that you see the higher that you go up. The visual balance between landforms that you would be completely oblivious to on the ground.
Instagram is a nice, creative way to update people on what you're doing. I wouldn't say that by any means I've mastered it though. I try to use it as a way to communicate with clients and people who may enjoy my work to show them what I've been up to in a "behind the scenes" way. Social media is beneficial in cultivating interest in my work. If I'm featured in a magazine and they link to me on social, then it's easier for people to find me. I have had some business relationships develop that way; it's kind of an extension of a website—a way for people to discover you."