Instagram Takeover: Art Basel Miami Beach
Join us as we check out the hottest contemporary photography and art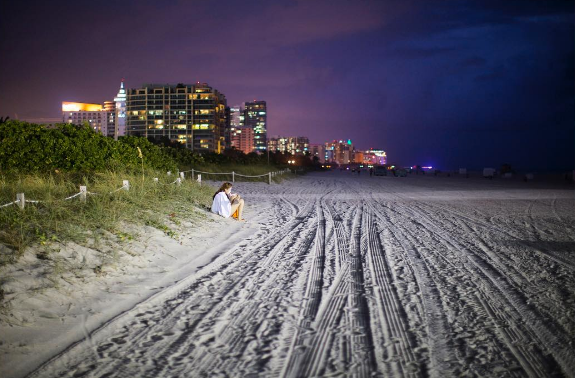 Art Basel Miami Beach: It's more than just the hallmark art fair that brings galleries, collectors, artists, art aficionados, celebrities, and socialites from around the world to the Sunshine State the first week of December. It's numerous satellite art fairs, along with panel discussions, pop-up art exhibits on the streets and in hotel room suites, steamy parties, politics, and the flourish of capitalism taking place on the fair floors. There are so many ways to document Art Basel Miami Beach, so many threads to follow.
We're at Art Basel to seek out and highlight the photography at this and the satellite fairs—and to uphold it as an art form. And this weekend we will be bringing the best of it to our Instagram feed, @americanphotomag.
In the art fair circuit, it was Documenta 6, held in 1977 in Kassel, Germany, that placed photography in the same realm as other more traditional fine arts, exhibiting works by photographers such as Robert Mapplethorpe and Alan Sonfist. Since then, photography has held a strong place in the art world; experimental photo-based works and traditional prints are prized possessions for art collectors. But although photography is revered as fine art, it still isn't as prevalent as, say, painting or sculpture, at the fairs. So we're going hunting.
Art Basel Miami Beach debuted in 2002 as an offshoot of the original Art Basel fair in Basel, Switzerland—which has been going strong since 1970. It continues to gain momentum each year as galleries and art lovers descend on South Florida when it's starting to feel like winter in much of the Northern Hemisphere. Last year the fair, which is the largest in Miami, attracted 77,000 viewers over the course of five days.
And with more than 500,000 square feet of exhibition space at its home in the Miami Convention Center and exhibits from 269 galleries (most of which are updated with new works daily), you could easily spend the whole week there and never leave its grounds. Take in the exclusive Davidoff/BMW/USB opening night party held in the Miami Beach Botanical Garden where an art car from John Baldessari is debuted, and you've got the week covered.
But there's a whole world of art and spectacle outside the convention center. The satellite fairs shine too, maybe even more for their contemporary and experimental leanings. Consider, for example, the New Art Dealers Alliance (NADA) fair at the Deauville Beach Resort, which is populated by an it-list of the hottest galleries around the world, or Untitled, which is innovative in its setup and has a view of South Beach that's unparalleled. There's also Art Miami (in its 27th year) in the Miami Design District.
There are also events at the Institute of Contemporary Art, the Lowe Art Museum, the Pérez Art Museum Miami (PAMM), the Rubell Family Collection, and several other museums that dot the city. And then there's Wynwood art district, which sits on the Miami mainland and boasts a colorful street art scene and many galleries and pop-up art events.
This doesn't even take into account all of the exclusive parties hosted throughout the week or the people who come from all walks of life, dressed to impressed. There's a huge music scene during Art Basel, too, which attracts prominent musicians every year.
We're in Miami now and look forward to bringing you a taste of Art Basel all week, and an eye for the best photo-based art here. Follow along! We'll be posting to our Instagram feed, @americanphotomag.