Infrared Burma
When you arrive in Burma, you aren't just visiting another country. You're visiting another century. Thanks to a sustained series … Continued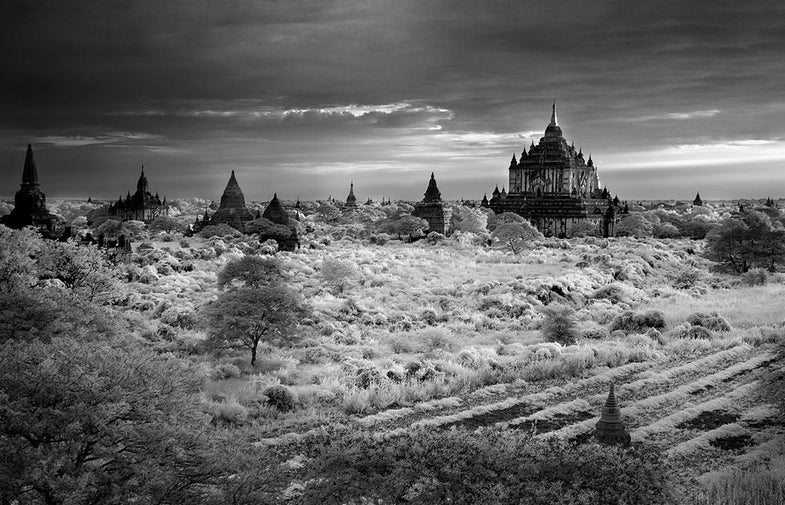 When you arrive in Burma, you aren't just visiting another country. You're visiting another century. Thanks to a sustained series of inhumane policies by a sustained series of oppressive leaders, a boot has been kept on the Burmese people's throat for the past 50 years. With the rest of the world kept out, the country has become a de facto time capsule. Now, as the green shoots of democracy sprout and the walls come down, Burma is poised to enter the 21st century having barely experienced the 20th. I will leave the political ramifications of all this to those more qualified. What I'm qualified to do is frame and click, frame and click.
When I visited Burma for the second time in early November 2010 to lead a photographic workshop, getting a visa could take months, Internet access was tenuous at best and owning a satellite phone could get you 10 years in prison. Any mention of "The Lady" (Aung San Suu Kyi, the National League for Democracy leader who had been under detention for much of the last 20 years) could cause a deafening silence in a crowded room.
Less than a year later, when I visited for the third time in September 2011, my visa was processed on arrival at the airport, where I bought a SIM card for my cellphone. My hotel had free Wi-Fi, and The Lady had been released. Freedom was coming. But with it comes all the calamities of modern life. While I rejoice for the people, I also know that untouched Burma will not remain that way for very long.
Burma is where I felt the true meaning of what Ernst Haas once said: "Don't take pictures. Be taken by your pictures." I have never taken a photograph in Burma; they have all taken me. There have been times when I lived my life as if it were an action movie, other times as if it were a comedy. The Burmese live life as if it's a poem. There is no real word for please in their language, because please and thank you are implied in every action. The Burmese equivalent to you're welcome loosely translates to Don't thank me. That is what I must do.
When I asked her assistant if I could make a formal portrait of Aung San Suu Kyi, the response I got back was that she does not see herself as a model or movie star. In other words, no. Still, informal access could be arranged, as long as I was willing to agree to "do right" with the photographs.
I sincerely hope that I have done right here. In Burmese, the word for thank you is reserved for times when something truly remarkable or life-changing has occurred. To Burma, its people and The Lady, I offer a deeply felt kyeizu tin ba de__. AP