This Is How You Install 720 Photographs In One White Cube Gallery
Inside prolific proto-Photoshop artist Lucas Samaras' dizzying self-portrait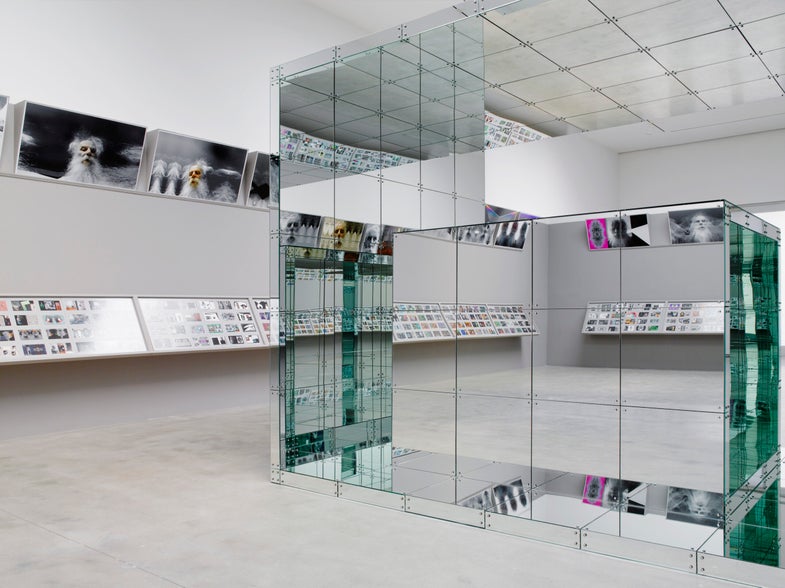 The numbers on Lucas Samaras' CV are just staggering. Over the last five decades, the Greek artist has been the subject of over 100 solo exhibitions and seven career retrospectives, with his work included in over 40 public collections of the most indisputably important museums in the world. I have to admit though, I hadn't heard of him until recently when, scanning photo exhibition listings, I spotted an installation shot for his current show (35th at Pace Gallery, May 2 – June 27, 2015) that looked absolutely nothing like any others. Were it not for his accolades, I guess, I may have been quick to write it of as just some trippy retro-digital "arty junk food" of the Carsten Höller variety. Perhaps different for the sake of being so, impenetrable, but ultimately just shiny and shallow. Once I stepped into the room though, it was another story.
There are 720 individual photographs on view in "Album 2," but they're all part of a single work. Small pigment prints are lined in a grid along three walls with a number of enlarged ones hanging overhead. Mostly they're self-portraits, ranging from what appear to be old family photos to contemporary images showing his 79-year-old self. Virtually all are manipulated somehow, either through advance digital processes, crude Microsoft Paint-like effects, or in-camera techniques, filters, dyes, and mirrors with which Samaras established his early reputation as proto-Photoshop artist and kind of define his career-long probing of his psyche and identity through altered images.
The sheer volume of images is so overwhelming it's impossible to allot any single one a decent amount of attention—further hampered by a mirrored cube-within-a-cube installed in the center of the room. Large, imposing, and situational, like a Donald Judd, the cube casts fragmented reflections of the art, audience, and itself, changing every second as you circumvent the space. But unlike Judd's heavy metals, the glass creates a kind of hall of mirrors effect, a mise-en-abyme, or an infinitesimal non-space in the room's core, which upon approach, makes one feel like they've fallen in, disintegrated, and become a part of the installation.
More than an artwork, Samaras has created a space for contemplation—of how we see ourselves and others, of the interplay of time and space and imagery, of what we choose to keep storing on on our hard drives. If difficult to make any sense of, and perhaps overstimulating, the experience can also be quite meditative. The exhibition catalog, which is also published as an iOS app, features all the images on view in an accordion-like spiral-bound book, along with two introductory poems, so to speak. They feature one word per line, enjambed all the way through, with equal parts reflection on mortality and quotidian detains and pronouns, sounding kind of like a current day Frank O'Hara. Though decidedly abstruse, it might still offer the best insight into the work, and I'll conclude by quoting from it here in lieu of further speculation:
"In my computer I'm stitching present and past photos in cartoony ironic lavish space. Ornament for the hoarders. Album No.2. Don't throw anything away without giving it a mental good riddance squeeze…
I thought it's time to recall how I looked over the years without remembering through photos. Not possible. I was a formless energy somewhere behind my eyes mixed up with the things I looked at…
The calming thing was the space I occupied, the room, the neighborhood the city."