Photo Assistant: Tips for Getting Hired
Want to be a working pro? Start by working for the pros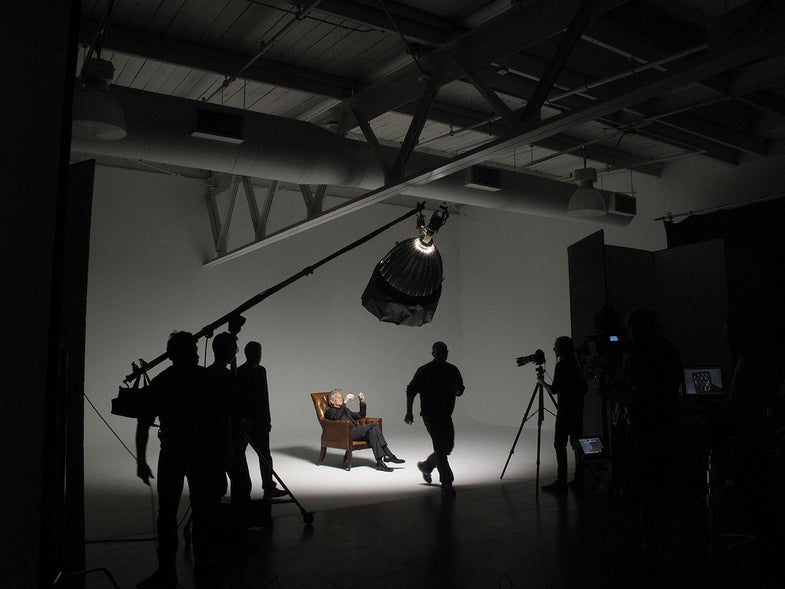 "There are millions of people out there who can make gorgeous pictures," says New York-based Will Styer, a Rochester Institute of Technology grad who, after several years as a photo assistant, shoots still lifes for clients such as Esquire, Armani and Ralph Lauren. "But a lot of what goes into being a professional photographer is dealing with clients, solving problems as a team and making sure things go smoothly on the day of the shoot—skills that have nothing to do with actual photography." Want to learn these skills so you can succeed as a pro? Start by assisting.
1. Sell yourself.
Put together a portfolio that shows off your creative and technical prowess. Then customize it to the photographer you want to work for; if he or she relies mainly on studio lighting, for example, include images that show your ability with lights. Build a solid website and keep it updated, so that anyone hiring has a reference. Then go for it. "As long as you're upfront with a photographer you want to assist about your knowledge and experience, it's never too soon," says Styer. "You don't have to know how equipment works to carry it. Be honest about your abilities and realistic in your expectations."
2. Decide how you want to work.
Should you work full-time for one photographer or freelance with different photographers who use photo assistants as needed? "There are pros and cons to each," says New York advertising and editorial photographer Jack Reznicki, who assisted for five years after getting his BFA from RIT and now shoots for big-ticket clients such as Hyatt, AT&T and The Wall Street Journal. "With full-time work, you get to see the entire production from first phone call to finished product. As a freelancer you usually see only a piece of the process, but you experience a lot more different kinds of shooting," he adds. James Porto, an influential high-concept photographer, thinks you should do both. "The ideal path would be to work for a single photographer who you admire for at least a year, then to freelance for multiple photographers," Porto says. "Freelancing pays better, too."
3. Pick your bosses wisely.
Either way, hire yourself out to photographers you can learn from. Look at their work, especially in magazines and other print media, and when you make contact tell them where you've seen it and why you like it. If you know what kind of work you want to do, assist photographers who do it; if you're still trying to decide, mix it up. In the process, you may even find a mentor.
4. Choose the best way to make contact.
Email may seem the easiest and least obnoxious, but it's also easy to ignore. "I think phone calls are better and more personal than email," says Reznicki. "With the first call I usually say I can't talk then, but I tell them to call me back at a certain time. What's amazing is that only about 25 percent of people follow through with that request." The remaining 75 percent, says Reznicki, "don't get through the door," even if they call back some other time.
5. Be persistent but polite.
"I'm not going to remember you from one interaction," says Tony Gale, an assistant-turned-photographer who has taught assisting workshops co-sponsored by American Photographic Artists (APA, of which he's now president) and Sony, to whose Artisans of Imagery group he belongs. "Being consistent is important. I would suggest trying a few different ways to reach out—postcards, email, social media. Just don't do them all at once or too frequently."
6. Do whatever needs to be done.
Once you start assisting, know your place. "As an assistant, your job is to make the shoot as smooth as possible," says Gale. "That might mean setting up lights, but it could also mean mopping the bathroom. Don't be reluctant to get your hands dirty."
7. Be seen and not heard.
"Unless you're the first assistant and know exactly what's going on, you won't endear yourself to the boss by always putting in your two cents on set," says Reznicki, who recalls a photo assistant who gave unsolicited advice in front of a client. "He didn't realize that there was also a political aspect to the problem," the photographer says. "I never hired him again."
8. Bring your own "kit."
Pack simple tools and materials that will reduce your need to ask for things—a multipurpose pocket tool, clamps, gaffer's tape, a roll of black foil to control light, a pad and pen for keeping notes, Power Bars so you won't have to work on an empty stomach. "I used to bring memory cards, which more than once solved what could have been a huge problem," says Gale.
9. Anticipate the photographer's needs.
Don't make the photographer ask for everything he or she wants you to do—go ahead and start to do it. Be judicious, though. "Some of my assistants know exactly what needs to be done before I even tell them because they've worked with me so long," says Styer. "But if it's your first time assisting a particular photographer, I'd pay close attention and just be ready when you're asked to do something."
10. Ask questions.
Don't be afraid to admit what you don't know. Your boss knows you're there not just to earn some money, but also to learn. Just don't overdo it—after all, you took Photo I in school. "Be confident, but be teachable," advises veteran Minneapolis-based assistant Tim Olsen, who maintains APhotoAssistant.com, a website dedicated to assisting.
11. Be ready.
Sometimes photographers need photo assistants at very short notice—especially if a member of their go-to crew can't take on the assignment. Last-minute substitutions can lead to regular work.
12. Have a positive attitude.
"If you pay attention, listen, and can focus on a task, that's what I care most about," says Gale. "Knowing more is always good, but if I'm going to spend from six hours to several days with someone, personality is important."
13. Don't use your smartphone on set.
"It's very disrespectful, especially when time is money and so much is on the line," says Jack Reznicki. "If you have to, do it on your lunch break or go to the bathroom." Reznicki tells of a case in which a photographer was sued by his client because his assistant uploaded a behind-the-scenes image of the shoot to social media.
14. Follow up.
If you've assisted a photographer and all went well, send a thank-you note saying you'd like to work for him or her again and expressing the hope that he or she will refer you to other photographers.
15. Keep networking.
Even if you end up working full-time as a photo assistant for one photographer, it's important to establish new connections. Do this on shoots, of course, but attend photo community events too. And be sure to make friends with your local photo equipment rental house.
16. Exploit social media.
"It's actually one of the ways I've met a lot of well-known photographers," says Detroit-based Matthew LaVere, who is now making the transition to full-time professional. "Down the line, they've called me up to see if I was available to assist. Instagram and Twitter have really helped me network." Facebook offers similar opportunities.
17. Start mixing in your own jobs.
"It is absolutely possible to assist and shoot at the same time," says Gale. "I know some people believe you should make a clean break as soon as you think you're ready, but I'm not sure that's realistic. Gradually shooting more and assisting less is a perfectly fine way to do it. And if you start turning down shooting jobs because you're already booked to assist, you know it's time to quit assisting!"