How To Find Great Tumblr Photography
Looking for photography on the web? Tumblr photography is gaining popularity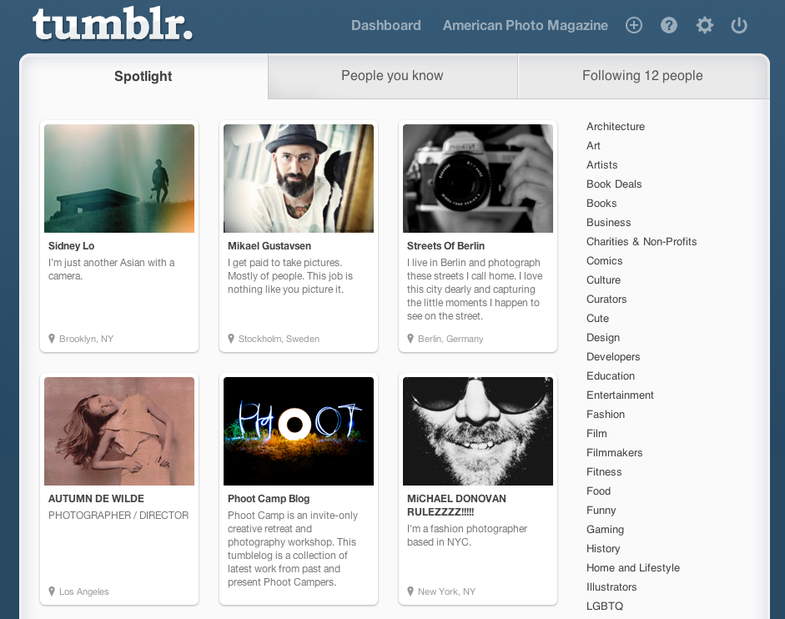 This is the second article in a continuing series. See also part one on how to find great photography on the internet, with some general tips for surfing the photography web as a whole. And, of course, follow us on Tumblr!
If you're not a user, it can be difficult at first to see what makes Tumblr unique from any other blogging service–it's another incredibly easy way to publish text, photos, videos and audio to the web. But luckily for us, there's more to it than that. What really makes Tumblr shine is the social networking baked into its foundation at the deepest levels.
Since its launch nearly five years ago, Tumblr has become very popular amongst photographers and designers, which makes it a great place to find exceptional photography. However, navigating around Tumblr and actually finding that work can be tricky at first. Because it is so easy to share and re-share photographs, there's a tremendous volume being posted every minute of every day.
In this article, part of a continuing series on finding great photography on the web, we'll show you how to get started on Tumblr and help you navigate your way toward some quality work. It won't hurt a bit.
Getting Started
If you're new to Tumblr, chances are you've already visited a Tumblr or two without even realizing it. It's a breeding ground for single-serving meme projects like Dear Photograph, and many photographers use it for their own blogs. The design is completely customizable, so unlike Twitter, Facebook or Flickr, which each have rigidly controlled profile pages, you may not even know you're looking at a site hosted by Tumblr.
You don't necessarily need to sign up for an account to explore different Tumblrs, but I'd encourage you to do so. That way, you can utilize the Tumblr Dashboard (more on this in a moment), and it will also make it easier to participate in the social networking aspects of the service, which is a good thing. You don't necessarily even need to share any of your own photographs to participate–many people use Tumblr simply as a 'mood board' where they share inspiring and interesting work they discover. I do this with a Tumblr I call Photographs On the Brain.
If you do decide to create an account, there are numerous free themes you can choose from to style both your own posts and others' that you would like to repost and share. Some people are very particular when it comes to themes, while others will just pick something simple and get going. It's up to you.
After you sign up, I'd suggest asking your Facebook/Twitter/Flickr friends if they're on Tumblr. It's a quick and easy way to seed your Dashboard with some interesting posts from people you know to start off with.
Who to Follow?
Now that you're signed up, who should you follow? One thing that I really like about Tumblr is they do an excellent job of curating and aggregating their content, which makes it easy to dive right in and find interesting things to follow.
The first place you should go is the Tumblr Spotlight. Here they've collected some of the best Tumblrs under a variety of topics. The "photography" spotlight is an excellent place to start–I follow many of the blogs listed here myself. Some purely show their own work, others will aggregate/curate work that inspires them and many take a hybrid approach. It's best just to browse around to get a feel for what they have to offer.
Welcome to the Land of Tags
Tags are the key way that content is organized, categorized and discovered across all Tumblr blogs. Nearly every post comes with a variety of tags, which makes it easy to search for specific topics, themes or memes. Over the years Tumblr has really harnessed the power of tags by creating an Explore page which acts sort of like a guide to what's happening at the moment.
But Tumblr really takes tags to another level by having "editors" for many of the most popular tags. For example, they have a "Landscape" tag that's edited by several people whose Tumblr blogs have caught the eye of the tag maintainers. These popular tags have tabs that allow you to browse editor-sorted posts by "featured," "popular" and "all." You can also take a look at the tag editors' own Tumblr blogs as well those of the "Top Contributors."
I suggested sticking with "featured" and "popular" when you begin, simply because they're typically well-edited. If you look at "all," you're going to get inundated, and the overall quality level will not be as high.

Browsing the "black and white" tag
Black & white images from Tumblr.
What about the "photography" tag? Yes, there is one, but it is not edited. Tumblr wisely decided to get a bit more granular; for photography, the tags to browse are "Landscape," "portrait" and "black and white."
Getting Hooked on the Dashboard
Like Twitter and Facebook, you view the Tumblr blogs you follow from a main Dashboard that displays the latest posts at the top. You can also save your favorite tags for quick reference, as well as search.
As you're browsing through content, you can easily favorite photographs you like by clicking the "heart" button on the upper right corner of a post. You can also "Reblog," which will post that photograph (or post of any other kind) to your own Tumblr for all of your followers to see. Many photographs will get reblogged hundreds, even thousands of times. Because of this, some photographers can go from relatively unknown to having hundreds or followers overnight. The viral nature of Tumblr is what makes it so interesting–you never really know what's going to surface in your dashboard.
I'd suggest starting out slow, though, because like I've mentioned, the amount of content can quickly become overwhelming. It's easy to start feeling disorienting from the randomness of the imagery that surfaces with so much blogging and re-blogging.
Warning!
Which brings us to a few words of warning. Because of the viral nature of Tumblr, many photographs will get passed around without proper attribution. There are also some users that just don't feel it's necessary to attribute the work the post to their own blogs. I suggest that you be a good citizen of art and photography by always giving proper credit and attribution to the work you share.
And as I've mentioned earlier, Tumblr can be overwhelming and chaotic if you follow a wide variety of people. I suggest starting slowly and only follow those who consistently post photographs you find inspiring or interesting.
But, the qualities that can make Tumblr overwhelming are also what makes it such an exciting and reliable place to enjoy some great photography. So dive in!
Here's a shortlist of some Tumblr blogs I follow that might make for a few good first follows. And, it seems like a great time to mention that we've started a Tumblr of our own! Follow americanphoto.tumblr.com for a quick visual scan of our best stories, photography quotes and other work that inspires us.
Urbanautica – Focusing primarily on contemporary landscape photography.
It's Never Summer – A selection of contemporary work mixed in with work from masters.
Strange.RS – International photography collective focusing on documentary photography.
Minus Manhattan – A good curatorial eye for black and white photographs as well as a keen sense of picking up photographs that surface through the Tumblrverse.
Jennilee – A nicely curated selection of mainly contemporary fine art and fashion photography.
The New Yorker – Images from selected slideshows the magazine publishes on their site.
Life Magazine – Daily images from the vast Life archive.
Emiliano Granado – The Tumblr of an Argentine photographer living in Brooklyn, mixing his personal work and a nice selection of work that inspires him.
Please Excuse the Mess – Contemporary photography focusing on portraiture primarily, curated by Stephanie Gonot
The Great Leap Sideways – Web magazine featuring articles, interviews and a nice selection of contemporary fine art photography
Five Deer – A steady stream of photography found around the web.
Triangle Triangle – Tightly curated stream of fine art and documentary photography.
Bryan Formhals is a Greenpoint, Brooklyn based writer and photographer, and the founder of LPV Magazine. He blogs at LPV and tweets at @LPVMagazine