How To Find Great Photography on the Internet
There are now over 60 billion photographs on Facebook. To put that in perspective, from the dawn of modern photography...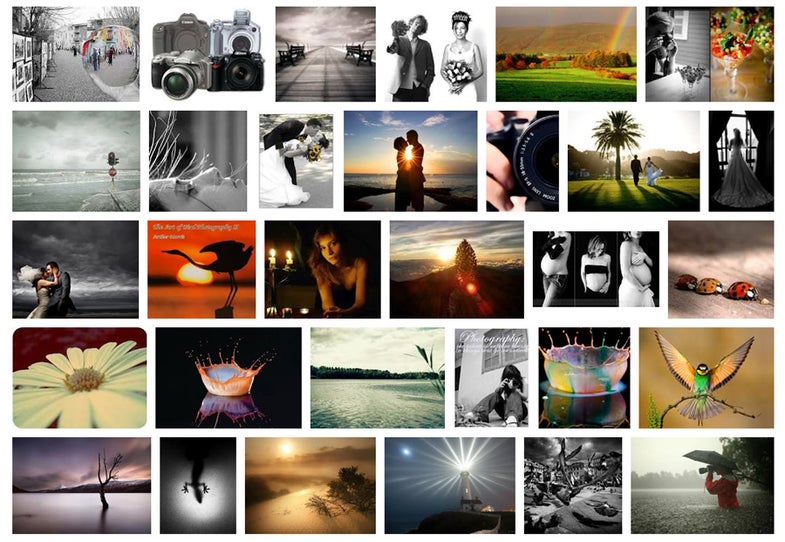 There are now over 60 billion photographs on Facebook. To put that in perspective, from the dawn of modern photography in the mid-1920s through 1990, it's estimated that around 57 billion photographs were made.
Photography is everywhere on the internet: personal snapshots of friends and family; professionally produced photojournalism; high and low fashion; cellphone snapshots from protests around the globe; intimate photographs depicting every imaginable aspect of human sexuality; banal scenes of street life; party photographs; photographs of celebrities in the club and in the bedroom; photographs of breakfast, lunch and dinner.
Photographs are everywhere and all of us are looking at them every day. It's unavoidable. And while many photographers might gripe that the majority of these images aren't very good or interesting (they're probably right), the proliferation has had a positive impact on how I personally experience photography.
The combination of affordable digital cameras, camera phones and the ease of sharing photography online has made "everyone a photographer" and more importantly, made everyone involved in the photography conversation whether they realize it or not. A byproduct of this is that more and more people are becoming seriously interested in improving their photography, and seeking out high-quality work for inspiration or enrichment.
The challenge many people face in their quest for quality photography online is that they don't really know where to start, and if they do have an idea where to look (Tumblr, Flickr, blogs), they don't know how to identify the signal in the noise.
Even for those of us who have spent years following photography on the web, it's still a daunting task to sift through the volume of new work that's published on a daily basis. Over the years, through experimentation and repetition, I've developed strategies that help me navigate the various platforms, which has made it easier for me to discover new work as well as interesting writing about photography.
I believe anyone can easily implement these strategies and begin to immerse themselves in the vibrant photography culture that's developed on the web. Over the course of a series of articles, I'll examine different platforms where you can discover new photography.
But first, I'd like to outline four things to keep in mind before you start digging in.
Don't be Overwhelmed
Getting started is maybe the most difficult part of the process. Where to begin? It can be overwhelming, but don't let that get in your way. Just remember that today, with an ever-growing volume of information flowing at us through social media, it's physically impossible to stay on top of everything. We only have a limited amount of time, energy and attention in each day. So, take a deep breath and surrender to the fact that you'll never be able to follow it all.
Focus on a Specific Genre or Type of Photography
Most people naturally gravitate toward a specific genre or type of photography. It could be photojournalism and documentary, fashion and lifestyle, fine art, party and nightlife, etc. Like most art forms, each genre breaks down into sub-genres, so you can get rather granular. For example, "street photography" is a sub-genre of documentary which has a very wide following on the internet.
Maybe you already know what type of work you want to follow, or maybe you don't. Either way, I'd suggest starting by focusing on one and then expanding. As you look at more work, you'll refine your sensibility and start to learn what type of work inspires you the most.
Participate and Learn
For all the previously stated reasons, (plus, the fact that you're here reading this) I'm guessing most of you are making your own photographs and sharing them somewhere on the web already. Participating and engaging with photographers and other fans of photography is just as rewarding as looking at great photography. Many photographers are very open about discussing their work and answering questions, and in fact, many actively seek it out. So don't be hesitant to jump into the mix and comment on blog posts, chat on Twitter or Facebook, or ask questions on Tumblr or Flickr.
Explore and Connect
When I first joined Flickr I used it to simply upload photographs I made of my friends while out on the town. As my passion for photography continued to grow, I started to explore Flickr and eventually found a group of peers who were equally as curious about photography. Many of them have become some of my closest friends.
With the web and photography, it's choose your own adventure. Embrace it and explore. Follow your curiosities and intuition. Build your own community. Take your passion offline and go to openings, or organize photo walks, or create your own magazine. As the saying goes, it's the journey, not the destination. Enjoy it!
In the coming weeks, we'll be expanding on these points with specific tips for navigating specific platforms, like Flickr, Tumblr and the rest. Stay tuned. AP
Bryan Formhals is a Greenpoint, Brooklyn based writer and photographer, and the founder of LPV Magazine. He blogs at LPV and tweets at @LPVMagazine