Jim Naughten's photographs of the Herero, a people who live mostly in Namibia, are striking: their colorful, throwback style immediately draws the eye. But why would a pastoral African tribe wear traditionally Western clothes? If you have some sense of African history, the answer may not come as a great surprise: in short, it has to do with a painful colonial experience. Namibia was a German colony, and a severe conflict broke out between the Germans and the Herero around 1900. Women took up foreign dresses, modifying them to appear somewhat like the cattle (an important part of Herero society). The men, though, donned German military uniforms—which were, at first, taken after killing a German solider in battle. Today, the military dress is a tribute to these struggles.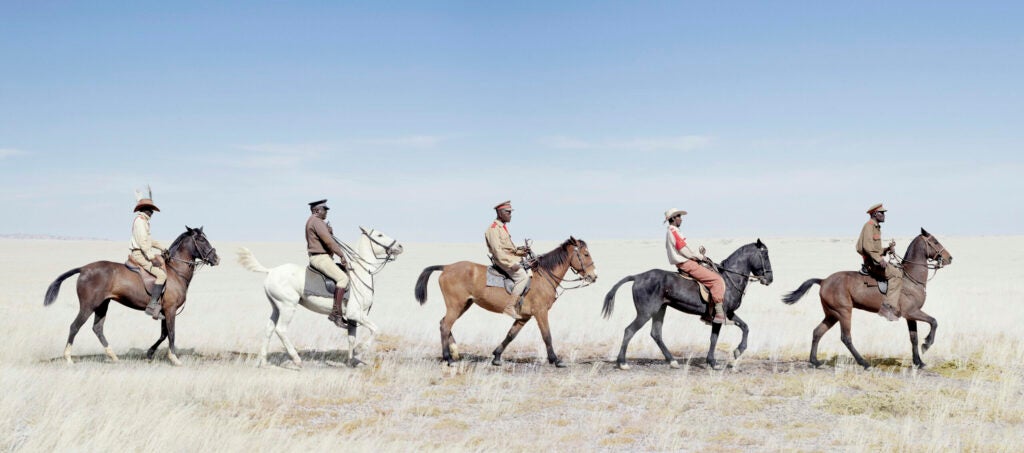 I found this work on the the excellent blog Another Africa, where Naughten gave an interview explaining his portraits. He points out that during the German-Herero conflict, the Herero population was reduced by nearly 80%. He went on to say: "The dresses and uniforms are extremely important and powerful symbols of Herero culture, and here is the paradox, as the clothing comes from (or is directly influenced by) the people who nearly wiped them out altogether."
There's certainly a comparison to be made here to Gentlemen of Bacongo, a 2009 photobook documenting dandy subculture in the Congo which caused something of a stir on the internet when it was released. (The gentlemen were featured in a recent Solange Knowles music video, too.) As with the Herero, this fashion was also, in some sense, a remnant from colonial times. But the two are clearly different: in the first place, we are given to understand that Herero fashion is not a subculture but the norm. Also, as the the title of the _Gentlemen _book indicates, it only features men.
It's something of a sensitive issue to hold up a native people to the lens, in that there's a danger of making light of their customs, or turning them into a fashion object. However, it seems like Naughten is extremely well-informed about the history behind the Herero, and his upcoming book (released by Merrell Publishers this month) includes a foreword by a professor in African Linguistics. After "Conflict and Costume" is released as a book, an exhibition at New York's Klompching Gallery will follow in March.