The Hidden De Facto Photo Gallery Scene of Las Vegas
Viva las photos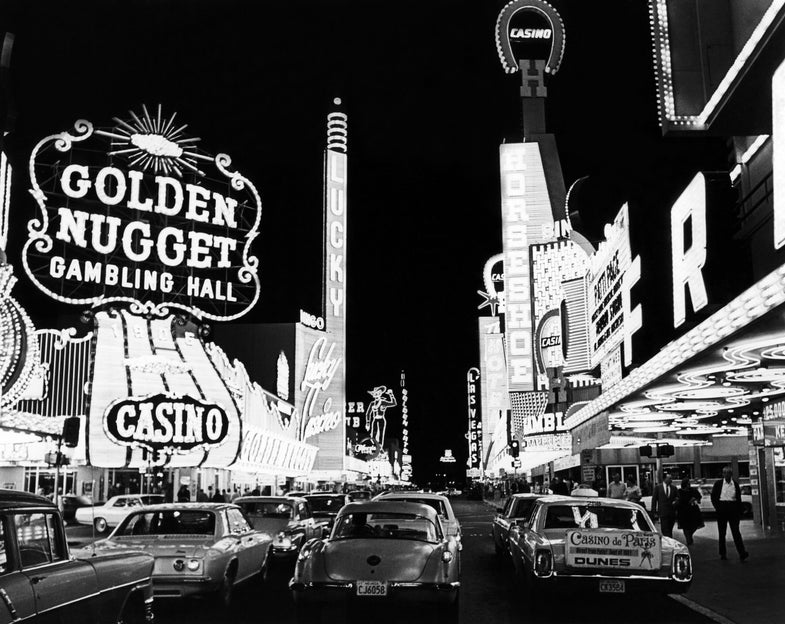 Officially, Las Vegas does not have a photography museum. But that doesn't stop the ultimate can-do city—which, after all, against seemingly impossible odds, thrives as a tourist destination in the middle of the desert—from going big when it comes to self-portraits. Scattered through various casinos and government buildings are ongoing, informal exhibitions that add up to a de facto museum with images chronicling the evolution of a place where the only constant is change. You may need to cruise the strip, avoid slot-machine temptations, and dodge cocktail waitresses to see the work, but it will be worth it.
The most recent addition to Sin City's moveable feast of photography is an exhibition that captures the Beatles during their one and only visit to Vegas—for a performance at the Las Vegas Convention Center on Aug. 20, 1964—which will be hanging, through the end of August, at the Lloyd George Courthouse (333 Las Vegas Blvd. South). "It commemorates 50 years since the Beatles made their one and only appearance in Las Vegas," says Lisa Jacob, director of the Las Vegas News Bureau. "Come fall, we'll be mounting an exhibition devoted to Frank Sinatra and his days here. We literally have millions of images that date back to the 1940s and tell the history of Las Vegas."
After checking out the Fab 4—with shots depicting the boys ripping it up on stage and local teenagers freaking out in the audience—make your way to the El Cortez (600 Fremont Street), a vintage gambling den that feels virtually unchanged from its salad days in the 1960s. Celebrating the era, walls there contain photos depicting the late casino boss Jackie Gaughan smiling it up in front of his property, old school gamblers shooting dice, and a shimmering downtown, drenched in neon and made all the more evocative by having been captured in black-and-white.
Heading south from there, inside the Las Vegas Convention Center (3150 Paradise Road), an exhibition on showgirls depicts them in all their over-the-top feathery splendor. Finally, on Cosmopolitan of Las Vegas's second floor (3708 South Las Vegas Blvd.), you can explore vintage Vegas as a burgeoning entertainment hub. Photos in the hip and happening joint show Marilyn Maxwell sashaying around with a tiger, burlesque queen Tempest Storm displaying her assets at the Aladdin, and Robbie The Robot playing craps. "These photos don't get old," says Lisa Marchese, chief marketing officer of Cosmopolitan. "They're such a fantastic manifestation of what Las Vegas used to be, set in the context of what it is today. The images are magical."
All of that magic exists because of the ambition and foresight displayed by employees of the Las Vegas News Bureau during the post World War II 1940s. In a bid to raise visitation to the city, the Bureau hired a dozen news photographers to shoot photos capturing the excitement of Vegas. Images were then fanned out to newspapers around the United States. When a couple got married, shots of the nuptials went to their hometown newspapers. Editors in cold-weather cities were peppered with bathing beauty and swimming pool pictures on the most frigid days of winter. Celebrities, lavish dinners, and heart-stopping gambling were all snagged on film. "Ultimately, we wound up with an amazing collection of images that tell the story of Las Vegas, a city that is only 110 years old," says Jacob. "We understand the value of source material—which fewer and fewer people do these days—and carefully preserve the negative. Beyond that, we're lucky to have had a PR machine that shot everything going on in our city—and still does."