Here Come the Bronies
You don't have to go too deep into the folds of the internet to find an obsessive fan base for...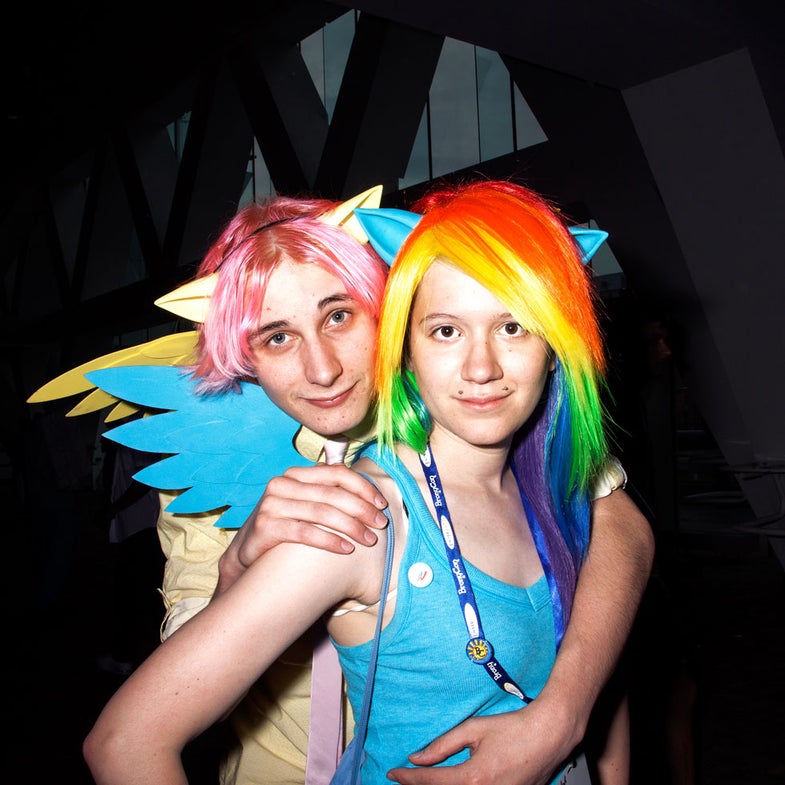 You don't have to go too deep into the folds of the internet to find an obsessive fan base for just about anything. But to me, the bronies are singular. Their devotion is to My Little Pony: Friendship is Magic—an animated TV show based on the popular 1980s toys. "Despite the target demographic of young girls, Friendship Is Magic has, in addition, gained a large following of older viewers, predominately teenagers and adults, largely male, who call themselves 'bronies'" says Wikipedia.
For five years running, bronies of all ages, genders and persuasions have gathered at Bronycon, a three-day conference where fans and the show's creators meet to socialize, share fan fictions, and generally have a great time. Notable panels include "Process and Procedure, the Art of Pony Art," "Military Brony Meet Up," and "100 Years of Narrative Art and Culture: From Peter Pan to My Little Pony."
At this year's Bronycon earlier this month, New York magazine's style blog The Cut sent photographer Amy Lombard to capture the proceedings. I am fascinated by the bronies, so I was immediately drawn to find out more.
Have you done much fashion stuff before this? How did it compare? Or did you even approach this as a fashion assignment at all?
I have done a handful of stories for The Cut—from a dog fashion show, the steampunk world's fair, to ladies at a Giants game. The reoccurring theme is that they all have to do with how a group of people presents themselves. On a visual level, the photographs from Bronycon are so much about what the person is wearing, so I guess you could argue it is about the fashion—but I see it as more than that. I approach it more as I am documenting what I'm seeing.
What is the irony to sincerity ratio we're dealing with here? I am still baffled as to how or if this is an ACTUAL thing, or something people just have fun mocking on the internet.
The majority of bronies I met were dead serious. People were coming from all over the world, which I don't think anyone would do for the sake of being ironic, you know? I'm sure some think the cosplay/elaborate hats/etc. are goofy or fun, but from what I gathered it's genuinely a way of life. At the convention there were various panels about My Little Pony, one of them was with a brony psychologist. (Apparently it's a thing—there was also a brony curator). The psychologist equated the fandom similar to Trekkies—I had never compared those levels of fandom but thought was sort of interesting.
A brony psychologist?
Mhhm. The brony psychologists basically dedicate their studies to examining why adults are drawn to the show. They didn't provide much insight as to what exactly they studied, but instead had bronies line up and ask them questions. To give you a sense of the amount of people, the room was completely at capacity. They ranged from questions about what will happen to this fandom when or if the show gets cancelled, to personal questions regarding the show. The one question that pulled at my heartstrings a little bit was this one man who wanted advice on how to get his cousin, who has a brain tumor, to watch the show. His cousin was really depressed and angry at the world, and this man thought that watching the show would change his outlook on life and make him more positive.
Is there a sexual/fetish component present for any of these guys? That's what I've always assumed.
It would be hard to make a generalization, but I'm sure with any sort of subculture/fandom like this, for some people there must be a sexual component. It definitely wasn't addressed at the convention, though, and there wasn't a single brony sex toy for sale. Though honestly that would have been sort of amazing.