Heather Evans Smith Examines the Complexities of Mothering a Daughter
The fine line between protecting and possessing a child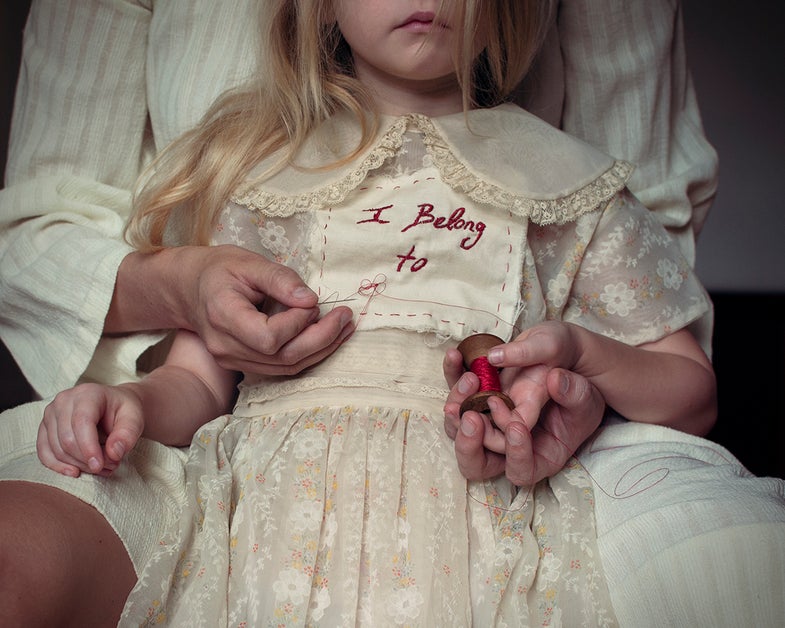 In the highly stylized and colorful images in her first book, Seen Not Heard, Heather Evans Smith captures the emotions that many women experience during their first years of motherhood, including the sometimes painful process of finding balance between caring for and controlling a child. Smith's photographs picture adult hands that constantly guide, tug, and re-position a young girl—but the same hands also embrace and protect her.

Smith, a photographer who shoots from her home in North Carolina, worked as a graphic designer for 14 years before she rediscovered her love of photography. In 2014, after completing a conceptual photo series about the way motherhood had changed her life, Smith began to take pictures of her four-year-old daughter, Penny. She did not know it at the time, but these pictures would become the content of her first photo book.
"My initial intention was to examine society's expectations of young girls," explains Smith. "The mother-daughter aspect came later. I soon realized that I was interested in exploring the fine line between protecting your child and possessing your child."

Indeed, Smith's photographs depict a mother-daughter bond that is at times so strong that the adult and child seem to become one person. In an image titled "Let's Stay Like This for a Little While," the mother's and daughter's legs twist into a single figure. In another picture, a red sash wraps around both the adult and child binding into one body.

Smith describes herself as a conceptual photographer and an image-maker committed to telling stories. She does not shoot spontaneously, choosing instead to sketch her images months before she shoots them. Smith says she can spend half a year collecting the props, locating the family heirlooms or sourcing the fabrics that she uses in her shoots. These objects, often reminiscent of a bygone era, contribute to the timeless quality of Smith's photographs and allow her to mix her own memories of childhood with the realities that her daughter experiences daily.

"I remember my mother constantly pulling on me when I was growing up—pulling on my tights and pulling on my hair. She had long nails, and I remember getting pinched by them," she explains. "I pull my own daughter's tights up every week for dance. The image of the tights is such a big memory for me; I remember being treated like a doll—having someone dress me and put me where I need to go."

Although Smith says that she draws inspiration from her personal history and everyday experiences, she maintains that her work is not diaristic. Instead, her images speak broadly about the nature of childhood and mother-daughter relationships.
"While you do see my daughter's face in some shots, for the most part, the photographs just show parts of us," says Smith. "I hope that people will see parts of themselves in those parts of us."
Seen Not Heard, a limited edition photo book available now through Flash Powder Projects, offers a complex vision of childhood, one full of beauty, pain and tradition.