Wireless Strobe Lights: Phottix Indra500 TTL
The Indra500 TTL delivers power and flexibility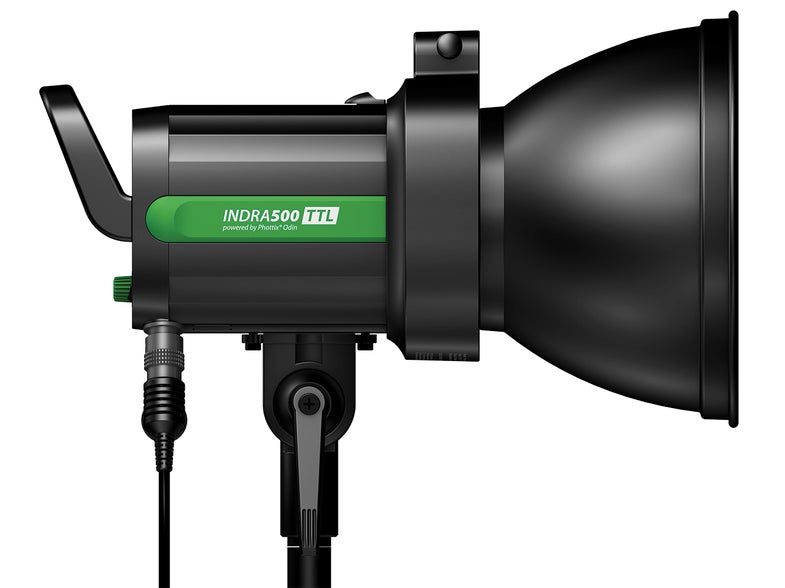 We may earn revenue from the products available on this page and participate in affiliate programs. Learn more ›
About a decade ago, I wanted to shoot A in the park using studio strobes. My school's photography department didn't have a fancy strobe pack with a built-in battery, so I headed out with a 2400-watt pack and a borrowed gas-powered generator. It was loud and expensive to run, and it made the whole shoot smell like a truck stop, but it worked.
You have it much easier, thanks to the recent influx of battery-powered, through-the-lens-enabled strobes like the Phottix Indra500 TTL. In pretty much every way, this strobe works like a standard 500-watt monolight. It has a built-in modeling light, and a relatively sparse collection of buttons and knobs on the back of the unit handles the settings. But Phottix expects that most of the time you'll be controlling it wirelessly with its built-in Odin radio triggering system.
There are lots of studio strobes with built-in wireless, but Phottix has gone the extra mile by adding TTL compatibility for Nikon and Canon cameras. This means you can set the strobe to full auto mode and quickly handle rapidly changing light conditions using the camera's meter to determine flash output. More important, it means you can manually control several lights from the Odin trigger module that sits atop the camera.
If all of that sounds familiar, it's because Profoto built a similar technology into its B1 Air strobes a little over a year ago. There are some pretty key differences between the two lights, though. At roughly 640 total watts, the Profoto model is more powerful, but it's also about $1,000 more expensive than the Phottix. And while the B1 Air runs only on batteries, the Phottix Indra500 comes in a kit with an AC power adapter that lets you plug it directly into a wall outlet.
Another thing that makes the Indra500 interesting is how it fits into Phottix's system of compact flashes. Because it runs on its standard Odin radio trigger platform, you can throw it into a group of the company's smaller speedlight-style flashes, including the Mitros+. This lets you layer lights through the scene without having to add a host of remote triggers. The system allows you to control the flashes in groups; in field testing, I found that putting the Indra on a channel by itself and then grouping the small flashes kept things very simple.
In many ways, the Indra500 actually feels like using a speedlight. The power output is adjustable in steps, from 1/128 power to full output. Because of its battery capacity, using it at 1/4 or even 1/8 power keeps recycling times well under a second. It also has a fully integrated High Speed Sync functionality that lets you push all the way to 1/8000 of a second. (This drastically reduces battery life, though, and generates a lot more heat than the standard mode.) If you're used to shooting small flashes, this should all sound pretty familiar.
With these advantages, however, come a few disadvantages. The modeling light, for instance, runs an LED bulb to cut down on power usage, but this feels underpowered when you have lots of ambient light. Results from the fully automatic TTL mode were also a bit erratic, especially in mixed light.
With the included standard battery, Phottix promises roughly 400 full-power pops per charge, and in the field I shot some 300 photos on several occasions at mixed power levels without an issue. The company also offers expanded-capacity batteries with double the juice, good for marathon flash sessions. And, of course, with the AC adapter, you can plug it into a wall outlet or power strip.
The integrated wireless, built around the proven Odin system, performed consistently, which is probably the most important aspect of a radio trigger. Sometimes it took a few cycles to get everything in sync, but once the connection was established, it didn't waver. The range and flexibility aren't quite as robust as you'd get with a set of PocketWizards, but then again, I haven't needed to fire my flash from a full football field away just yet.
Overall, I was extremely impressed with the Indra500. It has its quirks, but it puts out consistent and appealing light with almost no setup. And while knowledgeable studio shooters might find limited value in the TTL, being able to adjust strobe output from the top of the camera will make their lives (and photo assistants' lives) a lot simpler.
NOTEWORTHY SPECS
Maximum Output 500Ws OUTPUT RANGE 4Ws–500Ws in 1/3-stop or full-stop increments
Stroboscopic Flash Frequency, 1–100Hz; flash count, 1–100 times
Recycle Time With Indra AC Adapter, 0.1–1 sec (Quick flash: 50 full-power flashes per minute); with Indra Battery Pack, 0.1–2 sec (Quick flash: 25 full-power flashes/min)
TTL Compatibility Canon and Nikon
Wireless Range Radio, approx. 328 ft (100 m); optical, 39 ft(12m)indoorsor23ft(7m) outdoors
Dimensions 5.5×10.5×7.5 in. (140x267x190 mm)
Weight 4.6 lb (2.1 kg)
Buy It $830, light with standard battery; $1,110 with AC adapter; or $1,200 with battery pack; phottix.com