Hands On with the Fujifilm X-T1
We may earn revenue from the products available on this page and participate in affiliate programs. Learn more › While...
We may earn revenue from the products available on this page and participate in affiliate programs. Learn more ›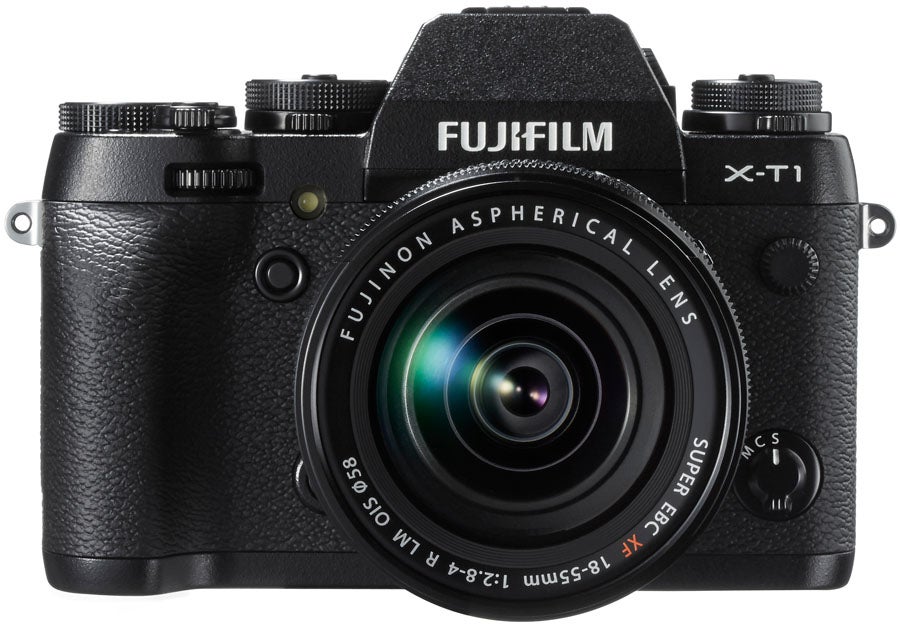 While Fujifilm's X-Series cameras first won attention for their retro rangefinder styling, its new X-T1 resembles a diminutive DSLR. And with its rugged weather-sealed body, outstanding electronic viewfinder, plethora of dials and wheels, and extremely high image quality up to ISO 400, this flagship interchangeable-lens compact packs DSLR-style capabilities too.
The X-T1 uses the same 16.3-megapixel, APS-C-sized X-Trans CMOS sensor that Fujifilm put in its recent X-E2, but the sensitivity reaches an extra stop to ISO 51,200—a setting hidden in menus and not evident on the camera's otherwise well-marked dials. Like its siblings, the X-T1 permits only JPEG capture, not RAW, at the extremes of sensitivity (in this case ISO 100 and ISO 12,800 and above).
Our sister magazine's report from the Popular Photography Test Lab rated overall image quality extremely high through ISO 400, with solid noise control to that point and only moderate noise at ISO 800. After this, noise turns unacceptable—not surprising in a camera this small. Some false-color aliasing was detected in diagonal line arrays, though JPEGs from the camera showed little of this effect.
Solid in the hand, the magnesium-alloy body has a comfortable grip. ISO, shutter speed, drive mode, metering mode, and exposure compensation all have dedicated dials; the drive and metering dials are stacked underneath those for ISO and shutter speed, respectively, and can be adjusted using a tab. There's a PC sync terminal to trigger studio strobes.
The X-T1's new EVF offers a vast improvement. This 0.5-inch, 2.36 million–dot OLED has 0.77X magnification and an extremely brief display lag—billed as 0.005 second. The image feels enormous, and users can choose between an immersive "full" setting and a smaller "normal" that pushes most data outside the image frame. Technical-minded photographers can even see a histogram while framing the shot.
Action shooters will enjoy the X-T1's continuous drive of 8 frames per second for up to 47 JPEGs (23 in RAW) before the buffer fills; in slower 3 fps mode, bursts can continue until the memory card is full. And the EVF's short lag time affords a view of what's happening during bursts, unusual in ILCs.
Wi-Fi, sensibly, is built in. Fujifilm's Camera Remote app works with iOS and Android devices for viewing, controls, and capture. Users can select auto­focus points and remotely adjust any major camera setting, including flash mode, white balance, ISO, aperture, shutter speed, and exposure compensation; there's even a battery-level indicator.
Video should be good enough for most casual shooting: It showed a pleasing amount of detail and well-saturated colors, but also more artifacts than we get from other ILCs.
These minor gripes aside, the X-T1 is a wonderful camera with plenty to offer outdoor and indoor location photographers alike.
Noteworthy Spec:
SENSOR 16.3MP APS-C-format X-Trans CMOS II
SENSITIVITY ISO 200–6400 (RAW and JPEG); ISO 100 and 12,800–51,200 (JPEG only)
AUTOFOCUS TTL contrast and phase detection with 49 selectable focus areas
SHUTTER 1/4000–30 sec plus Bulb in 1/3-EV steps
VIEWFINDER Eye-level 2.36 million-dot 0.5″ OLED with 0.77X magnification
BURSTS 8 fps up to 47 shots (full-size JPEG); 8 fps up to 23 shots (RAW)
LCD Tilting 3-inch TFT LCD with 1.04 million-dot resolution
DIMENSIONS 5.0 x 3.5 x 1.8 in.
WEIGHT 1.0 lb with battery and memory card
BUY IT $1,300 body only; $1,700 with 18–55mm f/2.8–4 Fujinon XF R OIS lens; fujifilmusa.com