Gerd Ludwig Photographs Chernobyl's Legacy
Visiting an orphanage in Gomel, Belarus, in 2005, I made a request to photograph the children it housed. The director...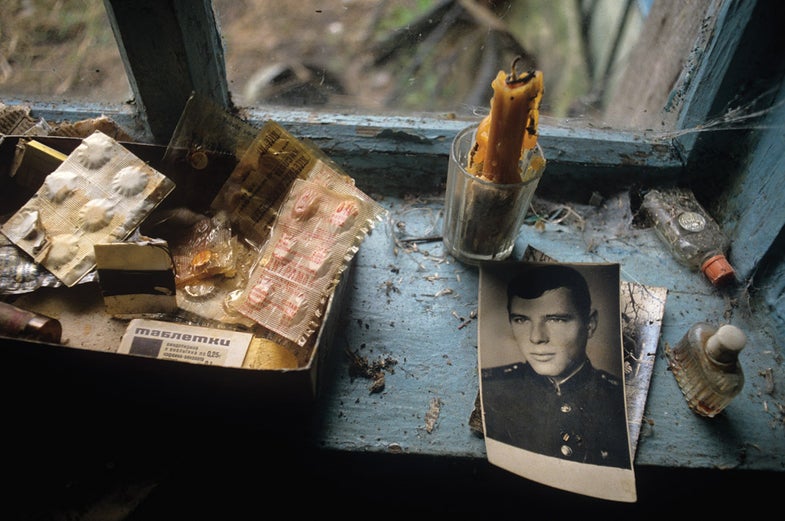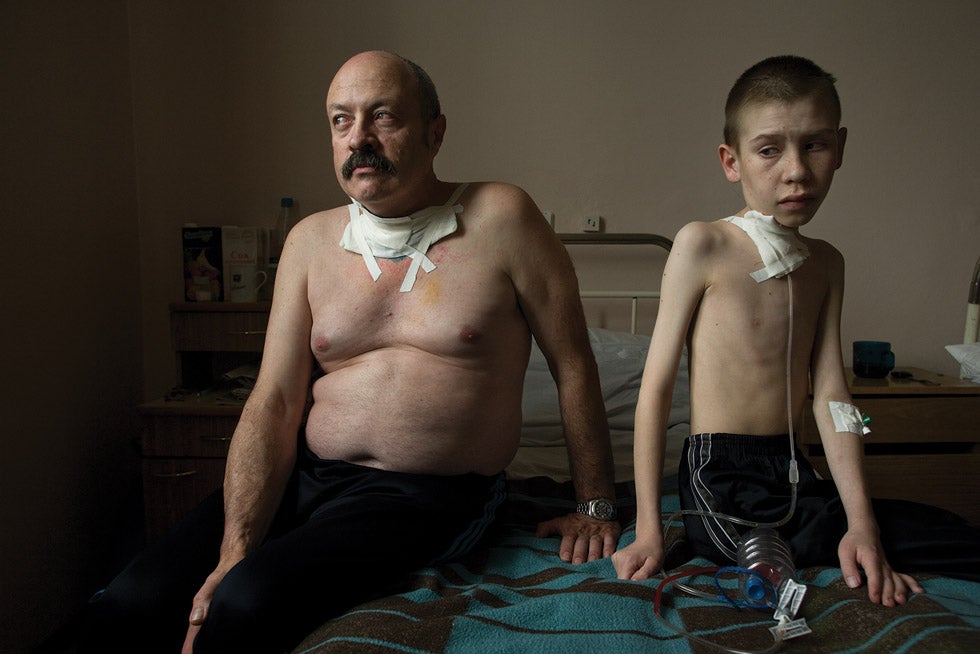 Chernobyl@20
In 2005 Oleg Shapiro, 54, and Dima Bogdanovich, 13, received thyroid cancer treatment in Minsk, Belarus, where surgery is performed daily. Shapiro was exposed to extreme levels of radiation while working as a liquidator. Dima's mother blames Chernobyl's nuclear fallout for her son's illness.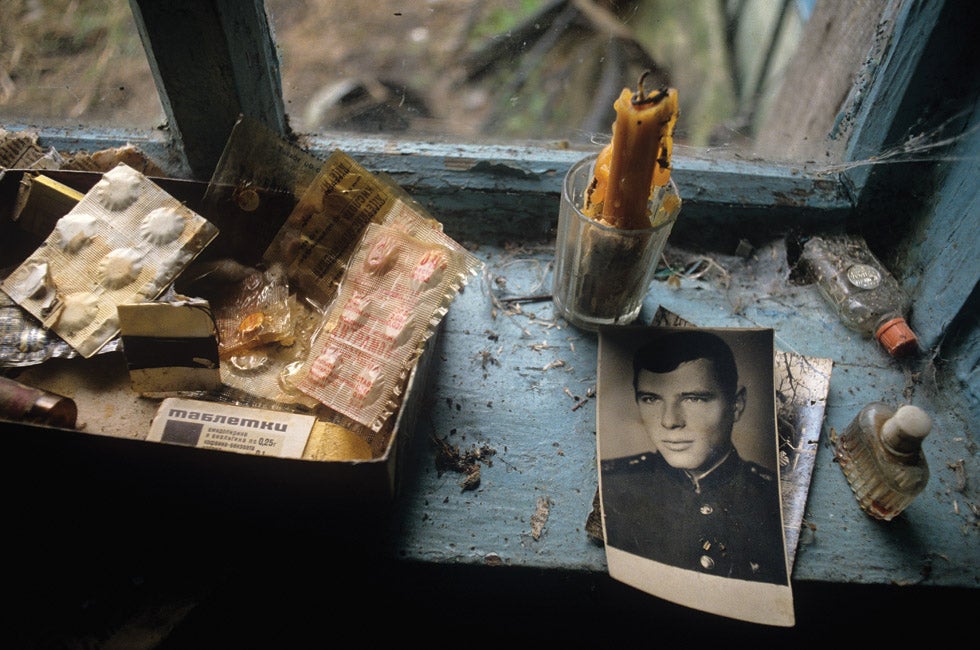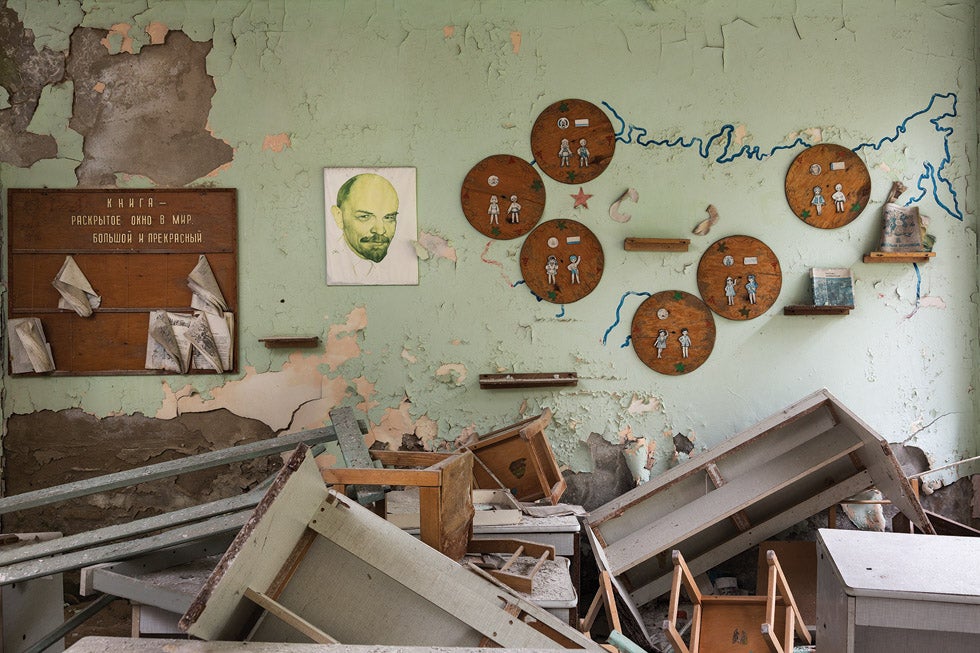 Chernobyl 2013
Banners, posters, and drawings glorify the Soviet Union in an abandoned classroom, Pripyat, 2005.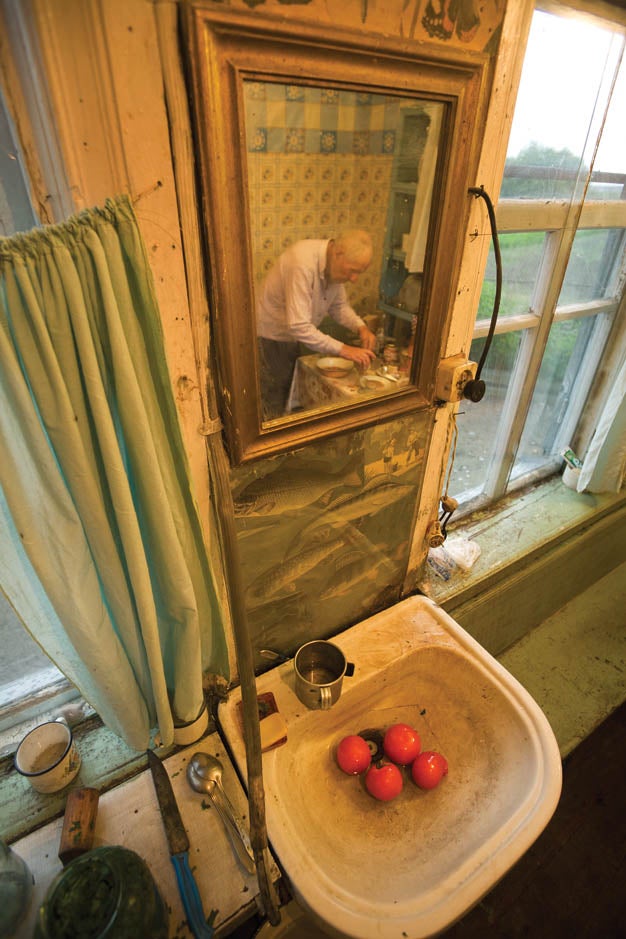 Chernobyl@20
Tomatoes from the garden of Ivan Martynenko, 77, and his wife, Gapa Semenenko, 82, who returned after being evacuated from their home in the Exclusion Zone, Illintsy, Ukraine, 2005.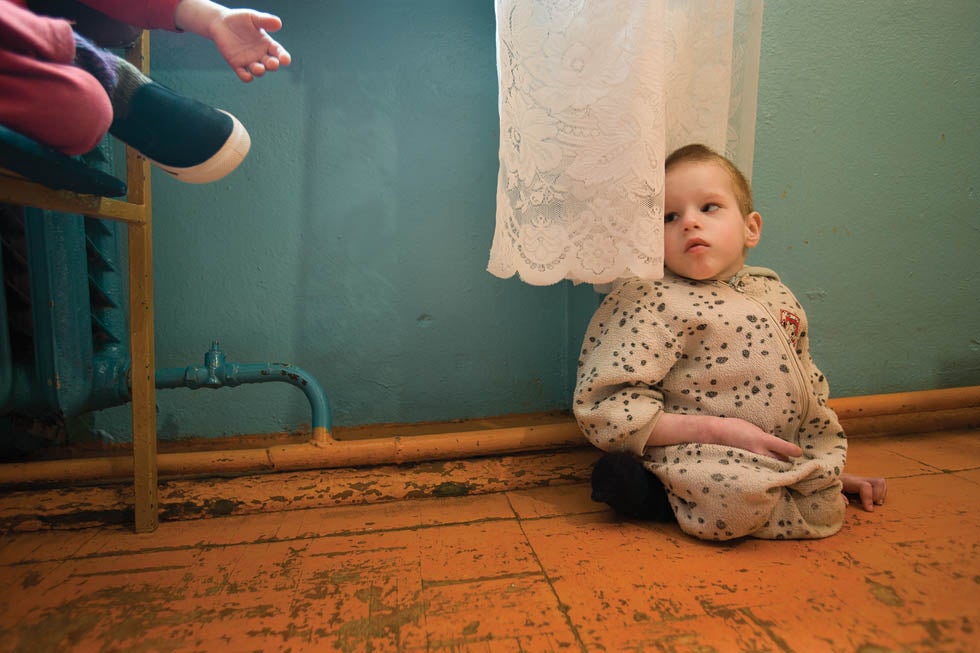 Chernobyl@20
Igor, 5, Vesnova, Belarus, 2005. He was given up by his parents to a children's orphanage.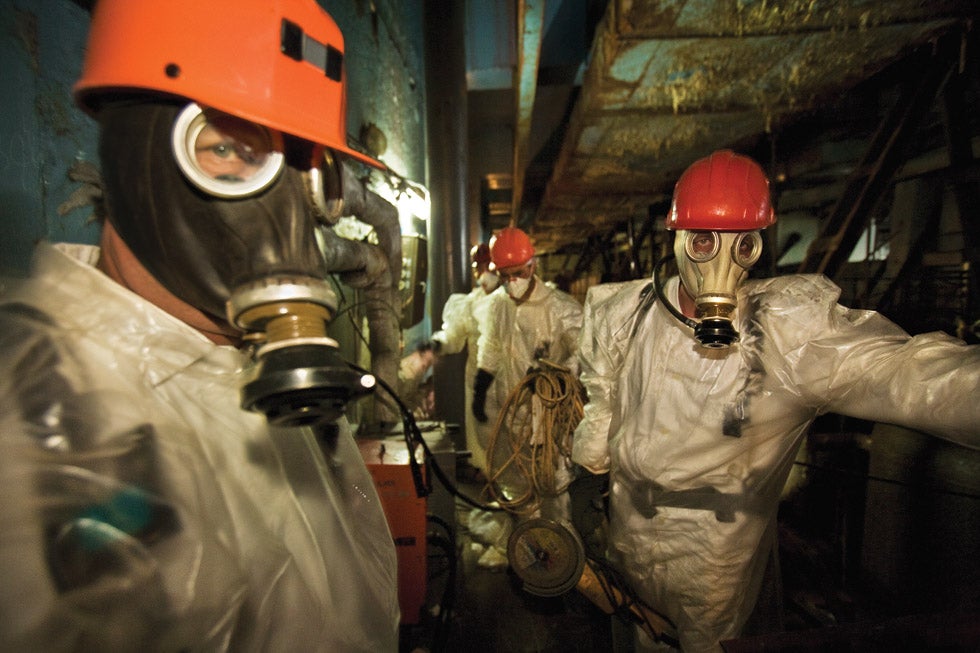 Chernobyl@20
Workers wear respirators and multiple layers of protective clothing inside the sarcophagus of Chernobyl Unit 4, 2005. Even with safety precautions, they can work only 15 minutes per day before they reach their daily maximum dose of radiation.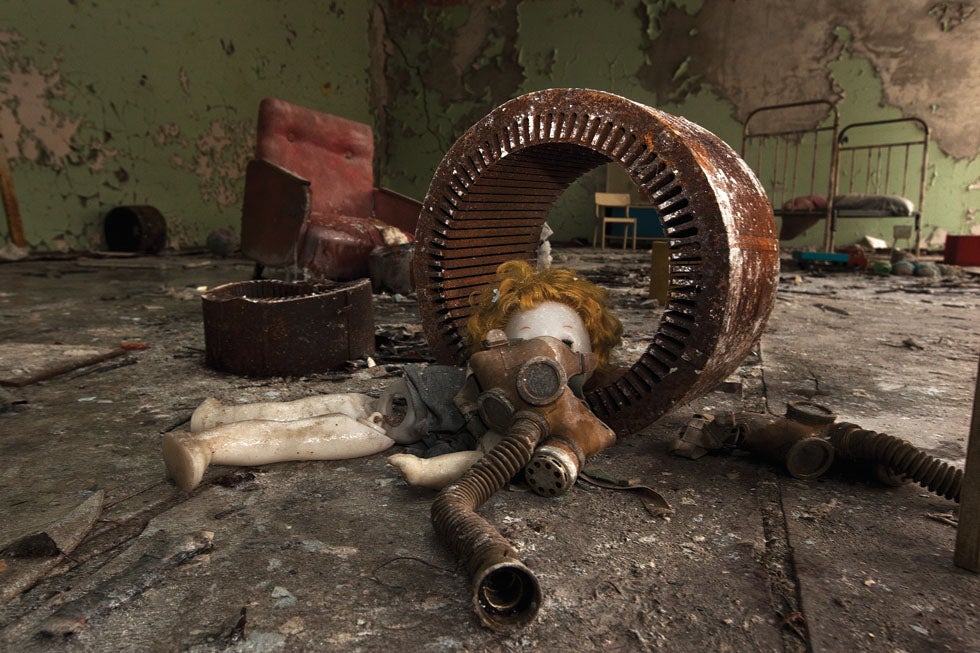 The Long Shadow of Chernobyl – Atomic Tourism
Toys and gas masks, likely arranged by a tourist, have become a standard motif; Pripyat, 2011.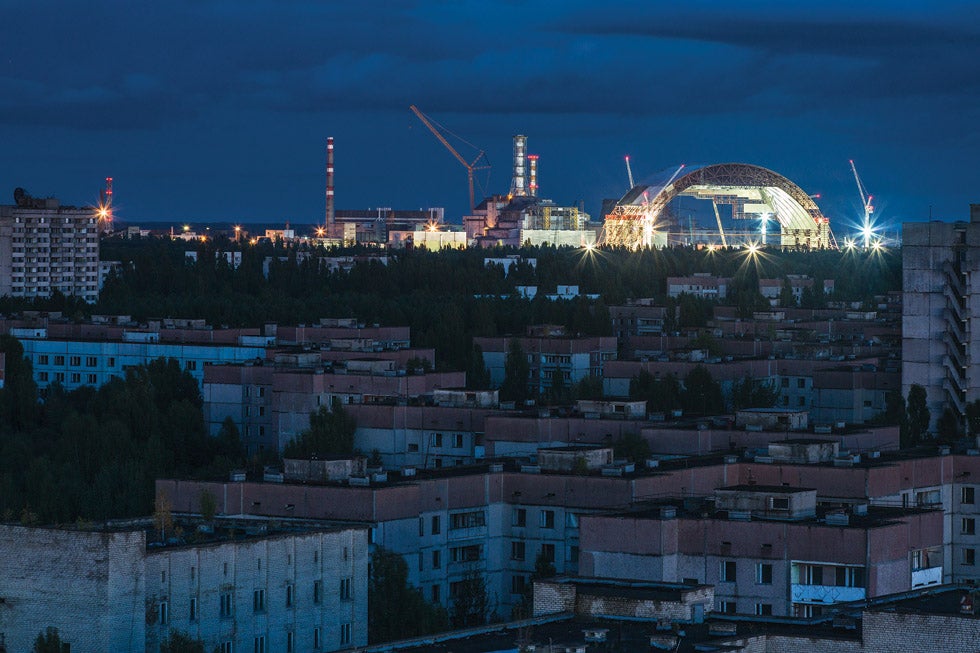 Chernobyl 2013
The New Safe Confine­ment under construction in Chernobyl in 2013. The $2 billion structure will replace the present containment structure and confine solid radio­active waste for the next 100 years.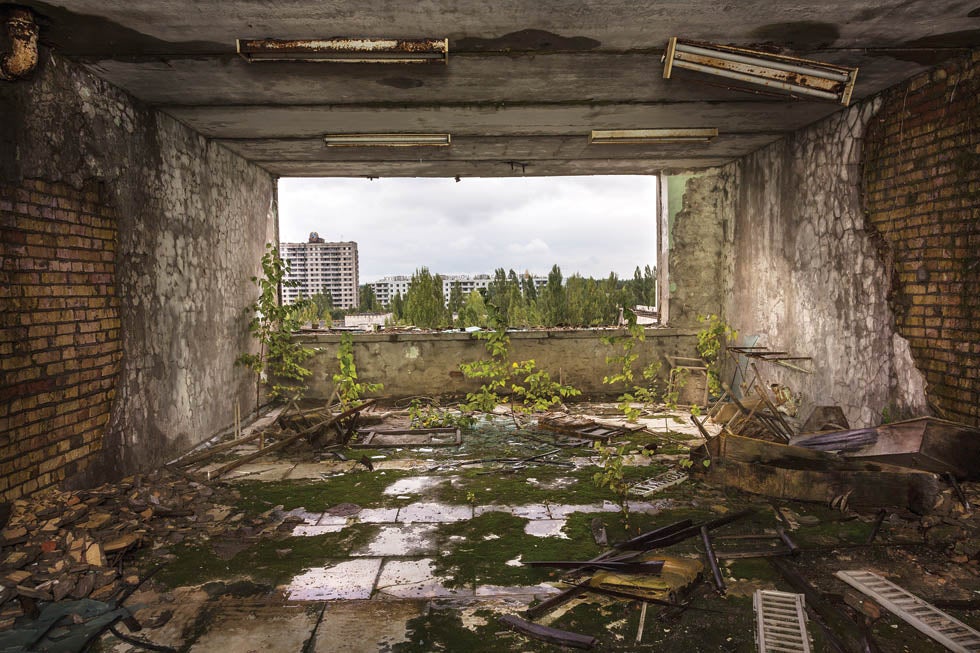 Chernobyl 2013
Above: Inside an abandoned building, Pripyat, Ukraine, 2013. The city was evacuated 36 hours after the Chernobyl accident; residents were allowed to take only vital documents and belongings. Today the buildings are pilfered by looters and nature is reclaiming empty spaces.
Visiting an orphanage in Gomel, Belarus, in 2005, I made a request to photograph the children it housed. The director said, "OK, come tomorrow morning."
The next day I was greeted by two officials, who told me, "Oh, children anywhere can be born with malformations. You won't find Chernobyl victims here."
I said, "Are you sure? Not even secondary problems, like those from the mother's alcoholism or children who were given up by parents who couldn't handle the stress of relocation and their own diseases?" They replied, "No, no, no, nothing here!"
I knew that many orphanages in Belarus receive funding from international foundations dedicated to helping Chernobyl victims. So I argued, "OK. If you give it to me in writing that none of your children here are in any way related to the Chernobyl accident, I'll pick up my cameras and leave without taking a single picture. But of course then we will report in_ National Geographic_ that this kindergarten doesn't need any help from the Chernobyl funds because you don't have victims from Chernobyl here." You should have seen how fast they changed their minds. From my first visit to the region, I learned that you can't trust anything about Chernobyl.
Since the 1986 Chernobyl nuclear accident, millions of people in Ukraine, Belarus, and Russia classified as "Chernobly victims" have become eligible to receive benefits for illnesses and other problems. I started photographing the people in this region in 1993 and got hooked on the subject. When I proposed a project to mark the disaster's 25th anniversary, in 2011, to several magazines—including National Geographic—nobody was interested. I believe that there is a continuous desire for serious issue-driven reporting, even if it's outside of a magazine, and with the help of a Kickstarter campaign, I got the project funded and returned to the region to document the changes. The result was the iPad app The Long Shadow of Chernobyl. This past February I launched another Kickstarter to publish a photo book that reflects two decades of coverage, including my latest trip in September 2013.
A 30-kilometer area known as the Exclusion Zone surrounds the the reactor. It comprises many zones of increasing levels of security as one approaches the facility. The Zone includes the city of Pripyat, originally built for the the power plant's personnel and their families, as well as nearly 200 small villages. The whole area was evacuated in the days following the explosion, but several hundred residents came back, at first illegally, to live out their lives on their own soil instead of "dying of a broken heart in an anonymous city suburb," as one returnee described it. To go back to the area, they had to ignore the dangers completely. I know I take a risk by eating with them, but I don't say no when they offer me their tomatoes or their moonshine.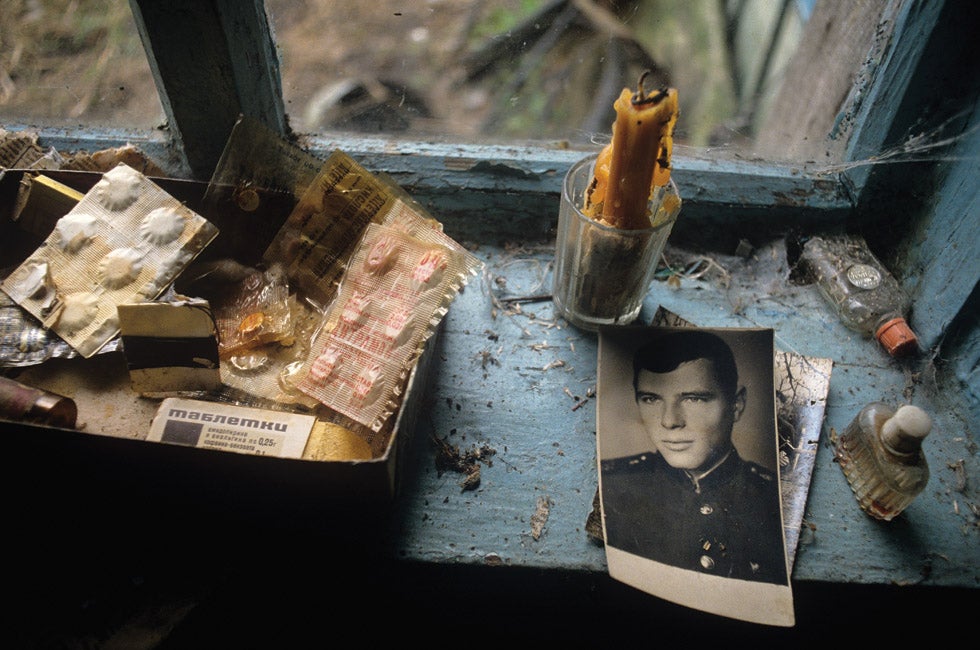 I first entered the Zone seven years after the accident for an assignment for National Geographic on pollution in the former Soviet Union. In those days access was difficult, but I managed to contact the militia (the local police force), and they were willing to show me around. The only transportation was a big school bus. And like any vehicle that remained in the Zone, it had been exposed to radiation. It was just me, my assistant, and the militia person in a 30-seat radioactive school bus.
The militia were well-meaning but poorly informed. At one point they told me, "It's not very safe here. We shouldn't stay too long." I had my own Geiger counter and dosimeter—equipment which they did not have and which they asked me not to carry outside my clothing so as not to scare people—so I measured the actual radiation there. It was OK. Then in an area they told me was safe, it was not. They didn't realize that the radiation moved around as wind blew the surface soil. I quickly learned to trust only my own equipment.
My first access deep inside the sarcophagus of reactor number 4—which I call "the belly of the beast"—was in 2005. I first photographed in the control room where the accident occurred. Radiation levels there are relatively low—wearing protective gear, I was able to stay nearly 45 minutes. Compare that with my most recent visit last fall: In some rooms I had only a few seconds to shoot. I needed to duck out of the room just to reload my strobe in order to conserve my radiation exposure allowance. Naturally as a photographer, I always want to stay just a little bit longer and capture a few more frames.
Of course, we go through a very intense decontamination process—a change of clothes, long, hot showers—and I have my equipment thoroughly checked on the way out. At this point on my last trip I could see in the guard's face that she thought I was being paranoid: Oh, there's this American. He was probably just outside here on the construction site. But when she checked my camera, her facial expression totally changed. She said, "Oh my god! Oh my God! You have to wash your cameras. You have to clean your gear. And your camera straps. You need to wash them." I had some Velcro around my strobe and she said, "You've got to discard that because that's where the radioactive specks of dust settled." That was the first thing I had to throw out. I eventually got new camera straps because I was uncomfortable having them around my neck all the time.
Chernobyl@20
Workers wearing plastic suits and respirators for protection pause briefly on their way to drill holes for support rods inside the shaky concrete sarcophagus, a structure hastily built after the explosion to isolate the radioactive rubble of Reactor #4. Their job is to keep the deteriorating enclosure standing until a planned replacement can be built. It is hazardous work: radiation inside is so high that they constantly need to monitor their Geiger counters – and are allowed to work only one shift of 15 minutes per day. The Long Shadow of Chernobyl – Photographs © Gerd Ludwig/INSTITUTE
In my last couple of trips it's been interesting to document how the Zone has deteriorated and transformed. As looters go in at night and take out anything of use, the rooms are getting emptier. In Pripyat, the buildings are starting to crumble. The elderly returnees have dwindled from 700 to about 200. Nature has begun to reclaim unused areas. One scientist I talked to in the Zone said we may as well post signs around that read not intended for human habitation for 24,000 years—the half-life of plutonium 239, which hasn't seeped as deep into the earth as expected.
I hope my work makes people reconsider our sources of energy and our thirst for its constant supply. I'm not one of those people who walks around with an anti-nuclear button on his shirt, but I do want people to think about the consequences of human hubris. Chernobyl was blamed on Communist incompetence, inefficiency, carelessness. Then a very similar accident happened at Fukushima—by all accounts a very modern, carefully maintained plant. And still nuclear energy is promoted as an efficient way to produce energy.
Figure in the costs of these accidents—twenty-some countries are paying more than $2 billion out of taxpayer money for the New Safe Confinement, being built to contain the radiation from the Chernobyl reactor—and it becomes apparent that nuclear energy is not efficient or safe at all. I do this work so that in the future people won't simply believe what their government tells them. As a journalist, I document catastrophes to have an impact, to help us learn from them and avoid the same mistakes in the future.
I was drawn to documentary photography because of Eddie Adams, Nick Ut, and Philip Jones Griffiths, whose wonderful images helped stop the Vietnam War. But I understand that not everybody can make that one world-changing image. There's this great story a friend once told me where on the coast in Italy, these starfish are washing up on the shore and are dying. The children run to them to try to help, while the old men of the village shake their heads and say, "What a mess! What are you doing? There are millions of them washed up here—you can't fix this, you won't make a difference." So one kid takes one of the starfish and says, "It makes a difference for this one," and puts it back into the water. And that's my understanding: that if we as photographers all contribute our little share, together we can make a huge difference.