What Music Photographers Can't Live Without
The camera gear that pro concert shooters pack for the show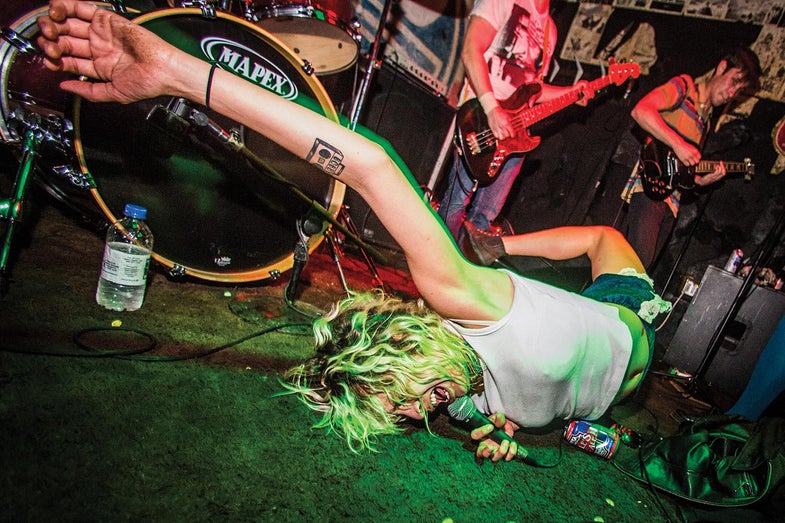 We may earn revenue from the products available on this page and participate in affiliate programs. Learn more ›






"I'm a music fan," says photographer Ian Witlen. As a kid wading into the crowd at punk and pop-punk shows with a camera in his hand, "Never in a million years did I think I'd have the chance to work in the business." Yet that's how this South Florida–based pro (thecameraclicks.com), whose background is in photojournalism, makes his living now—not just with editorial portraits but with arresting in-your-face images that capture the visceral energy of live acts in venues from tiny clubs to big outdoor festivals. And, like many other professional music photographers, he also still shoots for his own pleasure, as a fan.
That distinction is important, because when professional music photographers are on assignment (and sometimes when they're off duty), they get access and opportunities at live shows that the audience does not. They can bring in more gear or different types of gear than ticket buyers are usually permitted, and they often command vantage points the crowd can't reach. At the same time, when covering live performances on assignment, especially big acts, pros often find themselves subject to limitations—confined to a designated area for music photographers ("the pit") and afforded only one to three songs to get the shots they need.
Whether you're shooting for clients or for yourself, the choice of what camera, lenses and other gear to bring boils down to three factors: the size of the venue, how close you can get to the stage, and the size and style of cameras the artist or venue permits you to use.

Really Big Shows
Nowhere in concertdom is the divide between professional music photographers on assignments and fans in seats more apparent than at large arena shows. Most of the audience is far from the stage and the artists and their managers put different restrictions on photographers in terms of what and when they can shoot.
While pros with the right access might lug in a full-frame DSLR and a host of lenses, ordinary ticket buyers are limited by house rules—or even the whim of whoever's checking bags at the gate. It's crucial to learn the ground rules in advance. Never assume that a rig permitted at one show will be allowed at another, even at the same venue, regardless of size. "The venue goes along with the artist's wishes," says New York–based photographer Ryan Muir (ryanmuir.com), known for his evocative image of LCD Soundsystem's final show at Madison Square Garden in 2011. He got this dramatic side angle from the photographers' pit, a no-go zone for the audience, using a 35mm f/1.8G DX Nikkor on a Nikon D700 body (he recently switched to the D750).
Muir's favorite shots give more of a sense of the relationship between performers and fans, but at a big show it can be tough to get them in the same frame. "I like making sense of chaos," he says, "but the bigger the act, and the bigger the venue, the more separation there is between the artist and the crowd." Getting them together demands an ultra-wide-angle lens. "If the scale of the audience is especially vast—think EDM (electronic dance music)—I may throw a fisheye on top of a monopod and shoot from above with a delayed timer. It depends on how I previsualize the show and what elements are important to capture any given night."
When on assignment, Muir generally brings a bag full of Nikon equipment, including a second body as emergency backup. His favorite zooms are the 17–35mm f/2.8D and the 80–200mm f/2.8D. Besides simply providing telephoto reach in a big arena, he says, "It can be useful for flattening space across the front edge of a wide stage to compose artists together who may be standing several feet apart—I call this 'raking'—or to punch into someone at the back, perhaps the drummer. If you're patient, it's also useful for catching clean close-up expressions from the side as artists turn away from the microphone in between singing moments."
In between these two optics, he packs a 35mm f/1.8G, 50mm f/1.4D, and 85mm f/1.4G; he might also bring along a Lensbaby or fisheye, depending on the act. Actually, his version of the 35mm is a DX-format lens, made for cameras with APS-C sensors, which he uses on his full-frame camera. "This is one of my secret weapons for low-light concert photography," Muir says. "It focuses fast and accurately, but there is significant vignetting in daylight—so I only use this lens wide open in dark rooms where you typically can't even notice the darkened corners. Because it's cheap—$200—I don't mind beating it up. I've replaced it three times rather than get it repaired. It really is capable of a unique look." In fact, his LCD Soundsystem photo was taken with this lens.
Witlen also brings a big bag of gear to large shows when he is working either in the pit or from the soundboard, another typical position for pros. A Canon shooter, he uses both the EOS 5D Mark III and the older Mark II. His typical kit includes Canon's 14mm f/2.8L, original 16–35mm f/2.8, 28mm f/2.8 IS, 50mm f/1.2L, 85mm f/1.2L, and 70–200mm f/2.8L IS EF lenses. He also always brings along a beloved old Sigma 24mm f/2.8 AF Super Wide II from his film days, which works with his digital cameras only at f/2.8; when his first one finally broke, he immediately replaced it with one he bought on eBay.
"Because lighting designers like to use so much purple and red, I like to shoot no higher than ISO 800," Witlen says. These colors often prove particularly subject to image noise at higher sensor sensitivities. With the 5D Mark III, he can shoot at up to ISO 6400 and still get images clean enough to suit his style.
Of course, few music photographers can get away with hauling all that gear into a big venue. Ticket holders can expect to be screened, and carrying a DSLR or even an interchangeable-lens compact camera, even without extra lenses, may be forbidden. In cases like this, an advanced compact with a good sensor and telephoto zoom makes the most sense. Top choices include the Panasonic Lumix LX100, with a Four Thirds sensor and 24–75mm (full-frame equivalent) f/1.7–2.8 lens, and the Sony Cyber-shot RX100 III, with a 1-inch sensor and 24–70mm (equivalent) f/1.8 lens. Both of these cameras have nice built-in electronic viewfinders for steadier shooting without annoying neighbors with a big, glowing LCD.

A Giant Dog during their Panache Booking Showcase at Beerland in Austin, TX. Shot on assignment for Rolling Stone.
A Giant Dog at their Panache Booking Showcase at Beerland in Austin, TX during SXSW, 2014; for Rolling Stone.
Getting Personal
At smaller venues, the rules are very different. Wide-angle and normal focal lengths predominate—who needs a telephoto lens when you can get up close? Even when they're working a midsize concert hall, the pros we spoke with try to get into the crowd.
This often means shooting with a smaller, more discreet camera than usual. Muir, for example, often uses a Sony Alpha a7S and sets it for an entirely silent shutter, a boon in intimate club settings. He also enjoys using his Fujifilm X100S, with its fixed 35mm lens. "It's not about being secretive," he says. "But I like not to be ostentatious. The last thing I want to be is distracting or in the way of people who are there to enjoy the music." If he's using his Nikon D750, Muir may pack only his 35mm and 85mm primes, and then just pick the ideal position for both the show and the focal length. "It's an attitude more than the size of the camera—I don't want to be the guy who ruins it for the person standing in back of me."
Like Muir, Witlen always brings a camera, even when he buys a ticket and enjoys the show like any other fan. Of course, it helps that he's already on good terms with concert producers such as Live Nation and with the publicists for the bands he likes. But for these shows, often at smaller venues, he usually keeps his 14mm on his camera and slips Canon's little 40mm f/2.8 STM pancake lens into his pocket. "I'm shocked that a lens this size can be so sharp, fast, and quiet," he says. "And it takes a beating."
In fact, having gear that can take abuse is a must for any music photographer who gets into the action. "If you saw what my 14mm looked like!" Witlen says with a laugh. "The lens hood is dented and scratched, though it doesn't interfere with my field of view."
Asked how he got those battle scars, he describes following the hardcore band Gallows in 2009 as they hopped a barricade to play amid the throng. "I was shooting the lead singer as he lifted his mic stand—it hit the lens hood. In the same instant, the guitarist accidentally hit the lens hood with his guitar. I quickly assessed the lens to be fully functional and continued to shoot. The photo ended up becoming a double truck in the Soundselect section of Spin."