Following Pop-up Show, Robert Frank Will Have Exhibition Prints Destroyed
After only a week on view, Robert Frank's prints from his latest exhibition at Anna Leonowens Gallery in Halifax, "Books, … Continued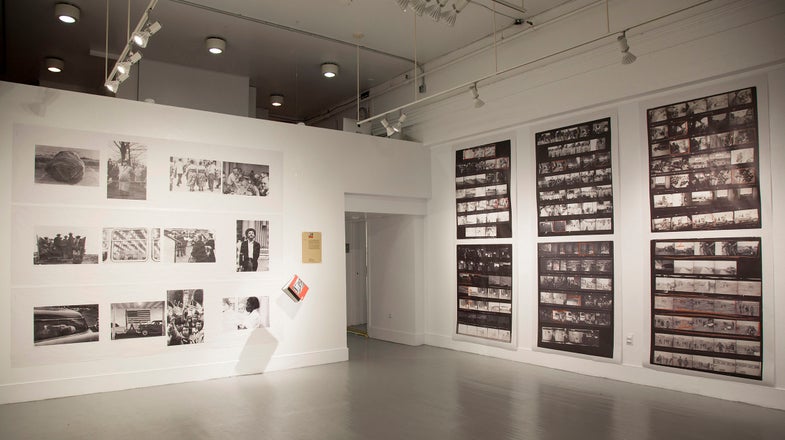 After only a week on view, Robert Frank's prints from his latest exhibition at Anna Leonowens Gallery in Halifax, "Books, Films, 1947 – 2014," will be destroyed. On September 12 after 5 p.m., the gallery staff will systematically tear up the images which have been printed digitally on newspaper by Frank's publisher, Steidl. Included in this wide-ranging exhibition will be singles and contact sheets from his groundbreaking photobook The Americans.
The impulse for artists and photographers to destroy their own work has a long history and motivation behind it is varies greatly. For Frank, who is 89 now and splits his time between Nova Scotia and his Bleeker Street studio in New York, this act signifies among his first and most significant engagements with digital media and the transience of imagery in today's visual culture.
This unorthodox presentation of his photographs opens them up to a new generation of viewers. Frank is known to keep notoriously tight control over his work, which is among the reasons why the value of his hand-made and vintage prints has risen astronomically and why securing them for a traditional exhibition of this scope would be extremely difficult. "Close to impossible," says gallery director Melanie Colosimo, who puts on nearly 120 pop-up shows a year, in an interview with local paper the Chronicle Herald. "Since [Steidl] owns the rights to the digital images as publisher this is easier."
Frank was "thrilled from the beginning," says Gerhard Steidl, publisher of over 20 of his books, currently digitizing nealy all of his 16 and 35 mm motion pictures, to be released next year on a single USB drive. "[Robert] said, 'Make it just as simple as possible, less design is better design.'"
Visit the Chronicle Herald for a video of the installation process. The gallery promises to film the destruction of the work on the 12th as well.