The Extreme Aesthetics of Andrew Yee
More is more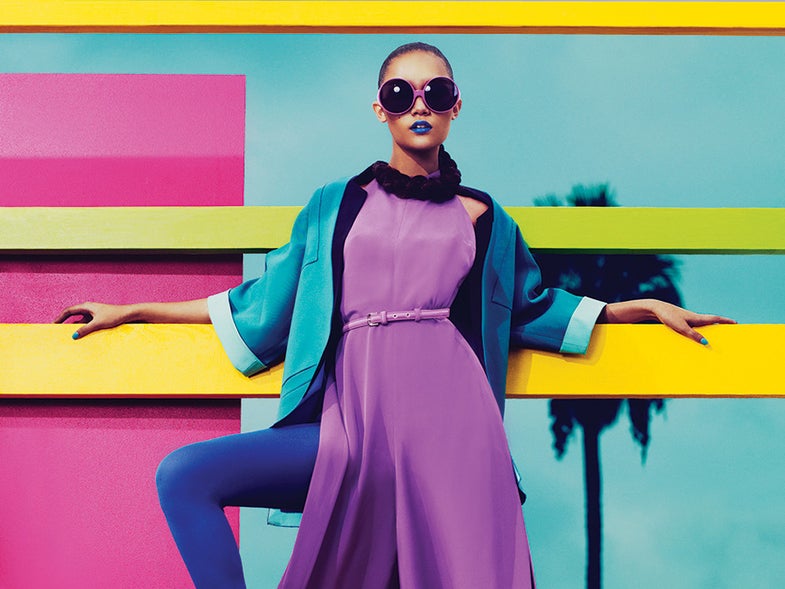 Ceramics is quite a lonely life. You're either working by yourself on a pottery wheel or you're making weird, giant sculptures. I'm probably more social and not a potter," says Andrew Yee, reflecting on his unusual route from ceramicist to fashion photographer. "Photography is very social. Especially in fashion. It's very difficult to create an image by yourself."
As the 33-year-old Honolulu native retraces his steps from artsy high-schooler in Hawaii to Ceramics major at Marymount College in Los Angeles to 2005 graduate of Parsons The New School for Design in New York and to Manhattan-based pro, it is apparent that Yee is anything but solitary. Or sedentary. Even when chatting on the phone, he bounces from point to point, every new idea a shiny object worth pausing to consider before moving on to the next, trusting that whatever path he's on will take him someplace pleasant, or at least someplace interesting.
Wherever the conversation goes—to the perils of travel in India ("We flew 28 hours and drove for five, and we were in customs for three hours. It was insane!") or unrealistically real models ("The best real girl, meaning she spent two hours in hair and makeup and she's five-ten") to bloggers' impact on American fashion ("Bloggers have so much influence now: They write about something and suddenly it becomes the norm")—Yee steers back so often to the social and collaborative aspects of photography that it's easy to get the sense that he's simply not himself without someone to play in his sandbox with.
His preferred collaborator is Damian Foxe, the fashion director of the Financial Times' magazine How To Spend It. Foxe produces a few dozen fashion stories each year, and Yee shoots many of them. Their partnership has yielded fashion stories that are set in far-flung locales and characterized by chewy, sensuous images chunky with texture and pattern and wet with saturated color. A package set in India feasts on metallics, earthy textures, and jewel tones; a shoot in rustic Utopia, Texas, near San Antonio, captures so much environmental detail you can feel the tree bark scratching the model's translucent skin.
"The clothing is the main thing that brings us all there, but the location often dictates the story," Yee says of the symbiosis of clothing, hair and makeup, location, and personality that happens in fashion shoots. "For example, obviously, we're not going to shoot cocktail dresses in India. You can have all these grand ideas, and then sometimes you see the model or the location or the weather pours down on you, and you have to morph."
Yee has a "more is more" aesthetic that's well suited to high fashion, an area he easily drifted toward at Parsons, where he developed his style shooting his fellow students' projects. "I don't know how I got my aesthetic, really; maybe it's my personality," he says. "But I hate, absolutely hate, middle of the road. For me it's either no makeup and no hair and [the model] is completely broken, or it's a glitter face with tons of jewelry and a wig. Any kind of realness in between just gets really uncomfortable for me. Sometimes things need to be a little different to be grabbing. If you're going to make a statement, make a statement."
American fashion, however, sits squarely in the middle of the road. "It's at this state now where it's very realistic—almost street wear," Yee says, pointing to classic brands like Ralph Lauren. "America is a powerhouse. It's about sales and approachability. And we're such a young country. We don't have all that history of fashion, the ridiculous corsets, and wigs, and royalty. We started out with pilgrims. Basics."
Yee says this isn't a critique of American fashion, just a different aspect of the business. "A lot of American publications will look at my work and say—I hear this all the time—'It's so beautiful but it will scare our readers.'" A few years ago, he says, the mismatch got under his skin. "I had a moment where I thought I wasn't really with the times," he says. "'Am I just being extremely difficult and crazy?' I tried to [alter] my portfolio for that market, and it just doesn't work."
So he shoots frequently for European publications: HTSI, Vogue UK, Elle Germany, Russian and Spanish editions of Marie Claire and Harper's Bazaar, a long list of others. And that's precisely his advice to young photographers: Have an aesthetic. "Find a vision for you that can be applied multiple ways," Yee says. "Because you're going to get thrown into job situations, especially in the fashion industry, where you have one shot at it and if you mess that shot up, 95 percent of the time they're never going to circle back to you."
Yee admits, though, that even an unmistakably unique and valuable look is not enough to navigate the twists and turns of the fashion industry. "It's really tricky," he says. "There's a lot of dealing with clients. My approach is just to tell myself, 'Take it easy. It's fashion. It's a game. But it's also a business and you have to take it seriously. I still struggle with making connections and going to meetings, but it's the nature of the beast."
That's why lurking beneath the surface of this ebullient creative adventurer is a tough task­master who knows how to produce a shoot. It's a role he took to naturally as a production assistant for photographers such as Michael Thompson and Joshua Jordan before signing on with Atelier Management in 2008.
In many ways, to Yee a shoot is an opportunity to host a perfect party. At a shoot, he says, "often it's just creative people sitting around having too many coffees and too many cigarettes and nothing gets done. Essentially we're creating an art piece, and you need a lot to create a piece of art. I know things take time. It also just needs to be as efficient as possible."
If you're coming to a Yee production, he would prefer that you come prepared. Know your craft well, and if you're a client, know what you want. "I hate wishy-washy," he says. "I understand that we're creating art and it does take trial and error. When it comes from an unskilled place or an inefficient place, where you're trialing and erroring, trialing and erroring, and it's going nowhere, then it's the worst."
In the end, it's still all about the people. "I have shoot teams that I love working with and going on amazing trips with," Yee says. One such trip was, in fact, Utopia. On that shoot for HTSI, all the parts worked: idyllic (if sweltering) setting, capable model, skillful crew, gracious hosts. "This [local] family just engulfed us, like we were part of the family," he says. "They put us up in these lovely little cabins. They cooked for us; we went to their barbecues. It was nice to go and not be like, Fashion!"