Ernie Button Finds Inspiration At the Bottom of His Whiskey Glass
Alcohol residue creates extraterrestrial abstracts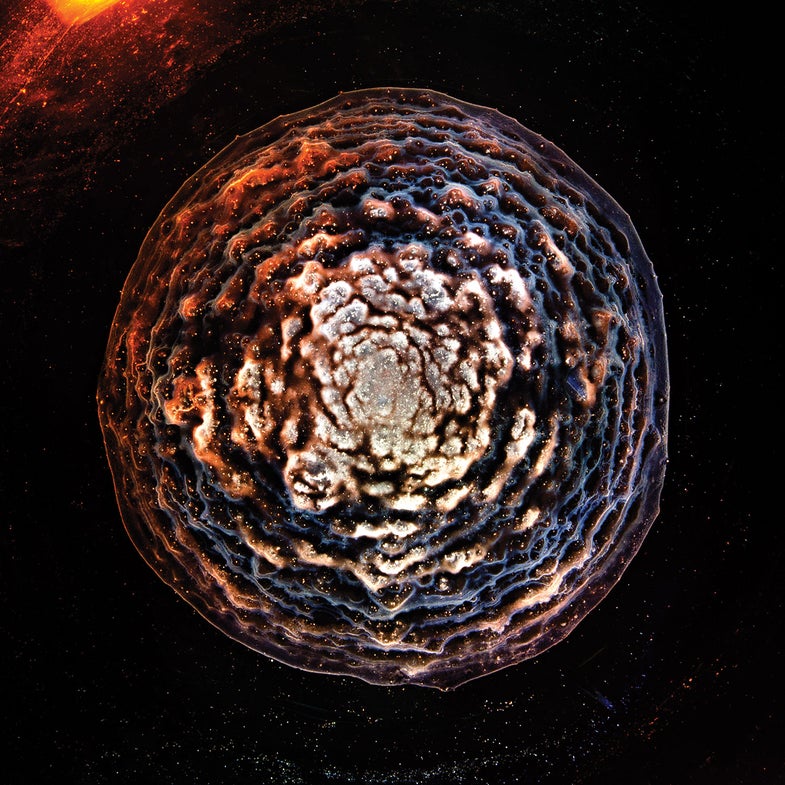 Few find inspiration in doing the dishes, but photographer Ernie Button has. One morning while placing a whiskey glass, emptied the night before, into the dishwasher, he noticed the delicate traces the liquid had left behind. "I had just finished a project using agate, so I had learned to shoot with light from behind to create a sense of depth," he recalls. He recognized the possibility in the bottom of his glass and set out to explore it photographically. The result: Vanishing Spirits, a series of otherworldly circular images of these everyday objects.
Begun a decade ago, Button's creative project has taken him in surprising directions. While he experimented with everything from beer and tequila to vodka, rum, and cognac, none came close to the beautiful rings left behind by aged whiskey. He discovered the best combination of glass and liquid for the effect he wants. He bought perfectly clear, level-bottomed glasses and quantified the amount of booze. "If you leave too much it gets muddy, and too little, it is clear," he explains. "You need two or three drops to produce a consistent line."
The magic behind these celestial photographs takes place in the studio, where gels and flashlights bring a simple unwashed glass to life. "The lines are really dim so it is difficult to create depth," explains Button. "I use different sized flashlights with different colored gels on top" to create varied hues.
The work has proven both scientifically informative and commercially valuable. Googling "fluid mechanics" on a whim, Button found Howard Stone, director of the Complex Fluids Group at Princeton University. The two corresponded, and Stone and his team began studying the phenomenon. Button expects them to publish a paper inspired by the subject of his images this year. And Macallan will feature Vanishing Spirits in its Masters of Photography capsule collection of Scotch labels in the fall.
"I feel fortunate that I stumbled onto this phenomenon," says Button, "I am a fan of observing my world and the things that are happening around me, noticing the smaller details that may be ignored or overlooked."