Ed Templeton On Shooting the Teenage Kiss
Ed Templeton has done a lot to shape the youthful aesthetic that has emerged from skateboarding photography over the last...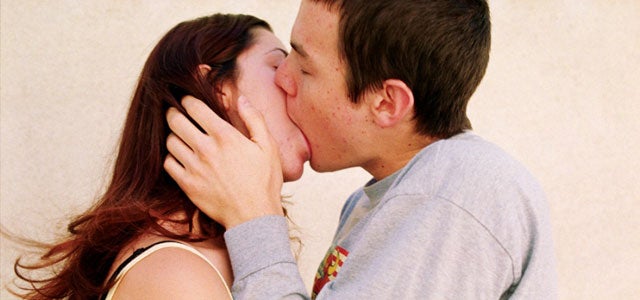 Ed Templeton has done a lot to shape the youthful aesthetic that has emerged from skateboarding photography over the last few decades. A professional skateboarder himself since 1990, Templeton began photographing seriously in 1994, "after realizing that I had been wasting four years of the best life ever, surrounded by some really amazing people living the same life," he says. Youthful life lived to the fullest has always been central to Templeton's work, and his latest book, Teenage Kissers, is no exception. It is definitely on our shortlist of photo books of the year.
Teenage Kissers was published by Seems in a limited edition, corresponding with a showing of the work at New York's Half Gallery earlier this year.
How did the concept for Teenage Kissers come together?
Unlike many photo projects, the concept was an afterthought. It's typical for a photographer to come up with an idea or concept and then go out and shoot it. But in this case I have always shot people kissing whenever I had the chance. When curator/writer Arty Nelson called me and suggested we do a show of Teenage Kissers at the Half Gallery in NYC, he was thinking of my first book Teenage Smokers (1999). I did a quick search of my archive and realized I had more than enough to do a show. So Teenage Kissers was conceived as a sister book to Teenage Smokers. It's the exact same size and has a very similar cover.
How did you organize and edit this book, and why the mix of color and black & white?
The organization is always a gut feeling. I spend a lot of time looking over the sequence and the flow of the book. You just have to rely on your instincts. I collect photo books and love looking at them, so I just trust that, when I'm making my own books, that all these years of freebasing photo books will come through.
The inclusion of color along with black & white is because of the way it was collected from my archive going back 16 years. The cameras and film stocks used vary to some extent because of that time. And I think that time is the key to the book. There is a depth that wouldn't be there if I just shot all of this over the last two years. I don't subscribe to the idea that black & white and color should be separated. The content of the photo is king to me. It can be color, black & white, blurry, scratched, whatever—as long as the shape and content translate and work. Although there are no blurry photos in there!
What kind of reaction do you expect individuals past their teenage years will have to the book?
The reaction is out of my control. I have heard feedback from people who said that it reminded them fondly of their teenage years. Others said it made them feel creepy. I think most of us have partaken in this sort of activity at some point in our lives, so there is always that element of shared human experience when you are looking at photographs. We all remember our awkward teenage phases. I hope that spirit comes through.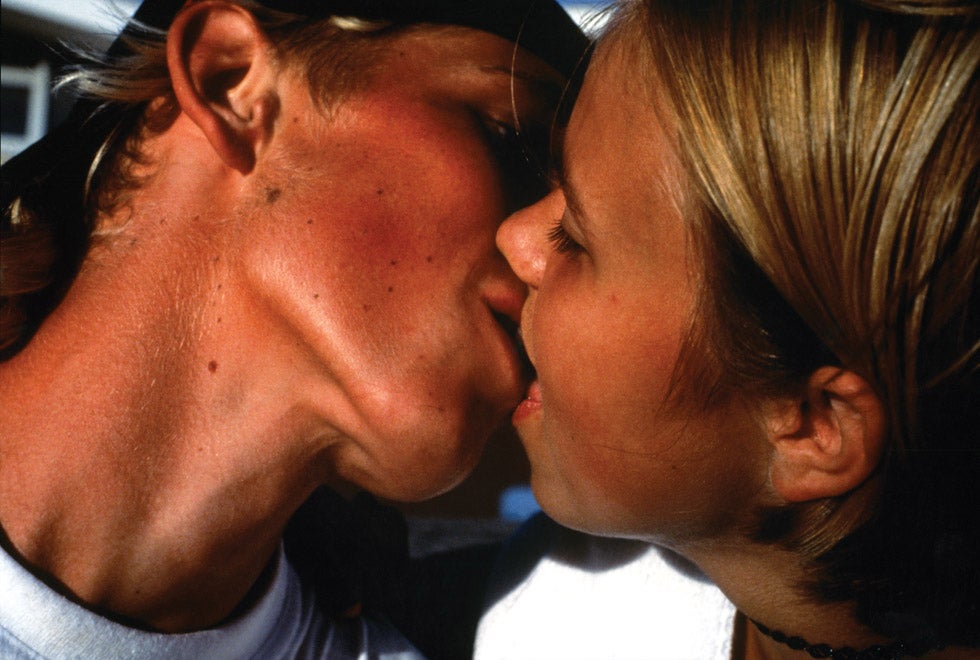 From Teenage Kissers
American Photography
What is your process for shooting individuals kissing? How do you anticipate the moment?
There are two types: People I know and people I don't. Shooting the people I know is pretty easy. They know I'm there and that I have a camera. In some cases I see them kiss, miss the shot and ask them to do it again. But even when it's my friends, the shots are on the fly for the most part. Sometimes when I'm in public and see some kids kissing I will approach them and ask them if I can shoot some photos. It's super awkward, but I have done it a few times. In those cases I shoot more than one photo.
But the majority are shot very candidly, and the people never know I shot them—it's usually one shot walking by at full speed. I have waited to pass by a couple at the right time, or watched and waited for a while around a promising couple to see if they will start making out. But I never follow people around. Some kids are so engrossed in the public kissing that I have stopped and taken multiple shots and angles without them ever noticing me. People are watching me and laughing as I shoot them.
What about kissing fascinates you?
Kissing in public is very interesting—when love overtakes a couple so much that they get lost in each other's kiss in the open for all to see. It's very sweet. And in Paris for instance, there are always couples in romantic spots—who knows what brought them together—kissing romantically. Kissing is the acceptable form of sex in public, and sometimes it's pretty hot. I have a voyeuristic streak in me and I really like the excitement of getting the shot, and then looking at the results later. I love when I capture a couple, and you can see a flash of tongue—it's really compelling to me.
So, are you a good kisser?
My kiss has not really been road tested. I have romantically kissed only about 4 or 5 girls in my life—one is my wife, Deanna, and I met her when I was 15. I remember making out with a French exchange student during summer school one year and having no idea what to do with her kissing style. She wanted to sit and do 20-minute bouts of face sucking. Just open mouths locked together while tongue wrestling. It was terrible. I would just stare out and make eye contact with people passing by. I never understood that kind of long slobbery kiss. But I'll ask Deanna what she thinks.
She says I'm good.