Dreams Realized
Many photographers would see Claire Oring's early career as something of a fairy tale. She had been out of school...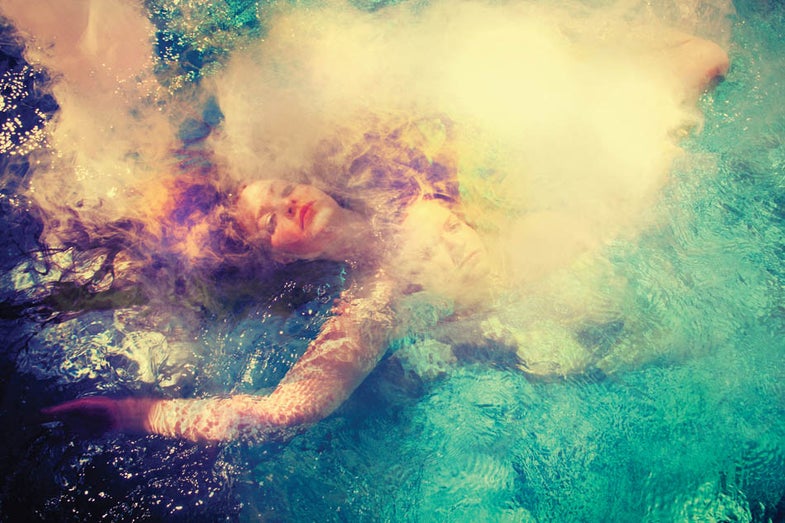 Many photographers would see Claire Oring's early career as something of a fairy tale. She had been out of school for about six weeks—having taken one photography class while earning her bachelor's degree in 3-D animation from Otis College of Art and Design—when she landed an assignment to create a travel diary across Israel and the Czech Republic for the Urban Outfitters blog. In the two years since, this Los Angeles–based pro, now 24, has continued to photo-blog for UO and begun to sell canvas art prints in its stores. She's also built a fashion portfolio with clients including Billabong, Vans, and Jeffrey Campbell.
"I feel very lucky," Oring says, noting that the offer UO e-mailed her had gone to her spam folder—back then her website was so new that a retail giant was the last client she expected to hear from. Oring's early success really stems from her fine-tuned aesthetic and drive for storytelling, which she has nurtured since age 11, when she won a travel-photo competition in her home state of California and received a 35mm Canon EOS Rebel 2000 from her parents. Inspired by myths and fairy tales, she played with such iconography throughout high school. Her first major conceptual shoot, made the summer before college, used multiple models, styling, and "girls floating in water."
Studying over the following three years what she calls "Pixar-style animation" techniques and continuing to photograph on the side, Oring grew tired of computers. "I prefer to be out collaborating with people," she says. During her senior year, photo professor Siri Kaur encouraged her to build a creative portfolio; she followed the advice, and her website was highly concept-driven and fashion-focused by the time she posted it online in 2011.
Oring credits her school background with developing a style that syncs across commercial and personal work. For the latter, she prefers to shoot with film: "Every type of film and every camera has its own look, and each combination gives you a distinct mood," she says. Creating short videos gave her experience in building up a narrative while planning wardrobes and lighting, styling, and building sets. Oring brings all this work to bear in her digital projects for clients. The night before a typical shoot, she's up late storyboarding and making lists. "I decide on location, wardrobe, hair, makeup, special effects, time of day, story, props," she says, adding that she draws on an arsenal of models and muses. "It's all about bringing imagination into reality."
Oring uses her personal projects to further blur the lines between fantasy and reality. Her apartment is packed with potential props she finds at flea markets; she carries wardrobes and accessories in her car trunk for impromptu shoots. Online, she researches fantastical locations for concepts like Snow White- or Ophelia-themed projects. She's plotted road trips with friends to Death Valley along her own story lines: "I could easily imagine a bunch of goth Valley Girls running that place," Oring says, adding that the results from this approach won Ron Howard's Project Imaginat10n (10 winners, 10 films) contest in the Unknown category in 2012.
On a recent trip to Europe with her mother and sister, Oring discovered megalithic rock formations on the isles of Skye and Lewis in Scotland, and within a day she'd booked a tour with a local archaeologist. She created a series about a young girl (played by her sister) making a pilgrimage at the summer solstice; the archaeologist, she says, "thought we were a bunch of California hippies."
The merging of work and play is the reason that Oring rarely stops doing either. Yet she calls her most recent photographs "more critical and contemplative." Another new experiment: shooting male models for the first time. These, she says, "are a whole different story."
Lives In: Los Angeles, CA
Studied At: Otis College of Art and Design, Los Angeles; University of Westminster, London
Clients Include: BCBGeneration, Billabong, Brandy Melville, Jeffrey Campbell, Modcloth, Urban Outfitters, Vans, You Me & Charlie
Exhibitions: Up Collective SXSW Showcase, Austin, TX, 2012; Underage by Featured Shoot at Photoville, New York City, 2012; Lomography's Diana World Tour, 2012
In the Bag: For commercial work: Canon EOS 5D Mark III; Canon EF 24-70mm f/2.8L II USM lens. For personal work: vintage Polaroid Spectra; 35mm Contax and Pentax cameras; Rolleiflex Automat; Diana F+. New Tools: RadLab editing program for hyper-saturated images; Marshall's Master Photo Oils for hand-tinting prints.