Cristina De Middel Reimagines A Nigerian Folktale In "This Is What Hatred Did"
Intriguing portraits from Lagos, Nigeria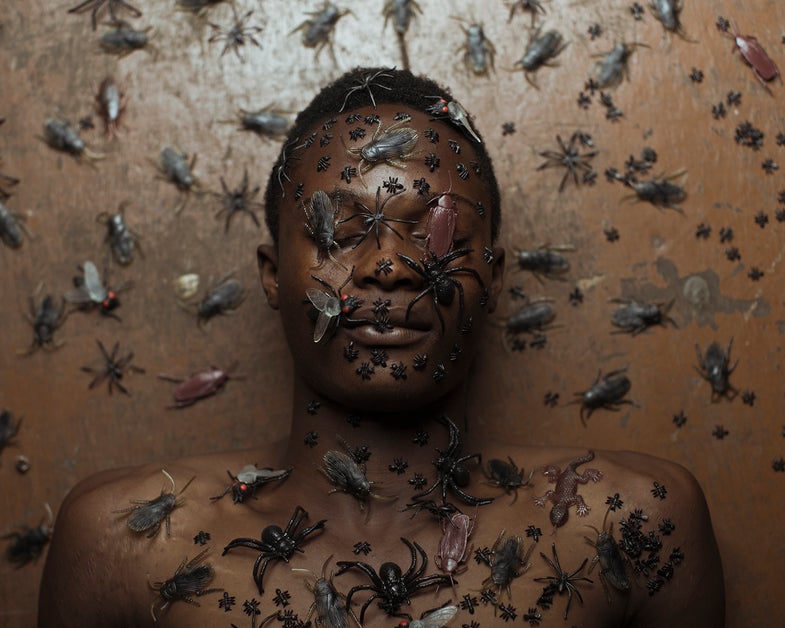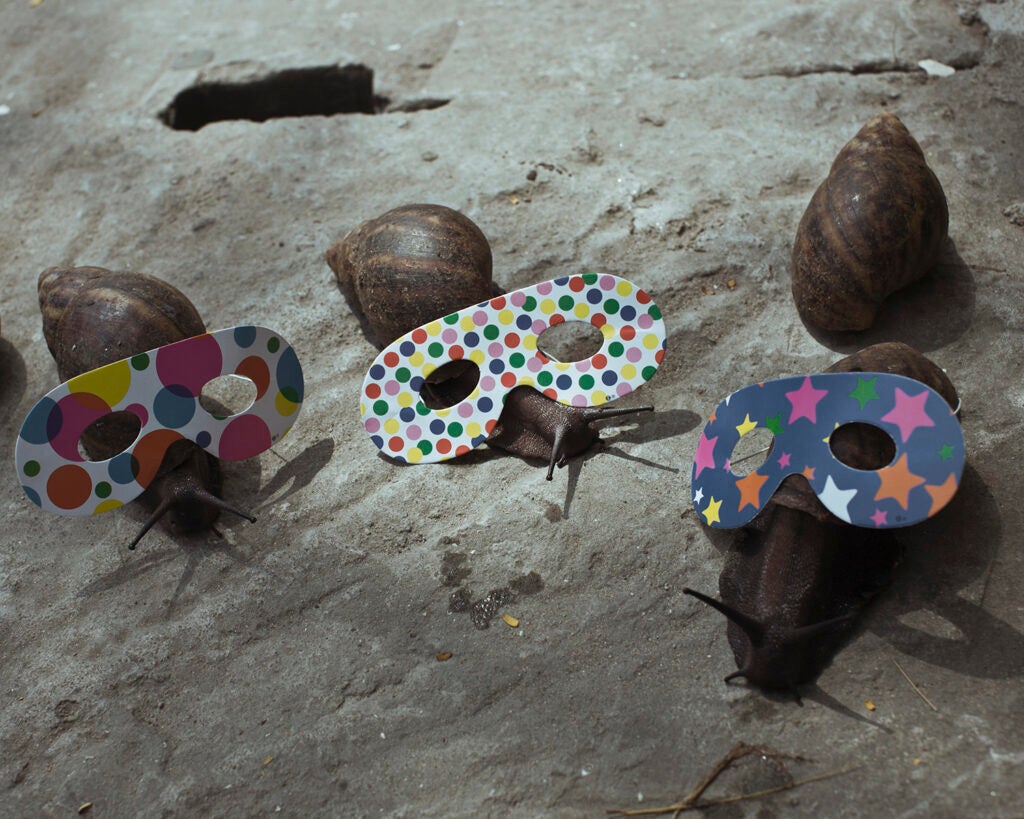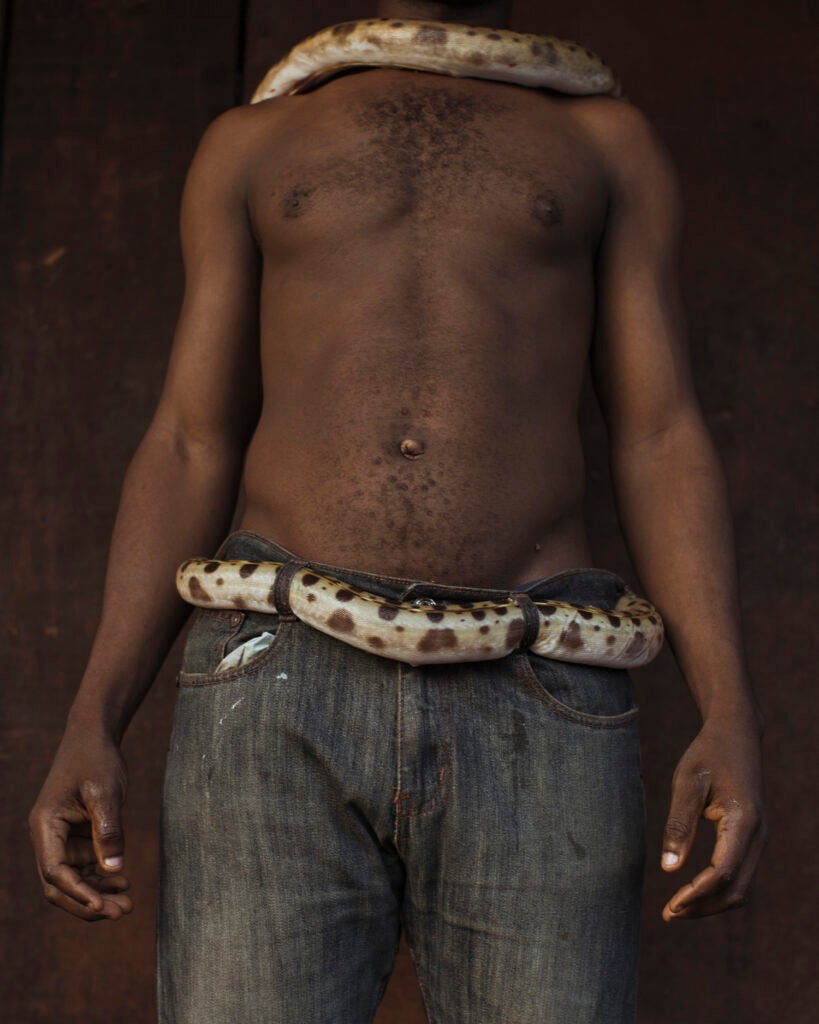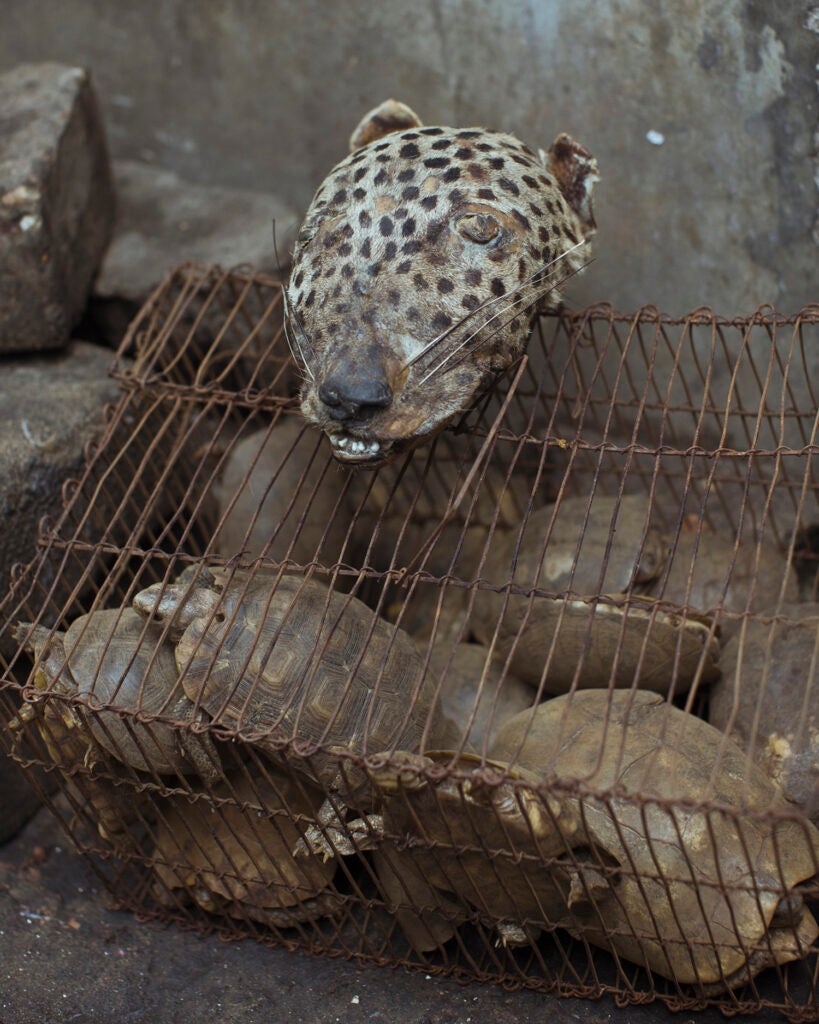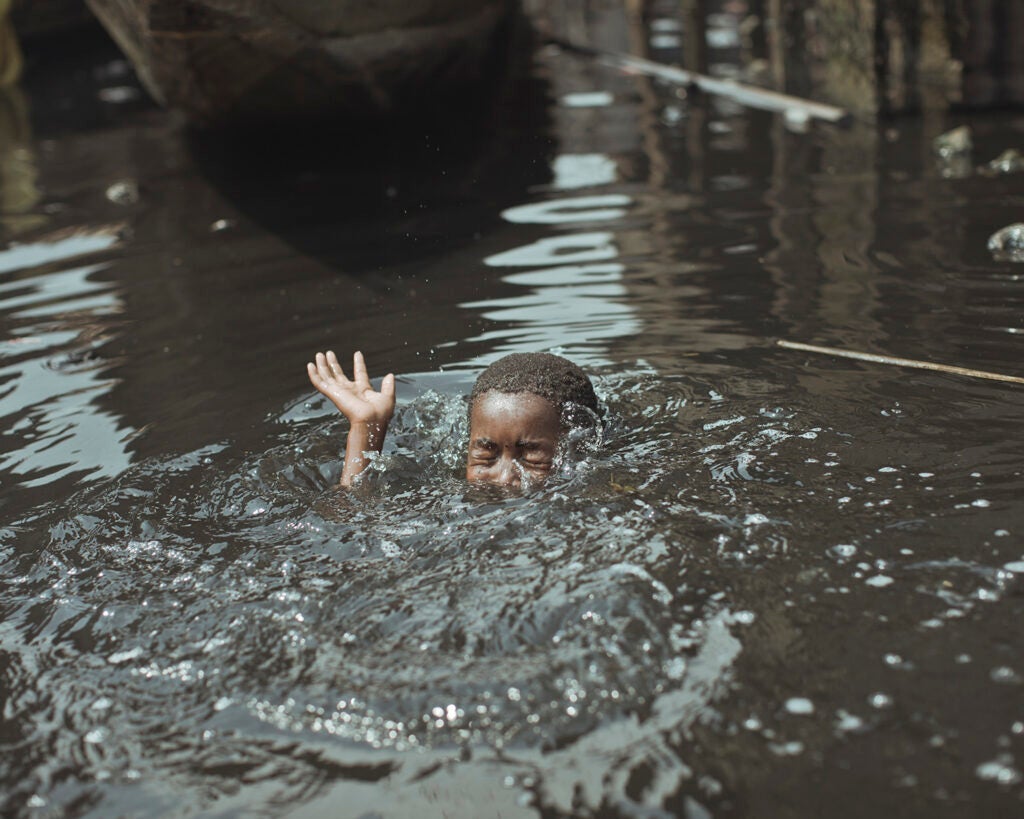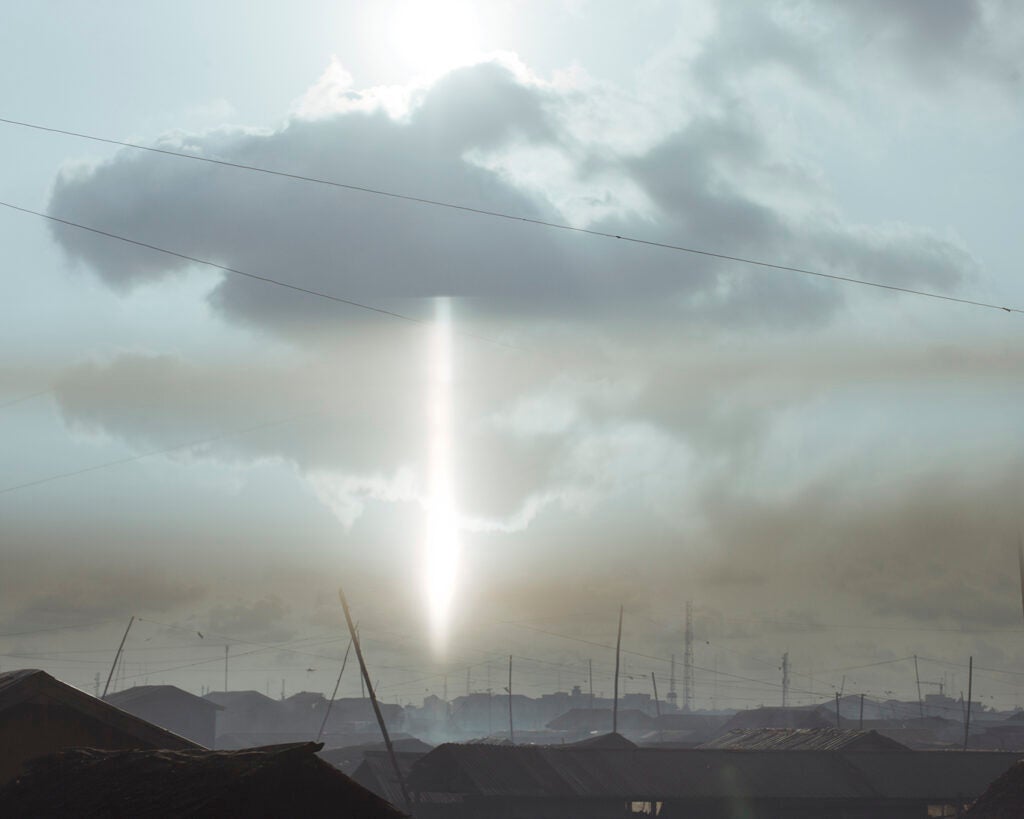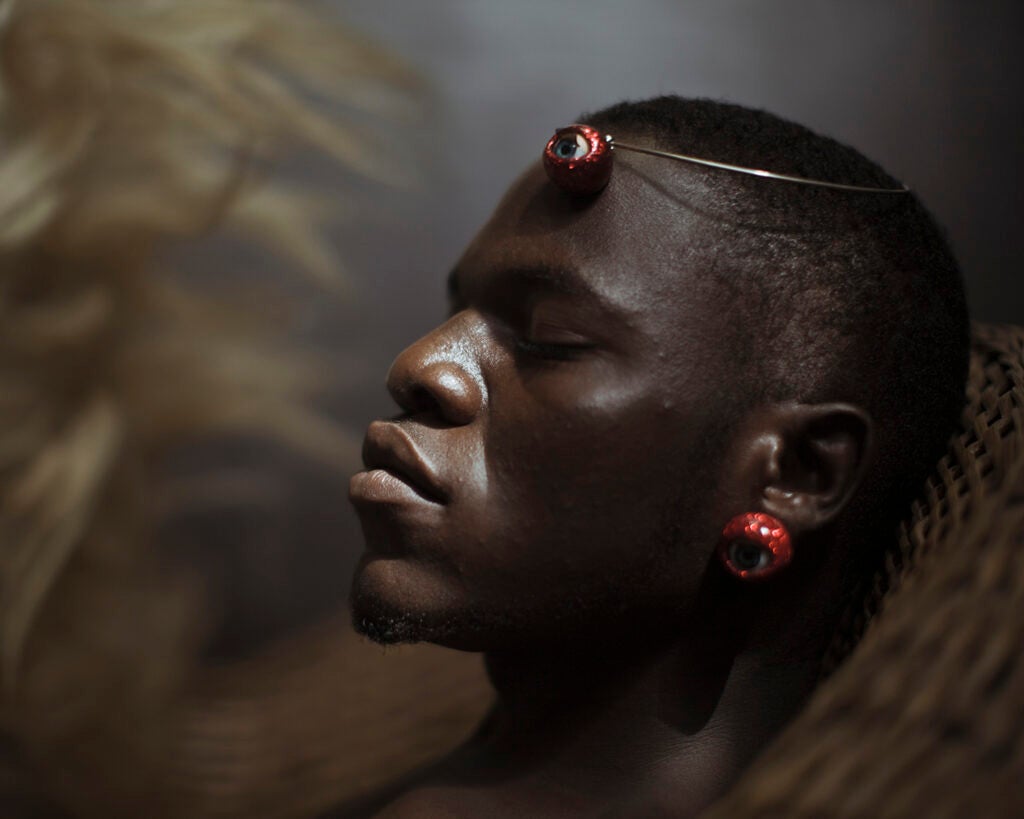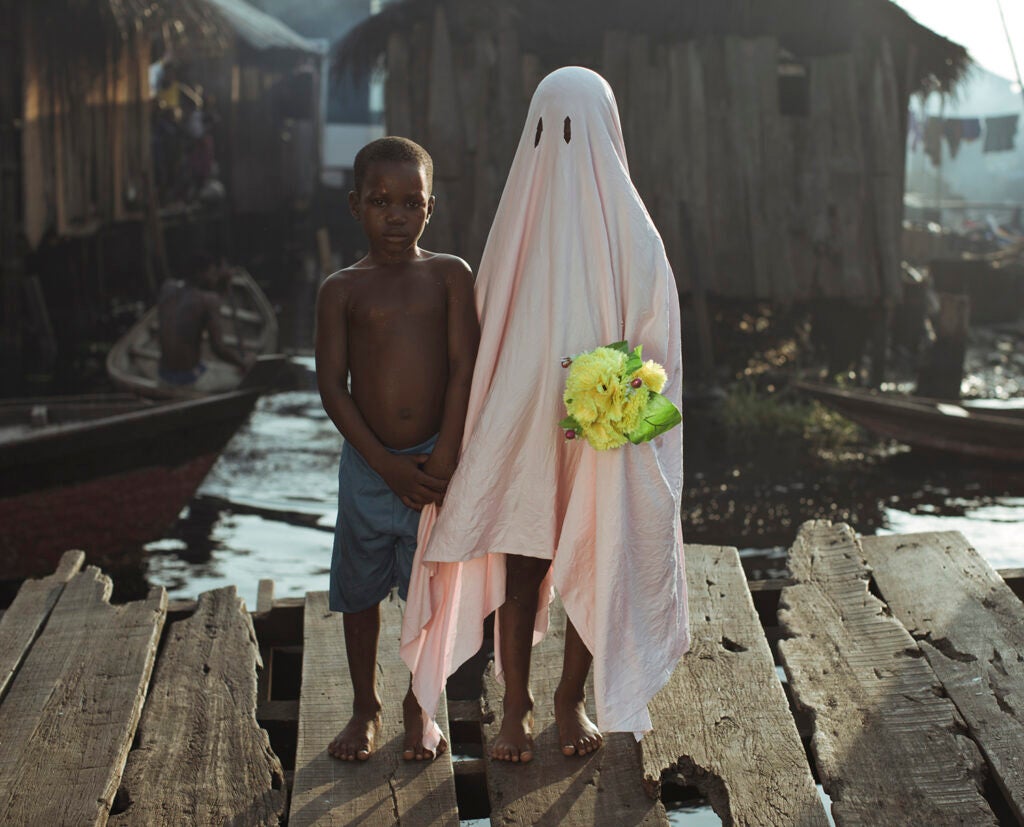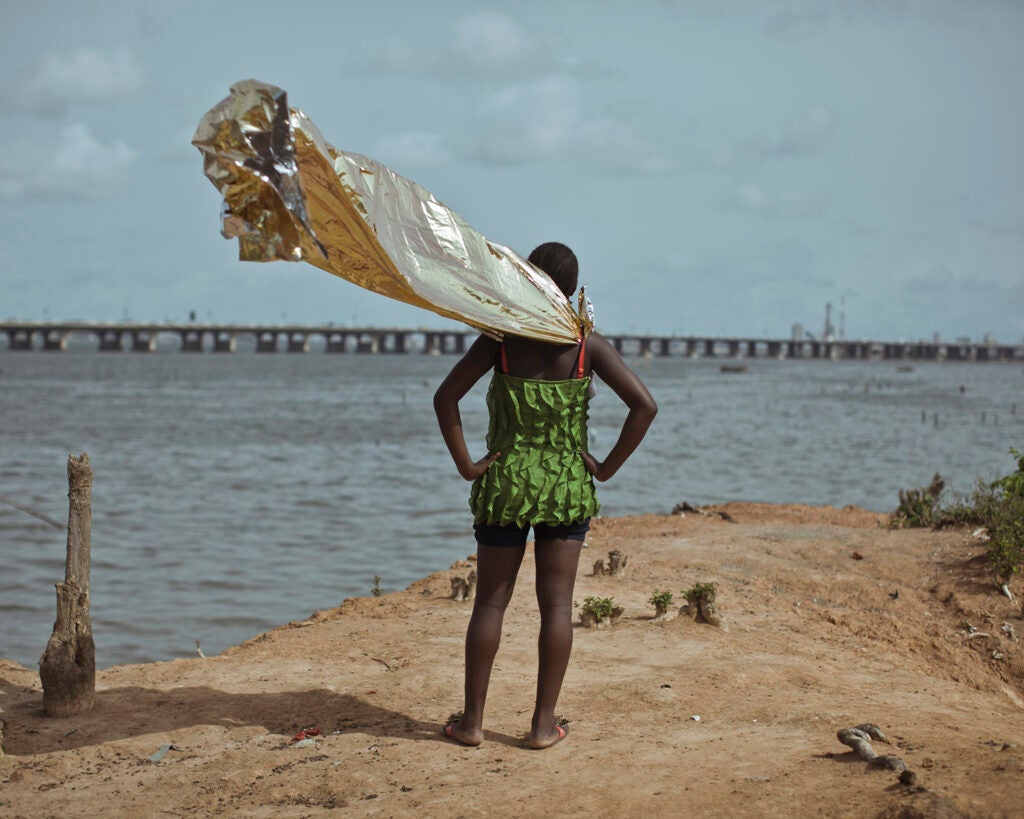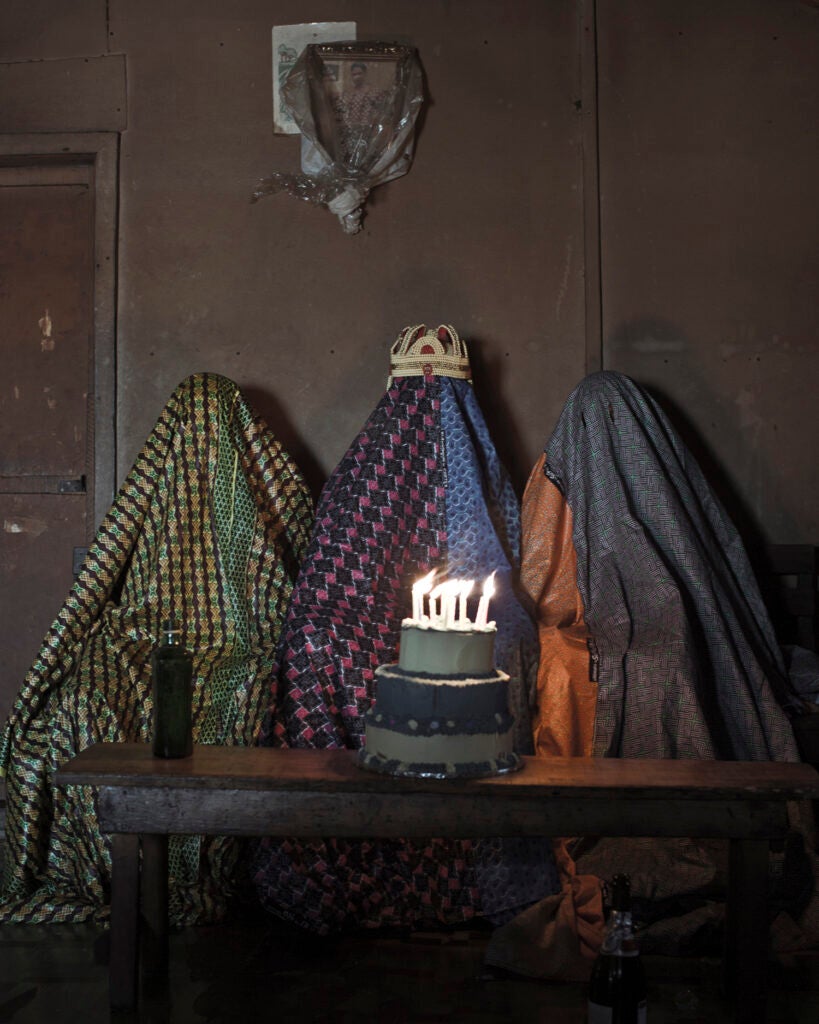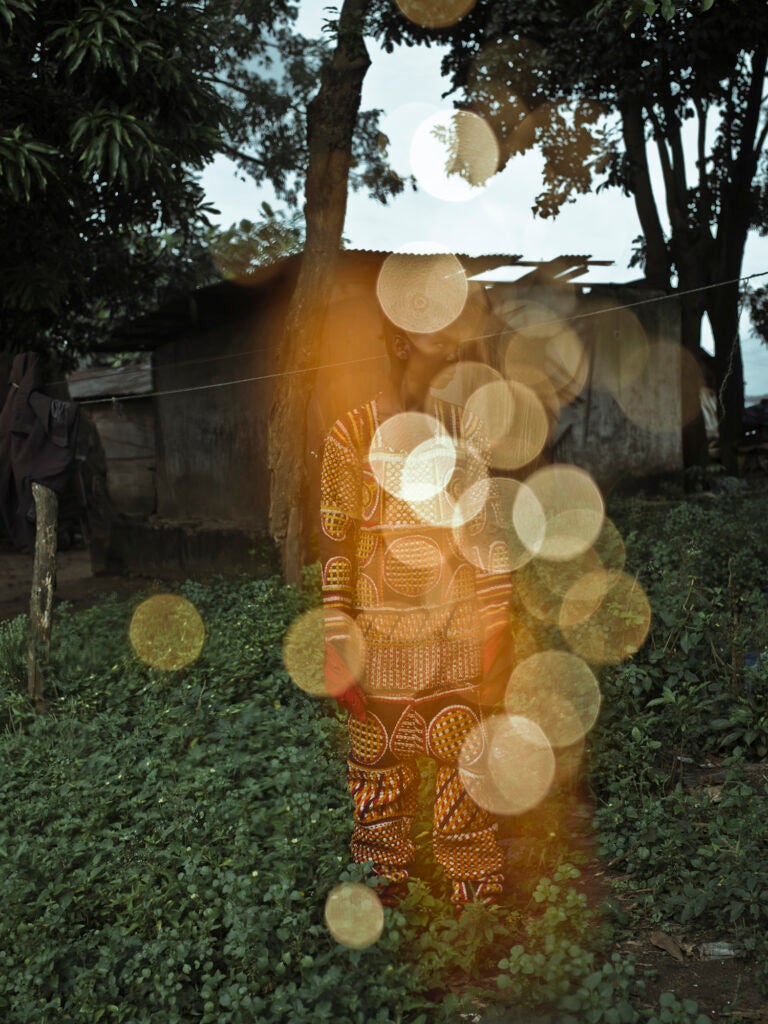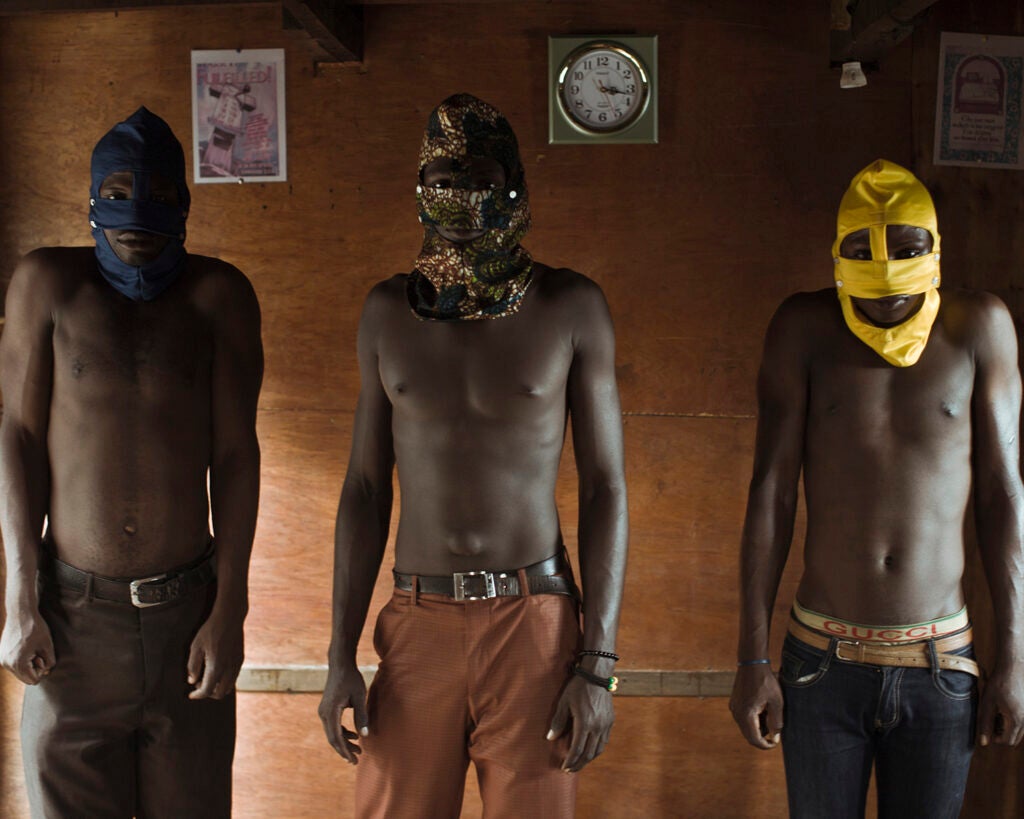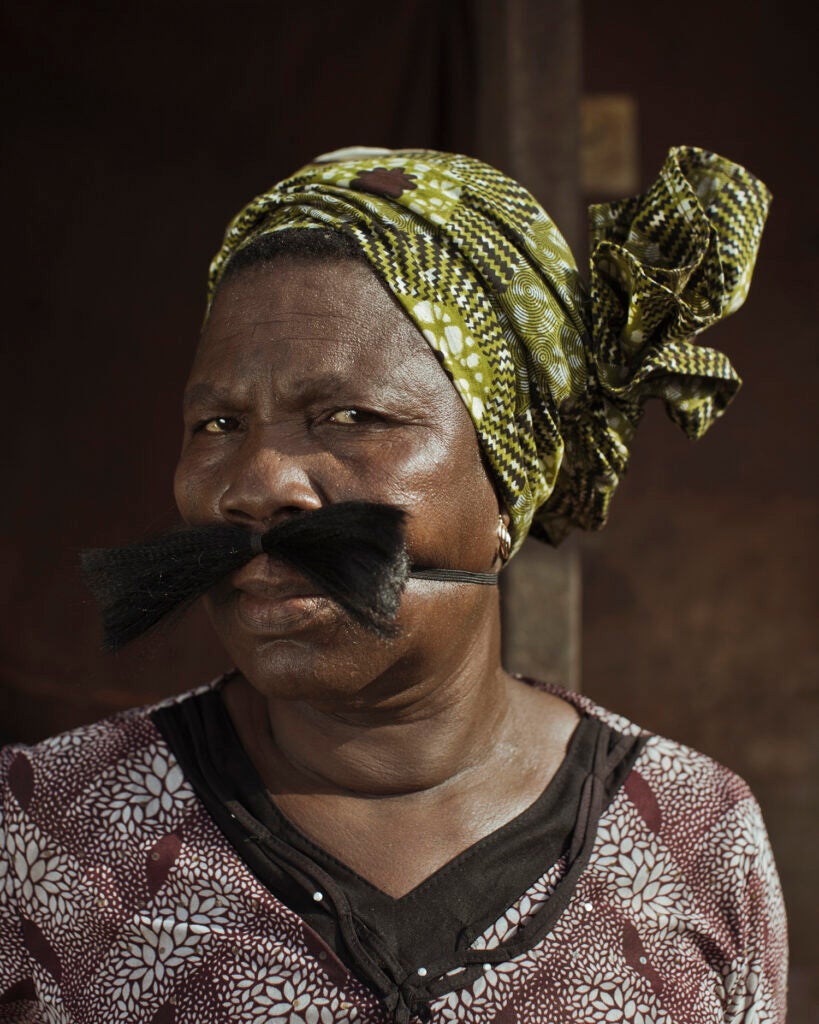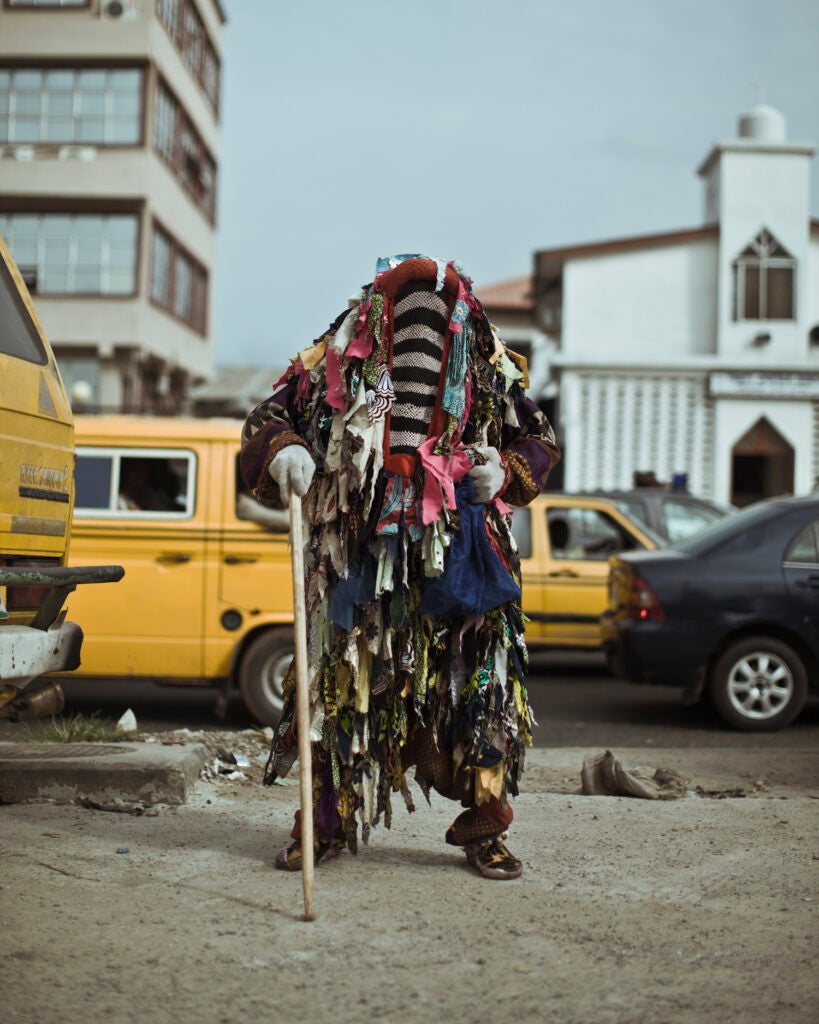 Cristina De Middel, the Spanish conceptual photographer whose sold-out, self-published book The Afronauts was an unqualified success in 2012, is exhibiting prints from her latest project, "This is What Hatred Did", at New York's Dillon Gallery starting Oct 7. The former photojournalist says the surrealistically dream-like novel My Life in the Bush of Ghosts by the Nigerian writer Amos Tutuola inspired this new series.
Tutuola's story follows the life of a five-year old Nigerian child, whose village was attacked by soldiers. "He saved his life entering the Bush, this magical territory where no humans are allowed and where all the Yoruba spirits live and fight," explains De Middel. "Our kid spent 30 years lost in the Bush trying to find his way back home … He got married two times, became a king, a god and a slave, a cow, a jar, a horse, a goat, ate gold, silver and bronze, snakes and snails. Fought two wars and was sentenced to death half a dozen times… all that in just 100 pages."
Her project, "This is What Hatred Did", is largely made up of portraits created in a specific neighborhood in Lagos, Nigeria. Like her book The Afronauts—which won an International Center of Photography Infinity Award in 2013—the portraits are strange in an intriguing way, faintly comical, and colorfully folkloric. They reflect both the magical realist novel that is their inspiration and the Lagos neighborhood in which they are set.
Here, the artist speaks with American Photo about this new body of work.
What drew you to illustrate, if that's the right word, My Life in the Bush of Ghosts?
I wouldn't say that I specifically illustrated My Life in the Bush of Ghosts. The book was a great inspiration on which I could build a story that I wanted to tell about a specific place, Makoko in Lagos, Nigeria. I used the story to recreate the reality of this place in a fictional way. The series reflects my interest in trying to describe Africa from a different perspective; one that doesn't focus on wars, famines, and refugee camps. My Life in the Bush of Ghosts has certainly been among the most intense pieces of literature that I've ever read. When the chance to visit Nigeria arose and I saw Makoko, I realized that it was the most perfect place on earth to stage the book.
Is the project about the novel or more about your exploration of Lagos, its people, character, and magic?
All the images are the result of my reading of the book. I normally made sketches and translated these into images that represent sequences, details, or characters that I considered important. For example, the picture "Sodomo" is loosely about one of the book's first episodes when the child/hero is taken by a ghost, and put in a bag together with lots of spiders, bugs and other beasts. He travels like that for months, until he gets to his captor's house. The whole passage emphasizes how disgusting and gross it was inside that bag, and I wanted to translate that. I brought lots of plastic bugs to Makoko—the type you see on Halloween—and made the portrait of the child covered with them. The model is one of the sons of the "king" of Makoko—it was one of the conditions that I had to accept in order to gain access to the community. It was made in his house, in just five minutes, the time it took to position all the plastic bugs.
How did a typical image from the project come about? "Okowako," for example?
"Okowako" is just the title of the image and is not a specific character in the book. I mix street photography with staged images because the project is a portrait of a neighborhood, after all, and the strength of the series is its mix of reality and construction. The spirit that appears in the image is an Egungun. They're ancestral spirits that walk the streets of Lagos, and are honored and respected by people in the streets as sacred figures.
Were there any photographic challenges in making this work?
I didn't see the process as a challenge, but more as an enjoyable exercise. It's all about identifying the visual constructions that you always make when you read fiction, and then trying to realize the characters, places, and scenes you visualize. You have to find—or create—a reality that matches what's in your mind.
What do you hope gallery goers will take away from the show?
That Africa is not a country; that it is not a battlefield; that there are lots of African stories that are positive, and a lot of extremely talented people doing amazing things there. We cannot keep traveling there with a post-colonial, outdated set of Western clichés about the continent. To understand Africa, you need to get into their mentality and way of understanding the world or at least try.
What's next for you?
There is so much going on right now, but I will continue approaching contemporary issues in a non-classical way. At this moment I am dealing with four new books that should be out before the end of the year. They include This is What Hatred Did, and two versions of a book about a failed expedition to the North Pole. There is also Sharkification, which is my underwater envisioning of the Brazilian favelas. On top of all this, I'm starting a publishing house, This Book is True, and launching the venture with Ponycongo a book by Vicente Paredes.
"This Is What Hatred Did" is on view at the Dillon Gallery through November 17.