Corey Arnold, Creature of the Sea
The Bering Sea is one of the most plentiful sources for crab in the world, and with swells that can...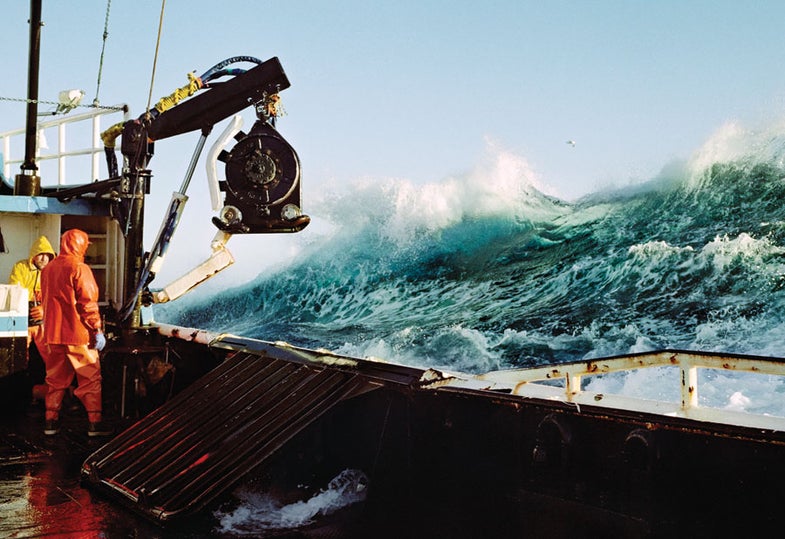 The Bering Sea is one of the most plentiful sources for crab in the world, and with swells that can reach as high as 40 feet, it's one of the roughest oceans that is regularly fished. Rogue waves can sweep across the deck, 50-knot winds can lash the boat in a storm; occasionally a line under extreme tension snaps. The crab pots, huge metal cages weighing 800 pounds each, have to be swung into the boat by hand. Even in relatively calm weather, they can turn into wrecking balls. Somehow I managed to break only three camera lenses in my seven years photographing commercial fishing while working as a crabber.
I consider myself both a photographer and a fisherman equally. I actually started working as a fisherman several years before I made money from photography—which didn't really happen until years after I started shooting Fish-Work in 2002. Four seasons ago I bought a permit to commercial-fish for salmon in Bristol Bay, Alaska, and have been making a portion of my living off of salmon ever since.
Read our Corey Arnold Instagram Watch
The seven weeks each summer when I fish Bristol Bay is my favorite time of the year. It's my escape from staring at a glowing screen in order to manage my photography business. I completely detach from the outside world—it's often hard to take photos out there because when I'm fishing, I'm fully immersed in the community and the job of managing a fishing operation. But I try, in my photographs of life here in Alaska and in the fishing industry around the world, to show all aspects of a commercial fisherman's experience—the work, the camaraderie, the vastness and diversity of the ocean, and the often surreal encounters with the natural world that few people will ever experience firsthand.
In the ocean, there is a seemingly endless variety of sea creatures. It's not like, say, sport-fishing in a lake, where you'll find maybe five species of fish. What lies beneath the surface of the sea is always a mystery. There is always the possibility of capturing something huge or strange—a rare bottom-dwelling shark that weighs several hundred pounds or a prehistoric-looking ratfish. That's part of the reason I became addicted to ocean sport-fishing early in my youth. My dad had two businesses, an avocado grove and a wholesale tropical houseplant business, that required long work hours. He kept a 21-foot boat docked at Oceanside, California, and fishing was his escape. He began taking me out to sea as soon as I could walk, and for many years we would launch our boat a few times a month targeting yellowtail, tuna, bass, rockfish. My dad was also a photo buff and catalogued our catch of the day religiously after every outing. (He bought me a Pentax K1000 when I was about 10 years old and inspired me to start shooting, too.) In elementary school I was known for dazzling the crowd with my ice chest full of odd sea creatures: a fish I'd never seen before or a miniature shark.
Skate eggs were a big hit in class. They're perfectly disguised as kelp, but when you hold them up to the light you can see the embryo, complete with umbilical cord.
When I grew older we began taking trips north in the summer, first to British Columbia and eventually to Alaska. In 1995 I got a job on a salmon boat in Bristol Bay and fished every summer through college. When I graduated from the Academy of Art College in San Francisco, I assisted photographers for a couple of years, but with the dot-com collapse in 2001, it didn't seem like a very good time to strike out on my own photo career. Instead, I drove up to Seattle in search of fishing work on higher seas.
Deckhand work is long and tedious, often dangerous, and you are living in close quarters with people you are not required to like. Everyone on the crew handles the pressure differently. At any given time during one of our 18- to 20-hour work days, one guy might be stumbling around on the brink of exhaustion; another is losing his temper and wildly throwing things around on deck; someone else might just be catching his third or fourth wind and working super hard.
All together it gets pretty intense. At the same time, I knew this could really make for an interesting project. Not many people had photographed commercial fishing, and the general public didn't have a very good understanding of what modern commercial fishing looks like. People read about overfishing, the environmental costs of the industry, or sustainability, but a direct connection to the fishing industry was lacking.
I wanted to celebrate the lifestyle of fishermen but also explore deeper issues about ocean sustainability on a global scale. At first I figured I'd work on a boat for maybe two years, then switch to another boat and work a couple years, documenting different types of fishing—first off Alaska; then Norway, where I split my time for several years working and photographing; then around the world. Instead I ended up working on a crabbing boat called the F/V Rollo for seven years.
The captain of the Rollo (yes, the same Rollo that was featured in the Discovery series Dead­liest Catch) was Eric Nyhammer. He was the type of leader who didn't yell or stress you out. He just expected you to do the job and do it well. He had a way of making you want his approval without saying anything; he also happened to be a painter. We meshed really well, and he understood what I was trying to do, so he let me shoot a little bit here and there while at work.
I had to bargain with the crew every time I wanted to shoot for a few minutes, because whenever I had to jump off deck and grab my camera, it made a lot more work for them. There's a system that works harmoniously on deck, and if one person is out of the mix, it makes everything a little bit harder. But the tradeoff is capturing these moments that don't happen anywhere else: You can be working 20‑hour days, in close quarters with the same people for weeks at a time; you're exhausted and everything hurts. Then, you look up at the horizon; it's just birds everywhere and beautiful deep green waves, and you disappear from the chaos and exhaustion of the boat.
One fascinating thing about this work is that despite all the drama of storms or the excitement of hauling in a catch, the ocean itself moves very slowly. One fisherman I work with in Bristol Bay has been there for 50 years and has watched boom and bust cycles happen five times over. It's not always to do with overfishing. A lot goes on in the open ocean that is hard to understand. Natural fluctuations occur all the time. Just a few years ago the crab supply was much lower than it is now. There have been periods when some regions have been overfished, but because they've been managed well, they've been able to rebound.
Some of the most obvious changes so far are procedural. When I started crabbing, it was in the derby days, when about 300 boats started the season together and raced, without sleep, to catch as much as possible before the overall fleet quota was gobbled up. That might take five days, ten days, or a few weeks. Nowadays a lot of fisheries are switching to catch shares, where owners purchase a percentage of the quota of fish. You have all year to reach the quota, so the pace has relaxed a bit, but we don't know yet what the effects on fisheries or the environment might be.
You have to look back much further to see the impact the fishing industry has had on whole communities. The days of all the harbors filled with fishing boats—those photos you see in fish restaurants—are very romanticized. Now those harbors are practically empty. Fishing boats are much more efficient now, so there are fewer of them. I think, who knows what this will all look like in 60 years, how different will things be? And I just want to keep documenting these incremental changes.
Whatever happens in those coastal communities, fishermen hold the keys to keeping them alive. A lot of them were built around small-boat fishing operations; today more individual quotas are owned by large corporations. That's dangerous, because it shortchanges the inshore small fishermen. It's like the difference between a huge corporate farm that uses pesticides and modified seeds to maximize profit and the small organic farmer who gets the higher price and handles their food with better quality. In Bristol Bay, the fleet is divided up into thousands of tiny boats that all have an equal shot at catching fish. We are small, and we handle our fish really well. This is a truly sustainable and high-quality fishery.
Then you've got factory trawlers hauling up sometimes a million pounds of groundfish in one tow, and all these incredible fish are getting crushed and mushed and made into fish sticks. In many ways the individual fishermen are really the heart of coastal communities. The preservation of a way of life is a big part of why I take these pictures.
The Graveyard Point series shows a seasonal community of fishermen, including myself, who spend the summers in a remote part of Bristol Bay, at the mouth of the Kvichak river. We live in an old cannery that was built around 1900 and abandoned in 1952. About 130 people and about 50 boats live and fish out of there in June and July. Two mining firms want to dig a massive open-pit copper mine, known as Pebble Mine, at the headwaters of the Kvichak and the Nushagak rivers. Now, these two rivers are very remote, but combined they yield more than half of the sockeye salmon in the world. The water there is also very pure, with extremely low mineral concentrations—an ideal salmon habitat.
If they proceed, Pebble Mine would become one of the largest mines in the world, generating 10 billion tons of wastewater to be contained in perpetuity. According to a 2012 report by the Wild Salmon Center, even small amounts of mineral contaminants and sediment would alter pH levels enough to jeopardize the ecosystem and potentially devastate the fisheries. My Graveyard Point series is a picture of a community that, if the mine goes through, probably won't exist for more than another 100 years or so. This is part of my home and livelihood, so it's more than just a photo series or an environmental issue to me.
Fishing is in my blood, and I want to keep working and photographing on boats around the world, putting out books and making exhibitions as I go. I want to continue showing the world a broader perspective of the people who are bringing wild seafood to the masses. For more on Corey Arnold, check out our ** Book's of the Year Interview** with him.
Photographer and commercial fisherman Corey Arnold, based in Portland, Oregon, shows his work and shoots editorial and advertising assignments when he is not captaining his wild salmon gill­netting operation in Bristol Bay, Alaska. His lifelong project, Fish-Work, documents the commercial fishing lifestyle around the world. He is represented by Charles A. Hartman Fine Art in Portland, Richard Heller Gallery in Santa Monica, CA, and Redeye Reps in Los Angeles. See more of his work at coreyfishes.com.