Ancient Photographic Techniques Make a Comeback
Ancient photographic techniques showcase a little bit of unpredictability, which can be a beautiful thing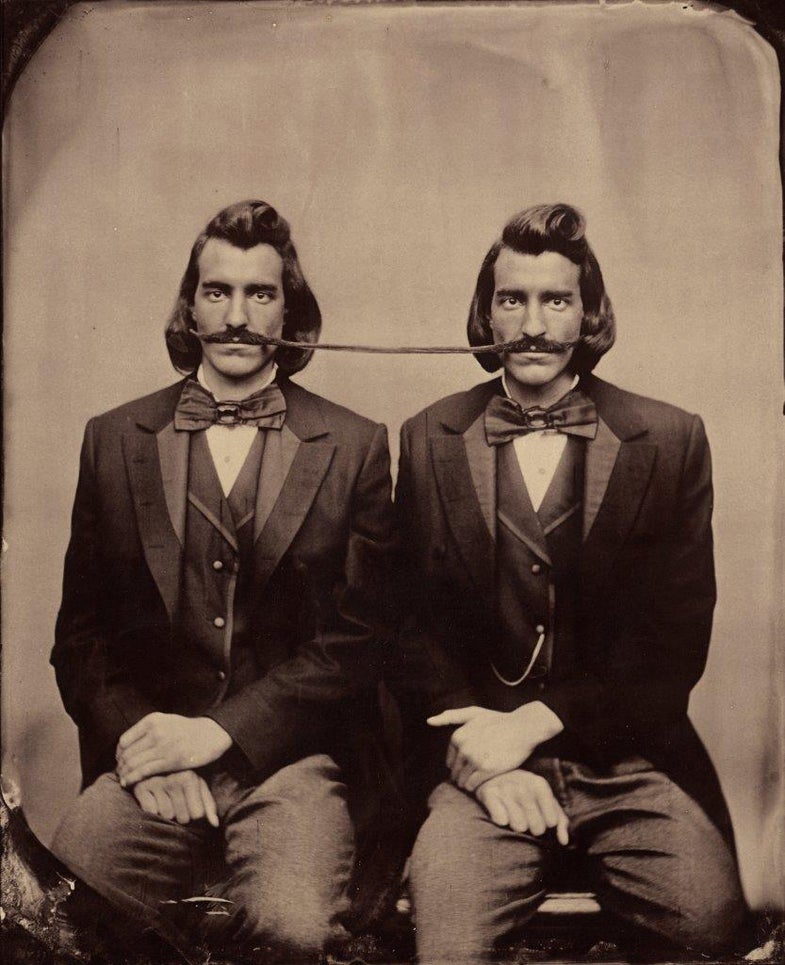 Digital equipment and image manipulation software give contemporary photographers the chance to control almost every aspect of their images. But control is what artist and curator Jerry Spagnoli enjoys deferring when making his daguerreotypes. "[Working] with an older process, it is going to do what it wants to do, not what you want it to do," says Spagnoli. "With Photoshop, you can compel the image to be exactly what you want . . . But you learn to look, I think, by not knowing exactly what you're going to get." It is precisely the unpredictability in these archaic methods that he finds fascinating.
Sally Mann, Untitled (Self-Portraits), 2012
Unique collodion wet-plate positives on metal, with sandarac varnish, 9 parts, 10×8 inches each
Spagnoli has assembled a group of contemporary artists working with these older photographic techniques in his exhibition for the Howard Greenberg Gallery in New York. A New and Mysterious Art: Ancient Photographic Methods in Contemporary Art brings together an international cohort utilizing the 19th century photographic techniques of daguerreotype, calotype, camera obscura, and more to produce vibrant and evocative images. Takashi Arai, Dan Estabrook, Vera Lutter, and Sally Mann are among those included in the show.
A Maquette for a Multiple Monument for B29:Bockscar, 2014
Daguerreotype, 73×220 cm
The exhibition is a sister event to the Daguerreian Society's annual 19th-Century Photography Conference and Show, which will be held in New York October 19–23.
View from Talbot's Grave, 2012
Pigment print from photogenic drawing, 30×30 inches
From its advent in 1839 until its industrialization decades later, photography went through a period of great experimentation regarding photographic techniques.. Practitioners helped to shape the course of the medium through trial and error, acting both as designer and manufacturer of equipment in addition to capturing and developing the photographs.
"Pablo," Letters to my grandchildren, 2016.
Ambrotype, wet collodion on acrylic glass, varnish, paint, gold leaf. 27.8×27.8 inches. Unique piece.
Spagnoli chose these artists primarily because they are hands-on in every part of their practice. "I wanted to put together a show where everybody actually manufactures the material that they shot on. All of the processes that are in the show, even in the 19th century, are referred to as primitive photography," he says. "It was a period when no one really knew what the medium was, what it could do—there were a lot of open questions about how the techniques should be done. Everybody had idiosyncratic ways of going about it. I think it personalized the work."
Black Veil, 2002
Pencil on waxed calotype negative, and salt print. Diptych, 9×7 inches each, in separate frames
The collection of images on display demonstrates this careful, considered approach. "I like photographs that draw attention to the fabrication involved in the image," says Spagnoli. "The vitality [that exists] in work [which] is basically handmade."
A New and Mysterious Art: Ancient Photographic Methods in Contemporary Art is on view at Howard Greenberg Gallery from Sept. 15 until Oct. 29.
Craig Tuffin, SUB, February 15, 2014
Wet-plate collodion tintype, 8×10 inches.