Chuck Patch's Online Metamorphosis
"Ultimately, and this is incredibly banal, I take photographs because it makes me happy." In 1972, while in his early...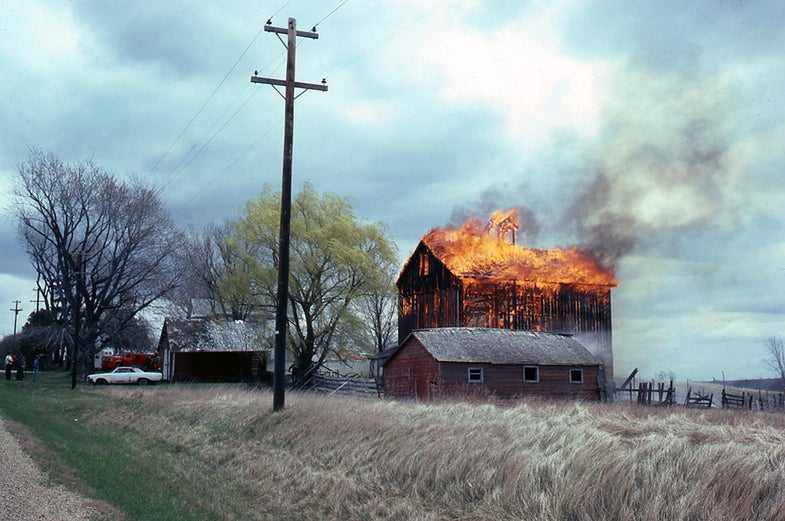 "Ultimately, and this is incredibly banal, I take photographs because it makes me happy."
In 1972, while in his early 20s, Chuck Patch was a member of an ambitious group of young photographers who started a co-op in Madison, Wisconsin. For the next 14 years he would follow his passion and dream of a career as a photographer, but wouldn't have much luck.
In 1986, he settled into a full-time position as " the computer systems guy" at a small museum. Shortly thereafter his son was born, and that's when his Leica started collecting dust, only coming out for the occasional holiday or family gathering.
And then in 2004, Chuck Patch joined Flickr in search of "someone, anyone, who liked small-camera, off-the-cuff, straight shooting." He'd recently picked up the camera after a nearly 20 year hiatus, and was starting to make photographs again.
The like-minded photographers he discovered in his search for a home for his new work were members of a group called Hardcore Street Photography. Over the years, it would become the largest and most popular street photography group on Flickr, and Chuck would become one of the group's first real discoveries.
Because of the internet, and sites like Flickr, photographers like Chuck have started to dig into their archives and share work that not only merits our attention photographically, but provides us with a new glimpse into history.
Chuck's pre-hiatus black and white work from the 1970's and '80s, which he calls "Old Silver" quickly developed a devoted following in the group. These photographs oscillate between scenes of street life and public events, to more personal, casual portraits of friends and family (see the gallery above).
After his return to photography in 2004, and the positive reception his past work received online, Chuck would use his camera whenever he could find a few minutes during the day, and began to regularly share new work with his Flickr followers.
"In New Orleans [he now lives in a suburb of Baltimore], when I started taking pictures in earnest again, I had to force myself into a disciplined routine of going out during "lunch" for at least 20 minutes a day to shoot pictures, but I rarely had more than 40 minutes tops."
His new work from the last decade still primarily focuses on public spaces and street photography, but now he's shooting color, and has an active community of followers on Flickr which presents itself with new challenges. In the interests of continuing to push himself photographically, Patch recently picked up a Mamiya 7 camera to explore working in medium format.
"I have this great desire to please my Flickr contacts–my photographic relationships, so to speak. It certainly isn't as if I'm photographing for them–I can't, no matter how hard I try, seem to do anything other than what I do and that, by the way, is why I do not earn my keep as a photographer–but it's important to me that I get positive feedback from people I deeply respect.
"In the best of circumstances, walking and shooting puts me in a kind of low-grade euphoria, though certainly not always. But getting a good photograph always makes me happy. I wouldn't die without doing it, but it makes me feel better when I do."
Bryan Formhals is a Greenpoint, Brooklyn based writer and photographer, and the founder of LPV Magazine. He blogs at LPV and tweets at @LPVMagazine.