Candida Höfer's Immaculate and Unseen Abstractions
For the first time, the large-format photographer of wide open interiors zooms in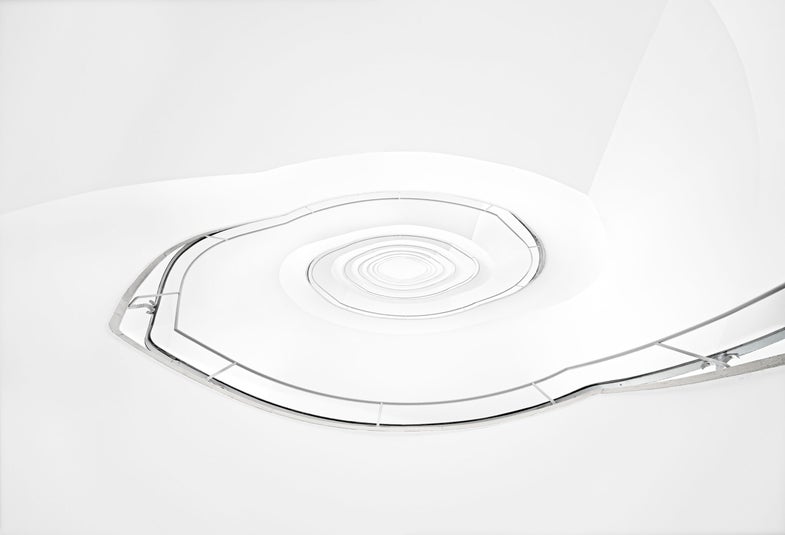 Candida Höfer's large-scale photographs of libraries, opera houses, and other grand interiors can be identified by their technical perfection and insurmountable level of craft. Otherwise, the artist's hand, or style, for lack of a better word, is decidedly and almost entirely absent. As a student of Bernd and Hilla Becher, the German photographer for over three decades has methodically looked toward the structural elements and inherent symmetries of her subjects to dictate her compositions (within the limits of what the lens can capture).
Höfer's new exhibition at Sean Kelly Gallery, "From Düsseldorf," on view in the U.S. for the first time, may come as a surprise then. The show presents a dramatic departure from her work as we know it—stark, minimal abstractions line the gallery walls, a new focus on individual architectural details. These compositions, shot close up, from unexpected angles, show her exerting a decisive and individual vision in reordering elements of these interiors and turning them into something almost unrecognizable. The images themselves appear to be sculpted, clean and almost paper-like, reminding of a Barbara Kasten construction.
Alongside are photographs showing her typical Modernist exactitude in the representation of Baroque spaces (below) which help demonstrate her progression and departure from The Düsseldorf School of Photography. Given her focus on pristine opulence for much of her career, an image like slide seven, aimed downward at the floor, capturing just the slightest bit of scuff, could facetiously be thought of as her ruin-porn moment. The contrast of her early work and this new direction is as intense as when you think about the still-lifes Joel Meyerowitz began making in his mid-70s compared to the street photography of his youth. It's hard to imagine that many of Höfer new abstractions, if isolated, on their own would really swoon anybody, but within the context of her oeuvre, and maybe the history of architecture, they're certainly worth a look.
Candida Höfer's "From Düsseldorf" is on view at Sean Kelly Gallery in New York through June 20, 2015.